13 Food Trails In The US You Need To Experience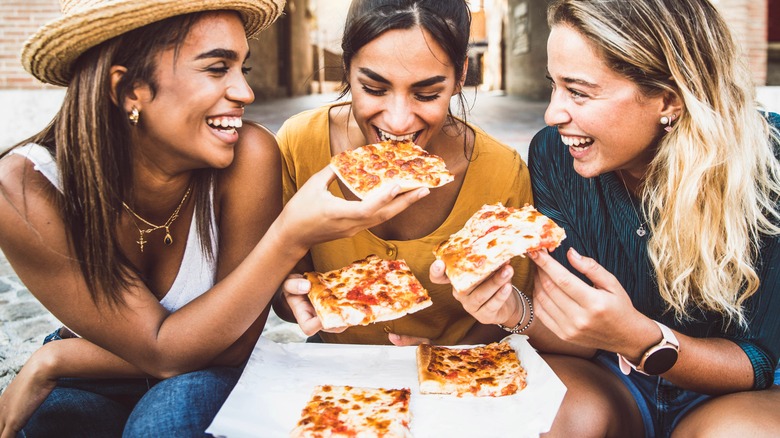 DavideAngelini/Shutterstock
 One of the best parts about vacation is sitting around enjoying one meal and talking about what you're going to eat next. Following food trails takes that concept into overdrive. Instead of building your meals around your itinerary, you build your trip around food. You can spend the afternoon sorting through Yelp reviews and trust a quick eye test for your next meal, or you can pair your vacation with a cultivated quest for deliciousness. Food trails bring an inside look into some of the country's best foodie cities and help you get off the beaten path to sample small towns with legendary flavors.
The United States' best food trails honor traditional methods, natural landscapes, and American ingenuity by mapping out this country's greatest eating. Many trails come with curated routes and passports, which allow you to stamp your way through entrees, sides, and desserts dreamt up with the help of locally sourced ingredients and legendary cooking techniques. So start packing, and skip the McDonald's on the drive over because these food trails are ready to serve.
1. Hood River Fruit Loop
Skip the cereal for breakfast this morning; you'll have an entire day of fresh fruit, fine wines, and microbrews along this tasting tour. Twenty-eight stops take you through a scenic route with tons of you-pick fruits as the road meanders alongside the Hood River. The official route crosses the river four times as you tour an eclectic mix of berry farms, antique stores, vineyards, distilleries, and more, with a country store or two sprinkled in for a BBQ lunch.
Lurking in the background of this tour is Mt. Hood, visible from several stops on a clear day. It's a natural food trail that invites you to enjoy fresh fruit in a picturesque setting. Set up camp in the middle of the course at the Tucker Park Campground, or find a cozy accommodation in downtown Hood River for the weekend, preferably with a fridge for all those berries. The loop starts at the edge of town at a fruit stand and ends at the Phelps Creek Vineyards, where you can finish your day with a glass of rose at ​​Lynette's Lavender Patch.
2. Cajun Bayou Food Trail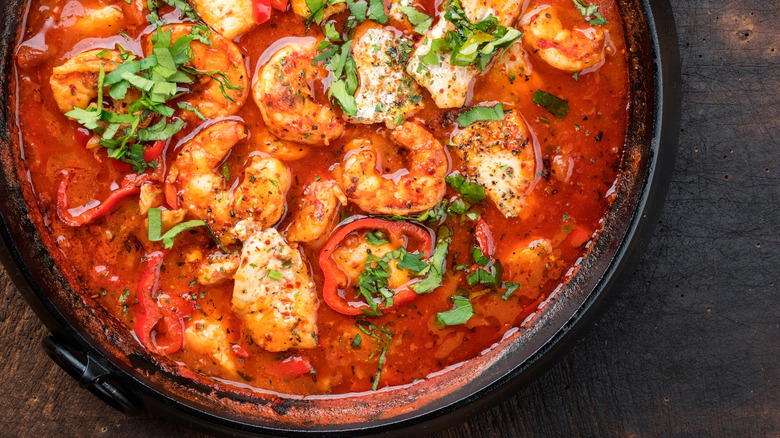 hlphoto/Shutterstock
Louisiana is home to some of the United States' best home cooking. The state took America's melting pot culture literally and whipped up a treasure trove of unique foods that combine elements of French, African, Spanish, Caribbean, and German culture into an entirely new blend of Creole and Cajun cooking.
After 300 years of simmering, Louisiana opened its culinary landscape and split the state into eight official food trails, guiding you through authentic eats from Delta Delights to the coastal Creole Crescent. Any of these food journeys will satisfy even the most adventurous tastebuds, but there is a ninth option, known as the Cajun Bayou food trail, that really embraces Louisiana cooking.
The trail starts in Thibodaux, recognized as one of the best small-town food scenes in the entire country. The pathway then meanders through wetlands, back roads, and 15 delicious restaurants. If that's not enough gumbo for one trip, time your tour with one of six trailside special events, like the Mud Bug Boil Off, for more Cajun flavor. It's a full-fledged food tour of Lafourche Parish that takes you off the beaten path and down to the Bayou.
3. North Carolina's Historic Barbecue Trail
North Carolinians can get picky when it comes to two things: basketball and pig picking. Right under the arguments for UNC Vs. Duke is the heated debate over BBQ Techniques, where two main schools of thought also dominate the discussion. The state is full of passionate fans of Eastern-style smoking, a technique that uses the whole hog finished off with a simple vinegar sauce, and Western, or Lexington-style BBQ, which uses certain pork parts and a ketchup-based sauce.
You can decide for yourself alongside the Historic Barbecue Trail, which celebrates both Eastern whole hog and Lexington pork shoulder, just as long as it's cooked using traditional methods. To earn a spot on the trail, restaurants must meet certain cooking requirements: Each must bring the genuine smoky flavor of a pig roasted on pits with wood and coals, the sauce must be made in-house, and the restaurant must have been around for over 15 years. Not one restaurant along this food trail uses gas to cook its pork. Pitmasters managing this holy grail of smoked pig will quickly tell you there's no gold waiting at the end of the rainbow, just lots of tasty barbecue.
4. Buffalo Wing Trail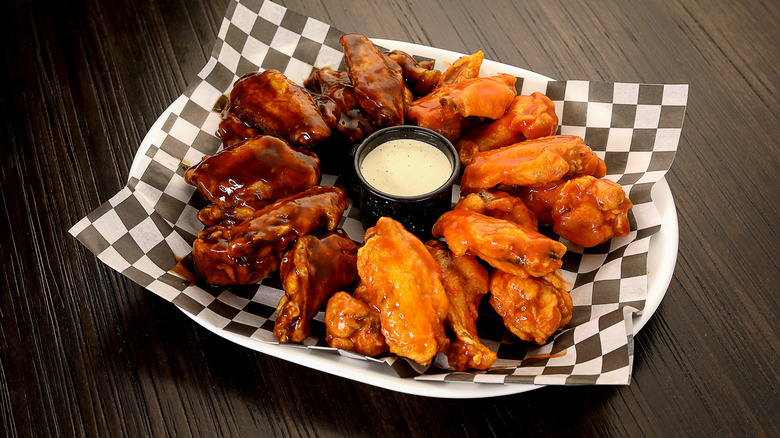 Joraca/Shutterstock
The Buffalo region is as responsible as anywhere else for the popularity of wings in the U.S., elevating chicken wings to the most famous food in New York and giving them staple status on bar menus nationwide.
While Memphis is making headway, Buffalo has declared itself the world capital of wings, and it's tough to argue with its credentials. Buffalo crafted an itinerary of 14 of the best wing stops around to celebrate, including a visit to Anchor Bar, Home of the original Buffalo Wing. The trail highlights the area's best wings and features stops famous for hot, saucy, classic, and unusual takes on chicken wings.
Restaurants present varying takes on Buffalo flavor with strategies like double-dipping the wings, getting artistic with the sauce application, and adding blue cheese into the sauce. There is no wrong way to eat a chicken wing (as long as you don't use any napkins until the end). There is, however, one incredibly right way to enjoy this trail; 14 stops, multiple wings for each restaurant, all for an afternoon of major chicken wing enjoyment.
5. Pennsylvania's Fermented Trail
What better setting for a wide-ranging homage to pickled vegetables than Pennsylvania? With over 7 million acres of farmland, there is a whole lot of room for experimentation and fermentation in the Keystone State, and the Pennsylvania Tourism Authority highlighted farmers' best efforts with an inter-regional fermentation display. Pennsylvania's fermented trail splits the state into five sections, exploring sauerkraut, pickled vegetables, curds, kombucha, and vinegar. All the itineraries combined add up to over 80 different sour-smelling stops statewide. 
This all-encompassing fermented food trail is full of historical tidbits and modern takes on preservation. Perhaps most important of all, is a stop or two for freshly brewed root beer. Pennsylvanians claim to be the first to commercialize this non-alcoholic delight, and you'll find backroad signs for homemade root beer in farmlands across the trail. Legend has it, original marketers wanted to call the beverage root tea but switched to "beer" to appeal to hard-working Pennsylvanian coal miners.
6. Kentucky Bourbon Trail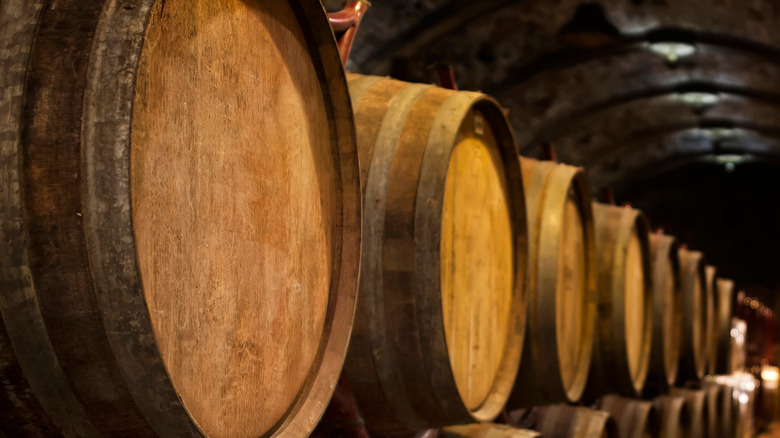 Zsolt Biczo/Shutterstock
Before taking another sip of bourbon, you should know that if it ain't made in Kentucky, it ain't the real deal. Kentucky is home to more bourbon barrels than people. As high as 95% of the world's bourbon has been distilled in the limestone-rich waters of the Bluegrass state.
The Kentucky Bourbon Trail is one trail you might not want to drive yourself down. The tasting tour connects large and small distilleries and takes visitors from barrel to barrel, down a list of the world's best bourbon makers. The route meets up with iconic producers like Makers Mark, Evan Williams, and Wild Turkey, as well as stops at local craft distillers that will change the way you look at bourbon.
The Bourbon Trail can be stretched out into a nine-day tasting extravaganza that sends you throughout the state, bouncing between international legends, tasteful crafts, and good eats — because you should never taste bourbon on an empty stomach. If you don't have two weeks to taste, a solid chunk of participating distilleries are located within the triangle between Louisville, Lebanon, and Lexington. No matter which route you take, it's highly recommended to book your Bourbon Trail itinerary in advance. A good place to start is at the Bourbon Trail Welcome Center, where knowledgeable locals help you plan and book your route.
7. Sonoran Hot Dog Trail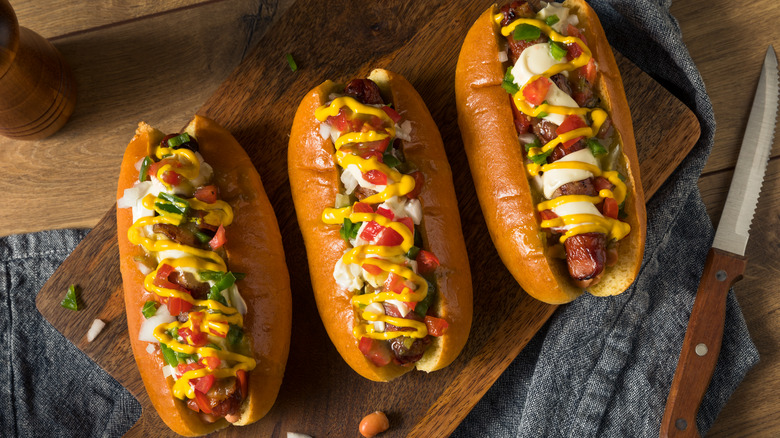 Brent Hofacker/Shutterstock
Sunny Tuscon is a great place to set up a food cart. Fifty years of data points ranked Tuscon as one of the five sunniest towns in the U.S.A. There's just nothing like a hot dog on a hot day. Intrepid entrepreneurs have long taken advantage of that shine to sell Mexican-inspired snacks on the street corner.
While it's hard to nail down the whereabouts of the transient carts, experts estimate up to 200 vendors sling Sonoran hot dogs across Tuscon. This magnificent trail takes you through over a dozen of the area's best efforts. From James Beard award-winning hot dogs to Carreta's with seating, the path provides the full scope of Sonoran flavors. These international dogs get their name from their Mexican origin, as migrants moving back and forth across the Sonoran desert brought hot dogs wrapped in bacon and shoved into warm Bolillos.
Sonoran hot dogs are usually filled out with beans, diced tomatoes and onions, mustard, mayo, and a side order of grilled chile, but there is plenty of room for innovation alongside the traditional takes. Some stands serve their dogs with melted cheese on top, called chiplones, and others really break out the big guns with quesadogos, a Sonoran hot dog disassembled and shoved into a quesadilla.
8. Neck of the Woods trail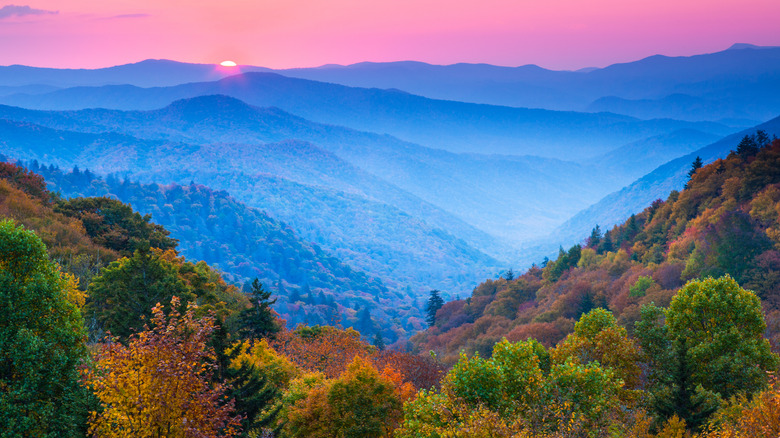 Kencanning/Getty Images
This hyper-local project presents a hodgepodge of Western North Carolina cuisine where the only requirement is local sources. The flavor trail is split between six distinct categories that add up to a whole lot of unique ways to enjoy regional cuisine. You'll find everything from farm-to-table restaurants to local wineries, as well as farmer's markets, you-pick farm tours, and more. The region's entire spectrum of agricultural production is on display somewhere along the trail.
 The seven counties that make up the trail are all accessible within a long weekend of touring local farms and heading back to farm-to-table restaurants after a wine tasting or two. Or you can focus your tour on one of several areas that bring it all together. West Jefferson alone features a farmers market, brewery, restaurants, and locally produced cheese.
The project's goal was to make sure the focus wasn't just on the most populated areas of Boone and Blowing Rock and to make it easier to find local foods and farms that welcome visitors. It's led to a directory of almost 100 businesses that use local methods and ingredients to brew beers, prepare fine dining, and grow mushrooms, as well as a host of other exciting possibilities.
9. Mississippi Seafood Trail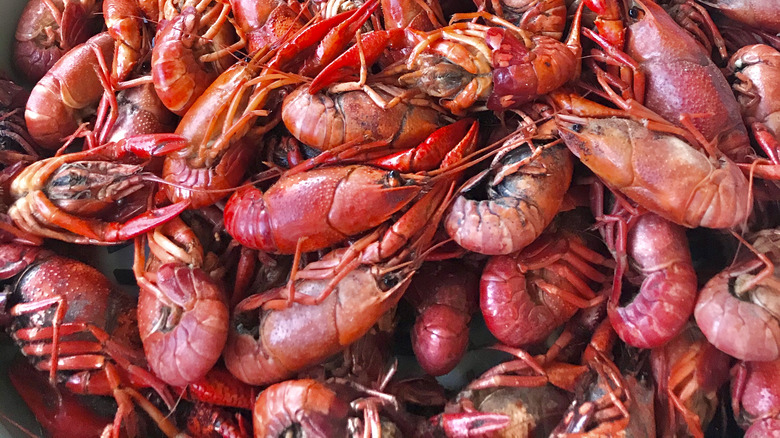 Copperline Photography/Getty Images
The nutrient-rich waters that run from the Mississippi bring a unique flavor to Gulf Coast shrimp unlike anywhere else in the world. Every restaurant does things a little differently, but locally sourced seafood powered by this natural spice is the unifying factor that makes this trail click. Starting with restaurants just below Memphis on the north edge of the Mississippi Delta and winding down along Biloxi and the Gulf of Mexico, this massive undertaking pulls together 360 miles of Mississippi's great seafood hits. 
Eateries featured in the trail trust the process with daily menu specials that take advantage of the brackish waters that raised this community. It leads to plenty of shrimp, mussels, clams, and crab legs, all served in new ways and all powered by the abundance of life where the coastal waters meet one of the country's greatest rivers. Each seafood restaurant featured on this trail only serves wild-caught, genuine gulf coast seafood, patiently casting lines and shucking oysters in classic style.
10. A to Z Foodie Trail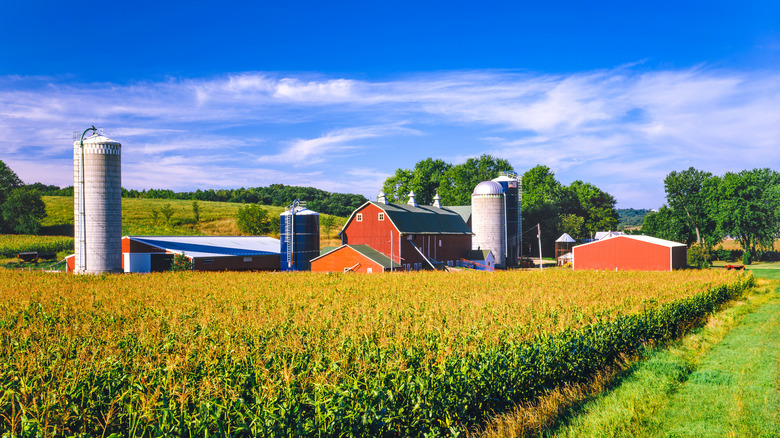 Ron And Patty Thomas/Getty Images
Not every culinary adventure needs to be historical; this one's just plain fun. Iowa whipped up a great reason to spend some time on the road, mapping out a mission fit for a foodie. The A to Z trail gets creative to devise 26 stops, each beginning with a different letter of the alphabet. This food tour isn't just about the food, it's also a chance to explore the charming towns and landscapes of central Iowa.
From Oskaloosa to Pleasantville, with stops in Leighton, Pella, and Knoxville, the trail helps you wine and dine across several quaint towns near Lake Red Rock. With some foresight, you can slowly make your way through the alphabet in a long weekend and still squeeze in time for a dip in Lake Red Rock. The adventure brings plenty of local flavors, starting with Almond Dutch Letter and ending with Zesty Bloody Mary after a stop for a quintessential creme brulee. The chosen food for each letter can vary from year to year, so you can make an annual pilgrimage in honor of spelling.
11. Anthony Bourdain Food Trail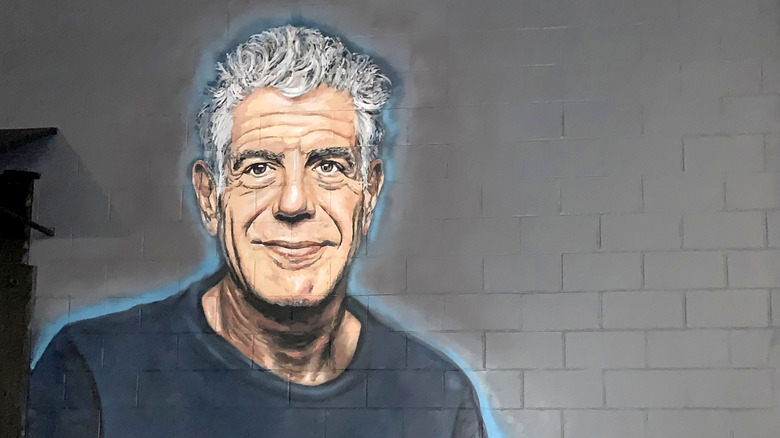 Donaldson Collection/Getty Images
Bourdain's talent was showing us that amazing food didn't require high-society kitchens. His favorite food to cook his daughter was pancakes, not beef bourguignon. This trail recognizes the 10 restaurants of New Jersey featured in his show, continuing Bourdain's name and honoring the everyday cooking he embraced as much as fine dining.
Bourdain's trip to Jersey took place in season five of "Parts Unknown," the same season he went to destinations like Budapest, Madagascar, and Scotland. In the middle of a worldwide food tour, he ate his way through his home state with his brother, stopping at roadside restaurants for fried hot dogs.
The entire episode revolves around Bourdain tasting the flavors and driving through the roads of his childhood, a solid reminder that roots run deep. As Bourdain put it in the show when sampling Saltwater Taffy in Atlantic City, "I hate sweets, but I'm a sucker for nostalgia." New Jersey thanked Bourdain for the feature by permanently marking his route for food tourists to follow. The featured restaurants carry on, some of which have been serving Jersey cheesesteaks for 75 years.
12. Sweet Tea Trail
While the origin of ice tea might surprise you, it isn't all that shocking to find out that a town called Summerville is the birthplace of sweet tea. After all, sweet tea is the official beverage of the Southern summer, providing cool refreshment on the hottest days of the year. This tea trail takes you right down Main Street of Summerville, South Carolina, and invites you to savor all the sights, sounds, and sugary Lipton flavor that makes life sweet.
The trail blends in stops for drinks with trips to iconic landmarks in tea brewing. Stop by for a photo with the world's largest sweet tea, which can hold 2,500 gallons of tea. All in all, you'll check out over 30 different stops that find creative ways to enjoy sweet tea.
Line up your lunch hour with Baker's BBQ and enjoy a pecan pie with a secret ingredient ... sweet tea. You can also play your tour around the Hold My Tea Bar Crawl, an annual event where local bars get creative and develop new ways to sneak some alcohol into your sweet tea.
13. New Hampshire Ice Cream Trail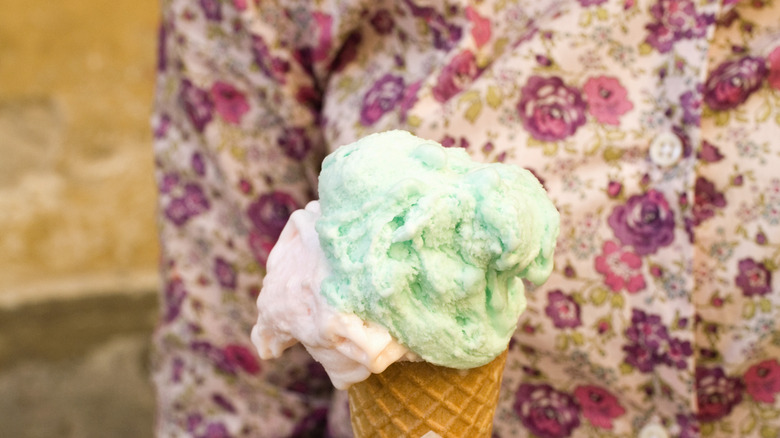 Jupiterimages/Getty Images
From Memorial Weekend through Columbus Day, the Granite State dairy promotion unveils a 50-stop tour of freshly scooped local ice cream. This year's line-up has yet to be released, but the promotion has consistently selected its shops based on how committed store runners are to serving local ice cream.
This ice cream tour has dots all over the map. The trail is not geared towards driving tourists through every stop in one long weekend — this is an all-summer-long event. From the Great North Woods to the Merrimac Valley, dairy fans mark their food passports full of all 50 stops in hopes of claiming the year's prize. In 2022, 59 roamers tasted local ice creams at every stop.
To taste them all, you'll have to stop through dairy farms like Memories Ice Cream, where a 40-year-old machine slowly churns out 5 gallons at a time, as well as march through the doors of Sub Zero Nitrogen Ice Cream, where chemists create a cream that freezes to order. With dozens of flavors to try, the only downside to this trail is the potential for some serious brain freeze.