Andrew Zimmern's Favorite Pan For Cooking Eggs Is Adorable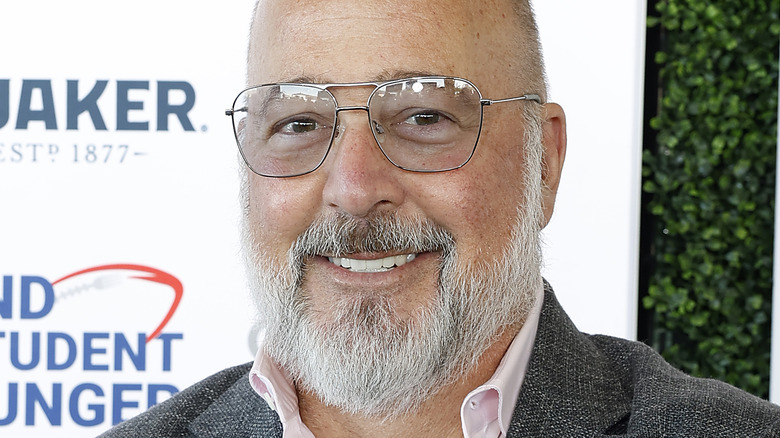 Tasos Katopodis/Getty Images
We hear cooks talk about their favorite knives all the time, but what about their favorite pans? We know Ree Drummond favors cast iron (the "Pioneer Woman" has over 25 cast iron skillets in her kitchen!), and Alton Brown declared on Instagram that if he could own just one pan, it would be a Lodge cast iron one (not sponsored, he clarified). But Andrew Zimmern? The "Bizarre Foods" star's new favorite way to start the day is with eggs cooked in very unique pan indeed — as it's actually a metal spoon. 
On TikTok, Zimmern shared his newly preferred method of frying eggs, using a large, relatively shallow spoon with a long handle. After pre-heating the tool over a burner with some butter, Zimmern dropped in a whole egg that immediately got to sizzling. "It did not disappoint. For sure going to be a #familyfavorite from now on!" Zimmern captioned the post. 
How did Zimmern even get the idea to ditch a traditional pan in favor of a big spoon? It turns out that not only is this viral TikTok egg hack popular on social media, but it's a method that fancy food world folks have been proselytizing for a while now.
It started with Alice Waters
Though the internet may only recently have discovered a love for egg spoons, which also resemble the pans used to make tadka (a sizzle-incuding Indian staple Padma Lakshmi decribes as "music to my ears"), it turns out that the practice was brought into popularity by legendary Chez Panisse founder Alice Waters in the early 2000s. Apparently Waters read about egg spoons in a book called "The Magic of Fire: Hearth Cooking," then got her blacksmith friend to make her one. After that, cooking eggs in an egg spoon became one of her signature techniques.
But why bother buying a special egg spoon? "It's not like cooking it in a pan," as Waters told The New York Times. "You just feel like you're really in charge of it. It's so elemental." These days, you can get egg spoons that vary widely in quality and price, from the $310 hand-forged iron version that's based on the original design Waters favored, to a more affordable carbon steel ladle (like those used in Chinese cooking) or a non-stick tadka pan to really make cleanup easy.