Coors Is 150 Years Old And Wants To Give Away A Life-Altering $150K
This year Coors Brewing Company will mark 150 years since they first began operations. Back in 1873 Adolph Coors got his start making beer in Golden, CO, for the local miners using spring water from the Rocky Mountains. That first beer became known as Coors Banquet as it was often available at old-fashioned banquet halls. Coors set up his brewery with $20,000, $18,000 of which he received from an investor, a not insignificant sum at the time. (Today that would be the equivalent of more than $450,000.) It would be fair to say that were it not for that investor, the world might not have Coors beer today.
In recognition of the importance of investing in small businesses, and to celebrate their 150th anniversary, Coors wants to extend a similar lifeline to entrepreneurs across the country. Now, they've launched the Coors Banquet Legacy Fund, a $150,000 prize that will go towards supporting folks who are trying to crowdfund their small businesses. In a press release announcing the giveaway, the company honed in on the crowdfunding angle, noting that only 50% of crowdfunded projects actually meet their full funding goals. They've launched a website where they're taking applications for crowdfunded businesses to get a chance to win some of that $150k. Entries are open until May 24 and at the conclusion of the giveaway the company will choose 15 entrants to each receive $10,000 towards their crowdfunding goal.
Coors hopes to build more legacies with this giveaway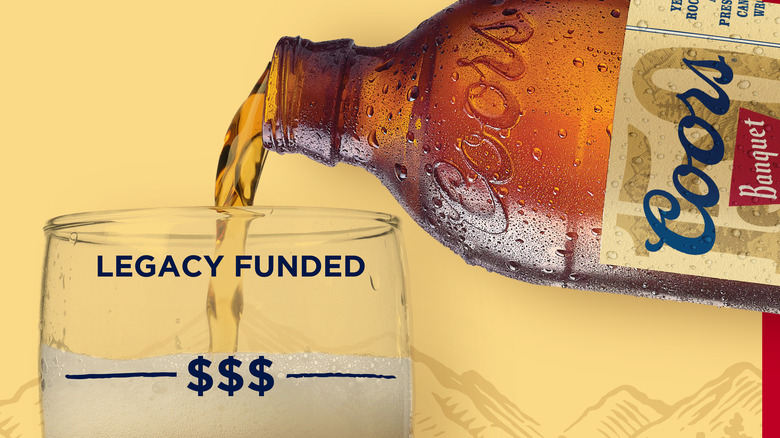 Coors
Coors Banquet has become the legacy beer of the company, with a vintage can design that harkens back to earlier days. It's even become the unofficial beer of the hit TV show "Yellowstone". While Coors original is brewed both in America and in Canada, Coors Banquet continues to be made in Golden. Building on that legacy, and in celebration of the 150th anniversary, cans and boxes of Coors Banquet will sport a vintage design with the phrase: 150 Years Strong.
Crowdfunding has become an increasingly popular fundraising tool for small businesses – one study found that more than $74 billion was raised via crowdfunding in North America in 2020. And, it looks like Coors wants to help fill in that missing middle between what a crowdfunding campaign's goal is and what it is actually able to achieve. Of course, $150,000 is a mere drop in the bucket, but for those lucky 15 winners, it could mean the difference between fulfilling a lifelong dream and closing up shop.
Those interested in the prize can head to coors.com/kickstartyourlegacy beginning today to enter. Entries are only open to US-based businesses, and entries are accepted until May 24.