Hit Show 'Yellowstone' Has A Beer And Ranch Vacation Giveaway
As a way to pump viewers up for the Season 5 debut of "Yellowstone" on November 13, the Paramount TV show is teaming up with Coors Banquet to gift a once-in-a-lifetime experience (via press release). Coors Brewing Company has hosted quite a few sweepstakes this year, each appealing to a different set of fans. Last month was football's turn, as the brand paired with Tide Cleaners to award more than $16,000 in prizes along with free laundry (per Infinite Sweeps). Another contest was for Coors Light fans, with the company celebrating National American Beer Day with up to $50,000 in prizes.
With all the hype "Yellowstone" brings, it's seemingly the perfect TV series to team up with. According to Deadline, the show became TV's leading series in 2021, racking up more than 11 million viewers for the Season 4 finale. If you're a fan of beer, TV, or both, you'll definitely want to enter this newly announced sweepstakes.
Coors Banquet was named 'Yellowstone's' official beer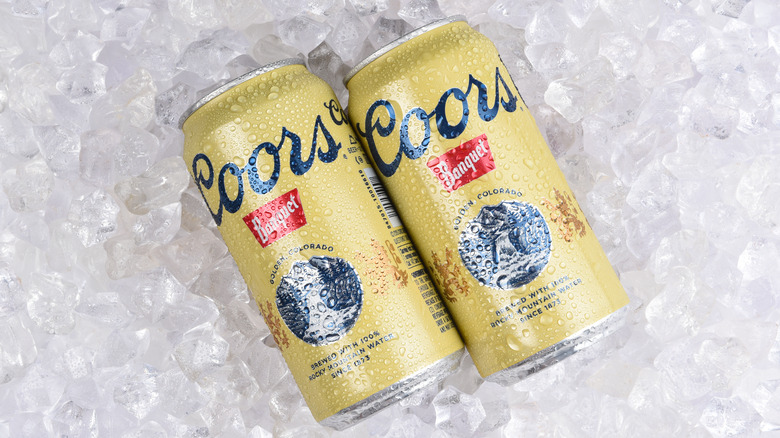 Steve Cukrov/Shutterstock
For years now, Coors Banquet has been showing up in episodes of "Yellowstone," and now it's been named the official beer of the show (per press release). To kick off the partnership, Coors Banquet will be sending one fan and three of their friends to Montana's Big Mountain Ranch for a trip complete with beer, horseback riding, and a slew of other Dutton-inspired activities. The area was chosen because it "authentically emulates a true Western, ranch life experience," per Coors. If you're interested, you must be 21 or older and visit the website before the first day of the new year.
According to American Craft Beer, Coors was announced as the official "Yellowstone" beer in September. "The gritty nature and Western aesthetic of 'Yellowstone' fit perfectly with Coors Banquet's ethos and how it shows up as a brand with consumers," said Coors family of brands marketing director Katie Feldman. And on November 13, fans will get the chance to celebrate the Season 5 premiere with an ice cold brew in hand — we can guess what beverage you'll choose.