Duke's Mayonnaise Is Getting A Seafood Makeover
Duke's mayonnaise consistently is ranked as some of the best store-bought mayo brands. While the company is most known for its homestyle mayo, Duke's does also offer barbecue sauces celebrating the brand's Southern roots. While a slathering of rich and tangy sauce goes well on a slab of beef, the brand is now embracing another protein, this time by way of the sea. The brand is launching a new line of sauces consisting of four flavors: Bayou Remoulade, Creamy Chesapeake Cocktail, Gulf Coast Lemon Garlic Aioli, and Tidewater Tartar. The 10-ounce bottles, which are all designed to pair well with seafood, are selling for $4.99 apiece and can be purchased directly from Duke's website or at some retailers, such as Harris Teeter.
Like Duke's other offerings, the new seafood sauces avoid high fructose corn syrup, artificial colors, and flavors. The sauces, like the mayo, are certified Kosher, even if some of the suggested seafood pairings are not. There are no hard and fast rules for how to use the sauces, but Duke's does provide some suggestions, like making a perfect shrimp cocktail with its new creamy cocktail sauce.
Find new ways to use the sauce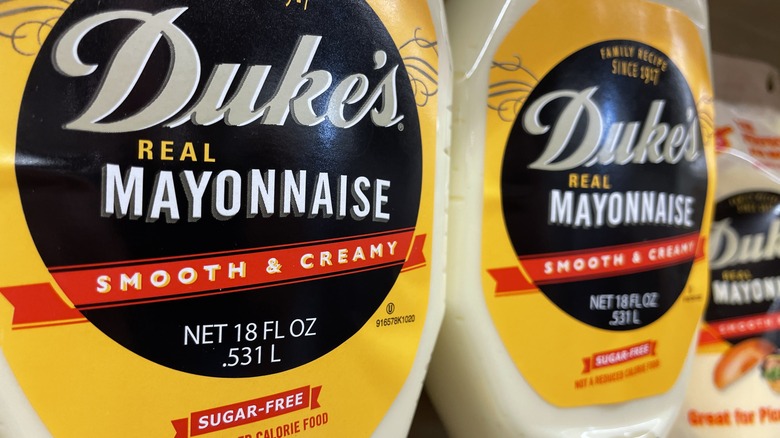 Wirestock Creators/Shutterstock
All of Duke's new sauces are mayo-based, but there's no word yet on if the sauces will also contain no sugar. Duke's is known for being the only major mayo brand that doesn't add sugar to its mayo, yet that's not true of all of its offerings — there is sugar in some of its barbecue sauces, for example. In addition to the new seafood sauces, Duke's is also rolling out a sugar-free version of its Georgia Sweet Heat BBQ Sauce to satisfy the needs of customers on no-sugar diets. For those wondering how to cook with the new sauces, Duke's taken away the guesswork.
Duke's website has slews of recipes, giving customers the option to build an entire meal around the mayo or sauce. There's already a recipe for lemon garlic baja fish tacos using the lemon garlic aioli, and a fried shrimp po'boy featuring the remoulade. The recipes also teach users how to cook and season their fish, which can be helpful for home cooks that don't have much seafood cooking experience. If homemade seafood isn't your thing, Duke's also has recipes for other dishes, including baked goods. Duke's mayo can transform simple mashed potatoes, for one, and we're sure fans will come up with even more creative ways to use these sauces.