Easiest Overnight Caramelized Onions Recipe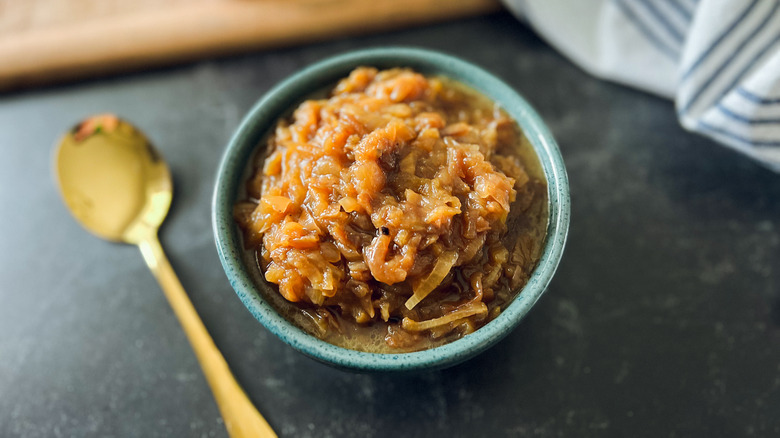 Erin Johnson/Mashed
If you've ever enjoyed a bowl of French onion soup then you're very familiar with the ultra-rich, savory goodness that is caramelized onions. If you've ever been so inspired to make caramelized onions in your own kitchen, then you know that it's a pretty involved process and a time-consuming one at that.
While we certainly can't say that this overnight caramelized onion recipe will cut back on time, we can guarantee that it is much easier than making them on the stovetop. This foolproof recipe courtesy of developer Erin Johnson comes together in a slow cooker, providing all of that rich goodness with none of the hassle. "Caramelized onions are traditionally cooked on the stove for a long time with a high potential for browning too quickly or burning," Johnson explains. "Cooking them in the slow cooker yields deliciously caramelized onions, with little effort whatsoever!" These onions do take much longer to cook in the slow cooker, but that's the beauty of an overnight recipe; prep the night before (or in the morning, so the onions are ready by dinnertime), and voila, you've got perfectly caramelized onions in the blink of an eye.
Gather the ingredients for easiest overnight caramelized onions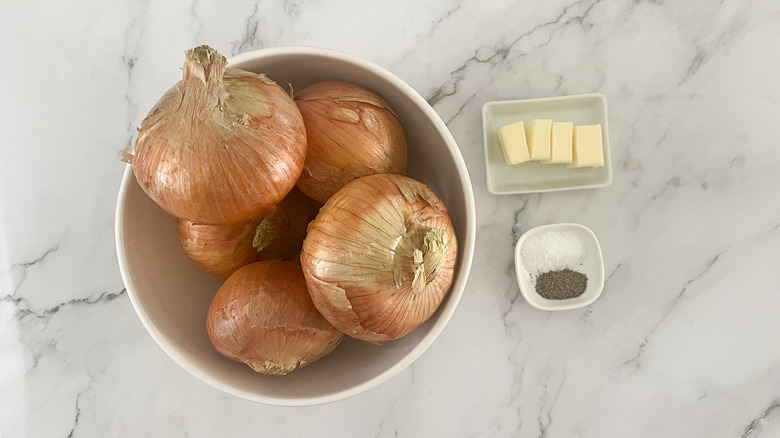 Erin Johnson/Mashed
A big perk to this recipe is not only the ease of it but the fact that you need just four ingredients to make it. Those ingredients are onions, butter, salt, and pepper — it really is that easy. While Johnson opts to use yellow onions, she notes, "You can use any kind of onion you have on hand, or even mix different types."
Load up the slow cooker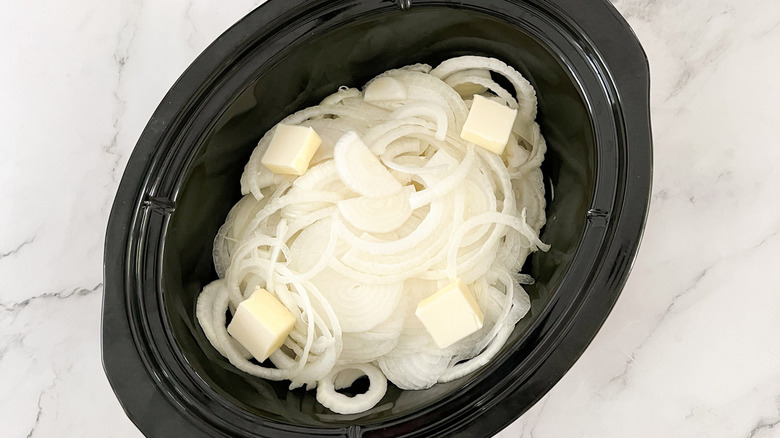 Erin Johnson/Mashed
Your onions need to be thinly sliced, so be sure to do any necessary peeling and slicing before adding all of the onions to the slow cooker. Follow those up with the butter, salt, and pepper, then stir it all up.
Cook the onions overnight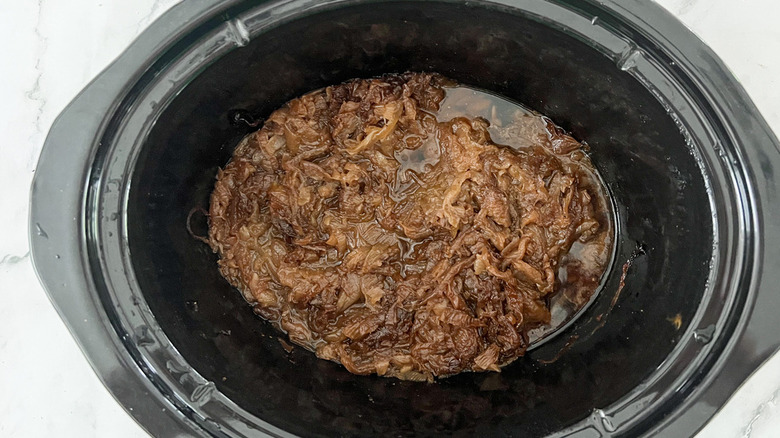 Erin Johnson/Mashed
Allow the onions to cook on the lowest setting for 8 hours, or overnight. In the morning, your kitchen should be smelling pretty aromatic, so go ahead and give those onions a stir. Then, set the lid back on the slow cooker at an angle, just leaving a space large enough to allow steam to escape. Continue cooking the onions for another 2 hours, though keep in mind that this initial cooking period is optional. "After 8 hours, the onions will be tender and delicious," Johnson explains. "You could opt to drain them and use them at this point but I prefer to let the liquid evaporate. The onions get sweeter and 'jammier.'"
Serve or freeze the caramelized onions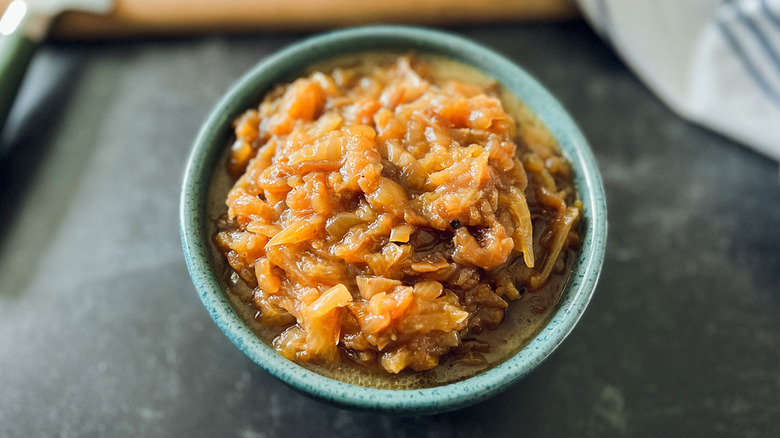 Erin Johnson/Mashed
Once the onions are done slow cooking, you can use them right away, or you can store them in an airtight container in the fridge for four days, or in the freezer for up to three months. 
If you do opt to enjoy them right away, there's certainly no shortage of dishes that you can elevate. "Caramelized onions are a great addition to any dish you'd add onions to — like burgers, a grilled cheese, a quiche," Johnson suggests. "The only limit is your imagination really. I love to add them to a BLT for a pop of flavor!"
Easiest Overnight Caramelized Onions Recipe
Instead of making caramelized onions on the stovetop, try this overnight recipe with a slow cooker to make the process easier.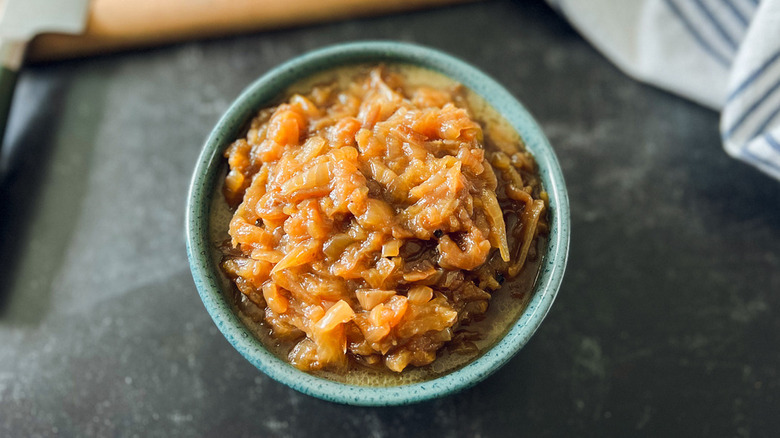 Ingredients
3 pounds onions, thinly sliced
3 tablespoons unsalted butter
1 teaspoon salt
¼ teaspoon pepper
Directions
Slice the onions with a mandolin or knife. Put the onions and butter into the slow cooker.
Add the salt and pepper and stir to season.
Cook on low for 8 hours.
Stir the onions then replace the lid at an angle to allow the steam to escape.
Cook for an additional 2 hours.
Put the onions in an airtight container until ready to use. Store in the fridge for up to 4 days or freezer for up to 3 months.
Nutrition
| | |
| --- | --- |
| Calories per Serving | 106 |
| Total Fat | 4.5 g |
| Saturated Fat | 2.8 g |
| Trans Fat | 0.0 g |
| Cholesterol | 11.4 mg |
| | |
| --- | --- |
| Total Carbohydrates | 15.9 g |
| Dietary Fiber | 2.9 g |
| Total Sugars | 7.2 g |
| Sodium | 298.4 mg |
| Protein | 1.9 g |