You Could Have High Tea Like You're A Cast Member Of Bridgerton
Not since centuries past has London seen such a pronounced proliferation of royal pomp and pageantry as when Charles III was anointed, crowned, and enthroned as King of the United Kingdom. If the colorful celebrations at Westminster Abbey barely whetted your appetite for palace intrigue and glamorous regalia, you can get your fix thanks to Netflix's limited series, "Queen Charlotte."
The series is a prequel to "Bridgerton," following the life of the eponymous Charlotte of Mecklenburg-Strelitz and her love story with King George III. Fans will also learn more about the youths of other grande-dames of "the Ton," such as the Queen's right-hand lady-in-waiting, Lady Danbury, and the matriarch of the family the main series focuses on, Violet Bridgerton. The period represented may have slightly changed, but the continued involvement of legendary showrunner Shonda Rimes means that "Queen Charlotte" still has the same mix of romance, refinement, and raucous social occasions that made "Bridgerton" a global hit.
To celebrate "Queen Charlotte," showrunners collaborated with London's iconic Lanesborough Hotel to create the Queen Charlotte Afternoon Tea, an incredible opportunity for fans to treat themselves to the same technicolor lavishness that lends London's Regency elites their luster. As well as a glass-domed dining room and themed dishes and drinks, The Lanesborough is perfectly located for a pre-or post-tea promenade in the parks for the true society experience! The event, which costs $94 per person, began on May 4, 2023, and operates daily. The Lanesborough Hotel requests guests make reservations in advance. 
What to expect from the Lanesborough Hotel's Queen Charlotte Afternoon Tea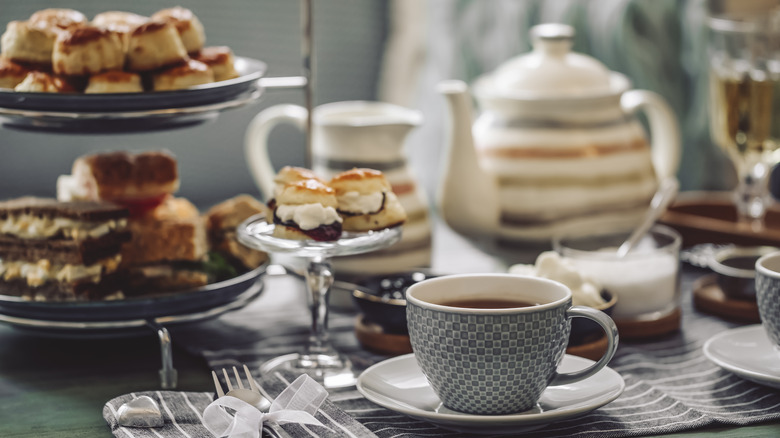 Eva-katalin/Getty Images
The Lanesborough's Queen Charlotte Afternoon Tea menu offers guests 14 different teas from which to choose, including two signature tea blends — the Lanesborough's own and a special Queen Charlotte blend redolent with fruity and floral notes. Head of Bars Mickael Perron reimagined Regency-era Gin Punch with his Queen Charlotte cocktail, created exclusively for this menu — combining award-winning London gin Ford's with flavors of black raspberry Chambord, cranberry, lychee, vanilla, and lime, all topped off with Champagne, naturally.
Not to be outdone, accompanying scones and tea sandwiches, Head Pastry Chef Salvatore Mungiovino has pulled out four pastel-colored pastry tributes to the show's characters from beneath his hat. The "Your Majesty" is a crowned cake for sharing; the "Danbury Delight," a berry and pistachio gateaux ode to tasteful accessories; the swirling jasmine-scented orb of "King George Dreams of Venus" acknowledges the late monarch's love of astronomy; and "Lady Violet's Garden" bears fruits (mango and lime to be precise) accenting a rich chocolate bavaroise.
For those who can't make a trip to London, you can order the Queen Charlotte signature tea blend, along with two other show-inspired tea varieties, from the Republic of Tea: Young Lady Danbury Topaz Citrus and Young Queen Charlotte Amethyst Berry. However, if you happen to be in New York City, The Queen's Ball: A Bridgerton Experience is a regency-themed extravaganza that runs through July 2023.