Why You Shouldn't Buy Chick-Fil-A Sauce Bottles From The Restaurants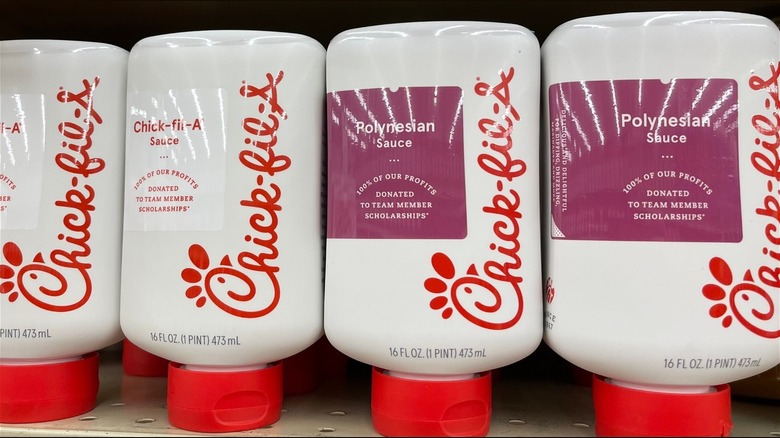 Lynn Watson/Shutterstock
Much to the joy of anyone who loves Chick-fil-A sauces, the chain decided to start selling bottles of its condiments in early 2021. Currently, Chick-fil-A offers 8 oz. sauce bottles at select restaurants and 16 oz. bottles at grocery stores.
However, one TikTok user has been discouraging others from purchasing the 8 oz. bottles directly from Chick-fil-A restaurants. This particular user points out that a single 8 oz. bottle costs about $2.75, while a 16 oz. bottle only costs about $1.50 more. Walmart, for instance, sells the 16 oz. sauces for $3.98, while Target sells them for $4.29. Either way, that's a much better value at an average of $0.26 per ounce in stores, compared to $0.34 per ounce in the restaurant.
That being said, there are a few ways to get Chick-fil-A sauces for even cheaper, whether that be stocking up on free sauce packets, buying a similar store-brand sauce, or using a copycat Chick-fil-A sauce recipe at home.
Other ways to get Chick-fil-A sauce for less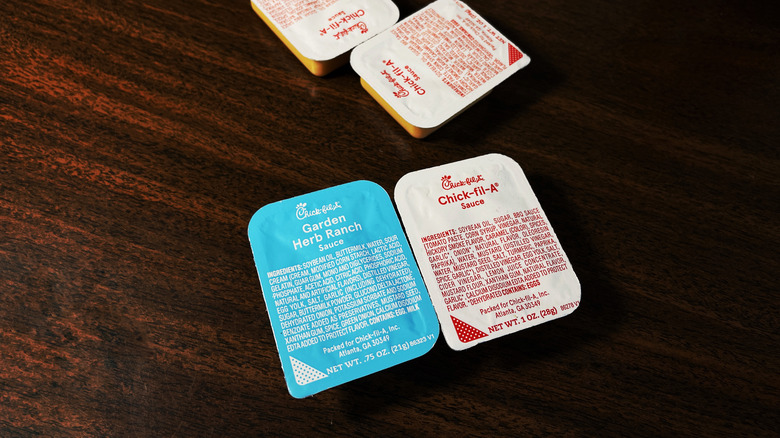 Marouanesitti/Shutterstock
Although a few TikTok users recommend getting your fill of Chick-fil-A sauces by simply asking for sauce packets at the restaurant, this tactic isn't without its own problems. In 2021, the fast food chain implemented a new sauce policy in response to supply chain shortages, limiting the number of sauces customers can get. As such, Chick-fil-A employees won't be too thrilled about you asking for eight sauce packets so that you can essentially score a free 'bottle' of sauce. As one TikTok user wrote, "I work at Chick-fil-A, if you ask for eight sauces you would just get told no."
Moreover, you should think twice about saving Chick-fil-A sauce packets anyway, as some customers reported them exploding and making a sticky mess. One TikTok user suggested a clever workaround: "Buy the bottle at the supermarket and refill it with freebies after that."
However, you may be better off making your own sauce at home or buying a Chick-fil-A dupe at your favorite grocery store. Walmart has a copycat Chick-fil-A sauce, sold as the Great Value Restaurant Style Chicken Dipping Sauce, and a 12 oz. bottle costs about $2.28 (or $0.19 per ounce). While it may not be the real deal, it's a much better price per ounce than even that 16 oz. bottle of Chick-fil-A sauce.