How Golden Corral Survived When Other Buffet Chains Failed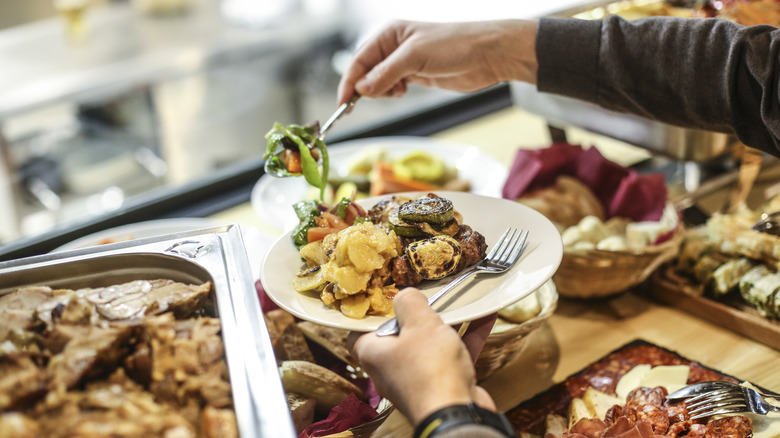 Goodlifestudio/Getty Images
The pandemic was supposed to be the end of the all-you-can-eat buffet. The situation was already dire: In 2019, 10% of the country's buffet concepts closed, and sales were down quite a bit at those that remained. By 2016, Old Country Buffet had filed for bankruptcy three times, which, along with a salmonella outbreak, is why you don't really see them anymore.
But Covid-19 was disastrous. "It was some dark days very early on," Lance Trenary, the CEO and president of Golden Corral, the mega-popular buffet chain, told FSR Magazine in 2021. Buffet-style dining basically went against everything the FDA recommended to keep people safe, and even some beloved chains like Souplantation and Sweet Tomatoes were forced to close for good.
But Golden Corral didn't only survive — it thrived. Golden Corral's sales were actually double-digit percentages higher in 2022 than pre-pandemic in 2019. Its strategy, which earned Trenary a top industry award, focused largely on finding unique and safe ways to keep offering food at a value. As Covid-19 restrictions impacted the traditional buffet service model, Golden Corral adapted more successfully than other chains. During the pandemic, the chain created take-home family-style meals and a drive-thru system to keep sales.
How Golden Corral came out of the pandemic stronger than before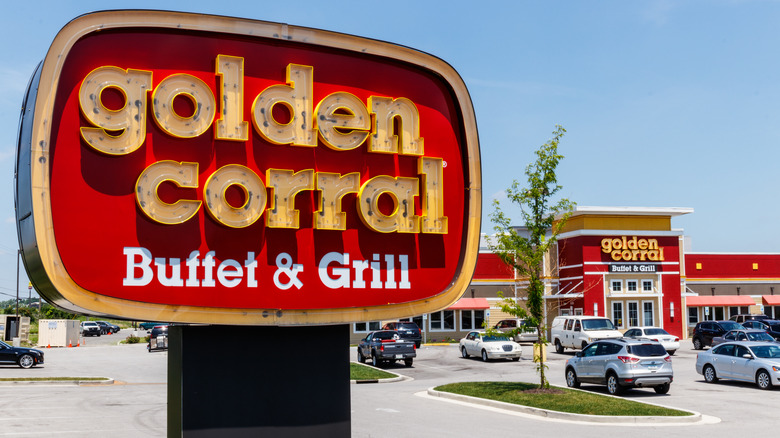 Jonathan Weiss/Shutterstock
With rising inflation in 2022 and 2023, Golden Corral recognizes the importance of pricing, especially in this economy. While the buffet chain was forced to raise prices by 14% between 2020 and 2023, Golden Corral has also investigated ways to keep costs down. For one, the corporation slashed the royalty rates that franchisees have to pay, saving individual stores' operation costs. The chain also has an online rewards system where customers can accrue points for discounts as well.
Another economic-minded pandemic change you might not have realized is that some Golden Corral locations started serving alcohol. Booze is a particularly effective way for a restaurant to boost its profit margins because it's easy to upsell and can be marked up significantly. So we might have beers and frozen daiquiris to thank for still being able to enjoy that chocolate fountain. Additionally, the buffet chain is branching out with a casual-style restaurant called Homeward Kitchen in North Carolina as part of the company's plans to experiment with how it's reaching customers.