An Ohio Restaurant Hopes To Shatter World Record With A 600-Foot-Long Cheesesteak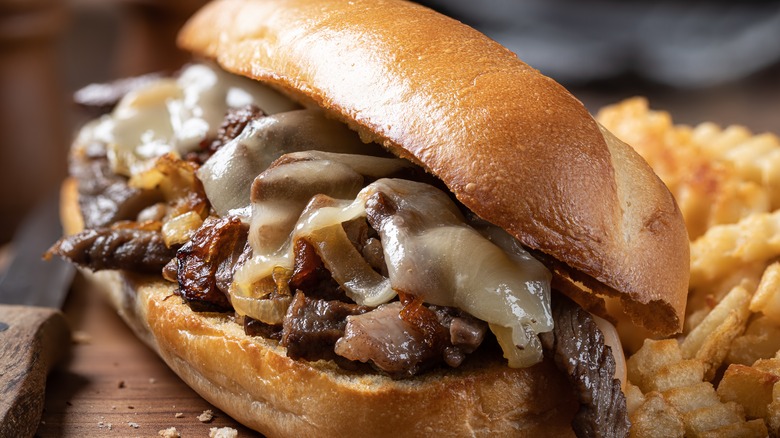 Charles Brutlag/Shutterstock
Have you ever eaten a sandwich, and immediately thought, this could be better if it were much, much bigger? One Ohio restaurant is celebrating its one-year anniversary by attempting to set a world record for the longest cheesesteak. Steak Thyme Bar & Grill in Miamisburg, Ohio is marking the occasion by attempting to create a 600-foot-long cheese steak for the company's block party celebration. The co-owners, twin brothers Jordan and Jake Shteiwi, will be closing their restaurant on May 17 and inviting the community to witness the epic sandwich construction.
The restaurant will begin preparing the sandwich around 8 a.m. and hope to have it 90% of the way finished by the time customers arrive at noon. Filling a 600-foot sandwich is no small feat, and will require around 400 pounds of meat and 168 pounds of provolone cheese. Of course, it'll all be layered on 600, foot-long rolls. Aside from enjoying the cheese steak, kids will be treated to a bounce house and face paint, while adults can participate in a raffle and enjoy music. 
Jordan Shteiwi, told Dayton.com, "We want to take this chance to showcase our cheesesteaks and the teamwork of our entire staff ... with the local community."
The world record has already been set
While it may seem like a lot of time and effort to build a world record-breaking sandwich, the Philly cheese steak sandwich record has already been broken... several times. The most recent record was broken by Rim Steak in Philadelphia. The sandwich was a whopping 510 feet, but if Steak Thyme is successful, it will gain the title of the world's longest cheese steak. Extremely long cheesesteak sandwiches are just one of the culinary world records set by chefs across the world.
There are world records for eating copious amounts of food, as well as creating foods. The largest serving of guacamole just earned a world record for weighing a modest 10,957 pounds. It's not always weight and height that can earn a food a world record. Tokyo Dog in Seattle successfully created the world's most expensive hot dog, costing a mere $169. The hot dog was far from traditional, with toppings like foie gras and black truffles. 
When setting a world record for the sheer amount of food, it's crucial that there are enough people willing to eat it. Steak Thyme's block party will last all day, with the owners hoping to get all the cheesesteaks eaten by 7 pm.