Grab-And-Go Chocolate Peanut Butter Protein Ball Recipe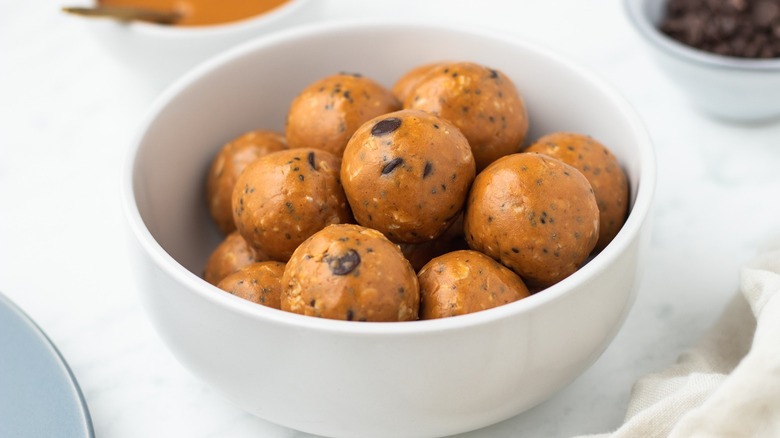 Catherine Brookes/Mashed
We are always in search of healthy snacks that can be prepared ahead of time, and this recipe delivers the perfect solution. Recipe developer Catherine Brookes brings us this recipe for grab-and-go chocolate peanut butter protein balls, which pack in just as much rich flavor as they do nutrients. Not only do they come together in about 15 minutes and require ingredients you likely have on hand already, but they taste like cookie dough, pleasing even the pickiest of eaters.
So, what makes these chocolate peanut butter balls so nutritious? Well, for one thing, they're packed with protein powder. "I used a supermarket brand unflavored protein powder here, but you could also go for a vanilla or chocolate flavored one if preferred," says Brookes. And if they have a peanut butter flavor, why not double down on that flavor profile? The possibilities are endless. As for when to enjoy these protein balls, Brookes says, "I love to make these on a Sunday evening to keep in the fridge and snack on throughout the week. They're great to take out for snacks on the go as well."
Gather your ingredients for grab-and-go chocolate peanut butter protein balls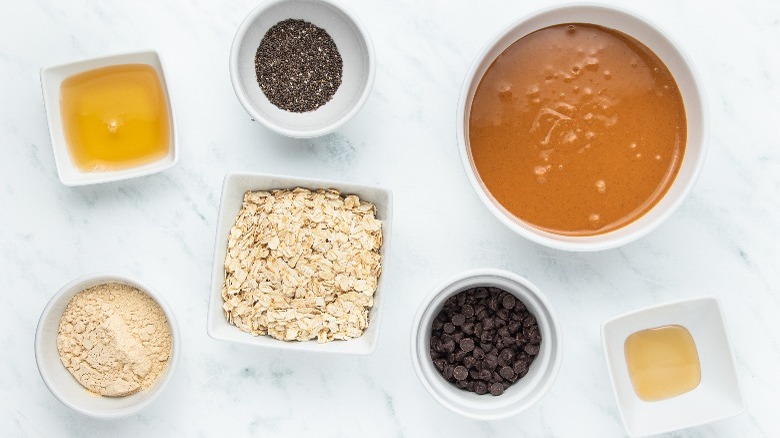 Catherine Brookes/Mashed
To make these chocolate peanut butter protein balls, you can start by gathering your ingredients. For this recipe, you will need peanut butter, oats, chia seeds, protein powder, vanilla extract, agave syrup, and dark chocolate chips. "If you don't have agave syrup, maple syrup on honey would both work great here," says Brookes.
Add all ingredients to a large bowl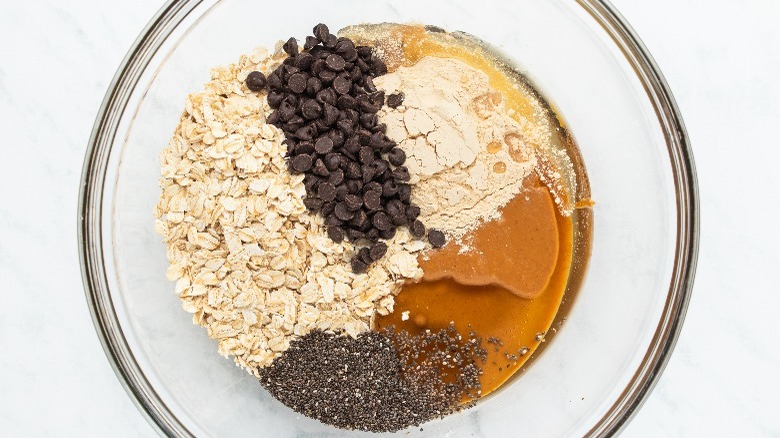 Catherine Brookes/Mashed
The first step involves adding all of the ingredients to a large bowl. There is no need to do this in any particular order, as all ingredients will soon be all mixed up — just be sure to select a bowl that's large enough to accommodate everything.
From a batter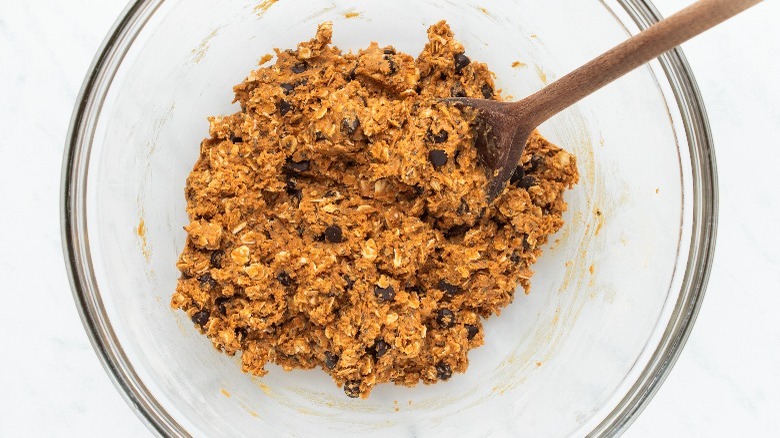 Catherine Brookes/Mashed
Next, using a wooden spoon, stir these ingredients together. The mixture should be sticky and thick. Try to thoroughly mix the ingredients so they are evenly-dispersed.
Roll into balls and store in the fridge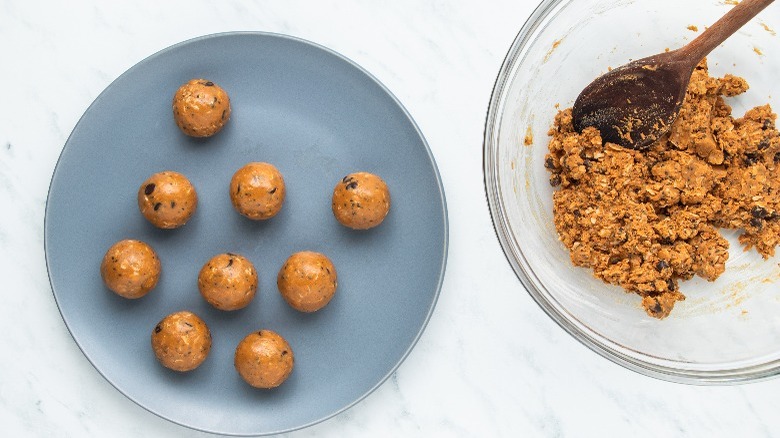 Catherine Brookes/Mashed
Lastly, roll the mixture in the palms of your hands into several balls. Each ball should be around 2 tablespoons worth. Then, once all of the balls have been rolled, you're ready to enjoy these protein-packed peanut butter balls.
Since you likely won't eat all of the protein balls right off the bat, store any leftovers in the fridge for up to 1 week. Better yet, portion out snack-sized servings into baggies or Tupperware for optimal grab-and-go ease.
Grab-And-Go Chocolate Peanut Butter Protein Ball Recipe
These chocolate peanut butter protein balls make for the ultimate nutritious grab-and-go snack.
Servings
16
Protein Balls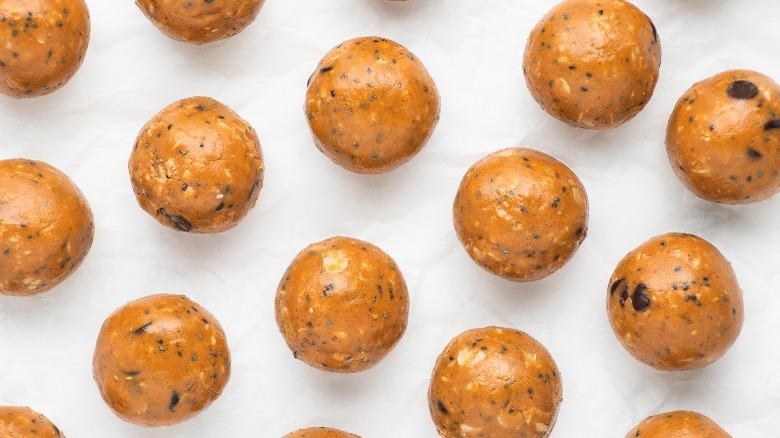 Ingredients
1 cup natural peanut butter
1 cup rolled oats
1 tablespoon chia seeds
¼ cup protein powder
½ teaspoon vanilla extract
3 tablespoons agave syrup
3 tablespoons dark chocolate chips
Directions
Add all ingredients to a large mixing bowl.
Mix everything together with a large wooden spoon. The batter will be thick and sticky.
Portion 2 tablespoons-worth of the batter and, using your hands, shape it into a ball. Repeat until all of the batter is used up.
Store the protein balls in the fridge for up to 1 week.
Nutrition
| | |
| --- | --- |
| Calories per Serving | 161 |
| Total Fat | 10.1 g |
| Saturated Fat | 2.3 g |
| Trans Fat | 0.0 g |
| Cholesterol | 0.1 mg |
| | |
| --- | --- |
| Total Carbohydrates | 11.9 g |
| Dietary Fiber | 2.1 g |
| Total Sugars | 5.3 g |
| Sodium | 44.2 mg |
| Protein | 7.6 g |