Add Hot Honey To Any Dip For A Sweet And Spicy Kick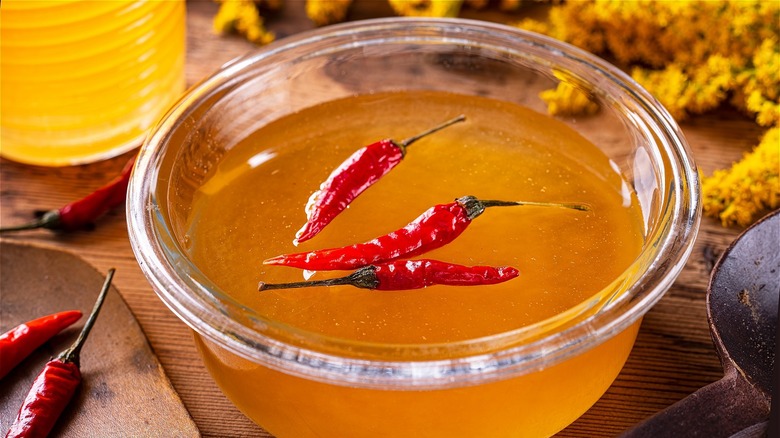 Fudio/Getty
Hot honey is an en-vogue culinary darling that's sweeter than your ex's apologies and hotter than your neighbor's gossip. It adds a dash of sass to anything it touches, and the options to use it are endless. Pizzerias nationwide have been featuring bottles of it on tables. Southern fare restaurants suggest pouring the stuff onto biscuits and fried chicken or swapping it for maple syrup on your waffles. Brunch spots are incorporating it into sandwiches and omelets. And you can use it at home to kick things up a notch with dunkable apps like dips, dressings, spreads, and sauces. Swirling in hot honey is a simple way to create a delightful nosh with both piquant and candied notes.
A tantalizing blend of honey and chili peppers, hot honey can be infused into a variety of creamy indulgences such as hummus, queso, salsa, aioli, and guacamole. It also pairs incredibly well with traditional condiments such as ketchup, mustard, and mayonnaise. To incorporate hot honey into your favorite dip spreads, you don't need any fancy techniques. Simply fold it into the other ingredients or garnish the top for a pretty, glistening finish. Your already-delicious relish can get an upgrade in seconds. 
Hot honey gives dips a major boost
Hot honey is a versatile flavor and nutrient powerhouse, making it an ingredient worth stocking up on. The sweetness of the honey balances the savory and tangy flavors of dips such as hummus and salad dressings, while the heat provides a depth of flavor that enhances the overall taste. Hot honey can be drizzled on hummus for an appetizing, charming presentation. Add crushed red pepper for an extra zing and subtle crunch.
When used in salad dressings and other dips, hot honey can provide a unique twist to some of the most beloved classics. For example, mingling hot honey with dairy-forward favorites like ranch, sour cream, cream cheese, feta, quark, or ricotta can transform them into spicy, tangy, sweet augmentations. Try it on a zesty whipped feta dip, or add it to an irresistibly gooey dish of melted cheese and herbs. Mike's Hot Honey, the Brooklyn-based brand with a faithful cult following, recommends blending its product with soy sauce for an aromatic sushi dip or stir fry sauce.
Thankfully, hot honey also has a few potential health benefits. Honey is so healthy you could eat it every day: It's known for its natural antibacterial, antimicrobial, and anti-inflammatory properties. When capsaicin, the compound that makes peppers spicy, is in the picture, your immune system is even more protected. Hot honey for the win!