Dessert Pizza Shouldn't Be Just A Big Chocolate Chip Cookie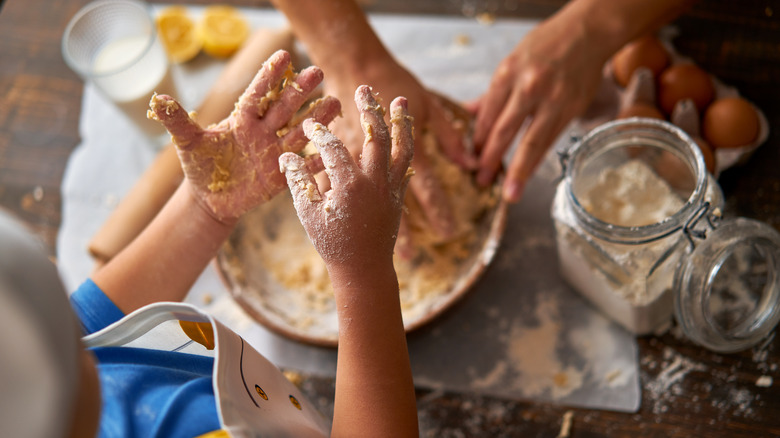 Pinstock/Getty Images
Pizza, in all of its forms, is a global favorite. From its birthplace in Naples to flagship hot spots like New York and Chicago, there are dozens of styles of pizza to enjoy — all equally delicious. Among the many ways to make it, though, most pizza is made with sauce, cheese, and toppings on a crispy, crunchy, baked dough. However, adventurous pizza connoisseurs might be familiar with a sweet iteration of the savory recipe we've come to know and love — dessert pizza.
While dessert pizza is downright delicious and fit for any snacking occasion, there's one serious problem with it — innovation. Sure, we all love Pizza Inn's iconic chocolate chip pizza; but, in the end, it's just a glorified chocolate chip cookie — we only accept it as "pizza" because of its context.
Instead of just making a cookie cake and cutting it into pizza-shaped triangles, real dessert pizza should boast some of the key elements that a savory one does. A proper dessert pizza should start with a sugary dough topped with sweet sauce and decadent, complementary toppings.
Ideas for dessert pizza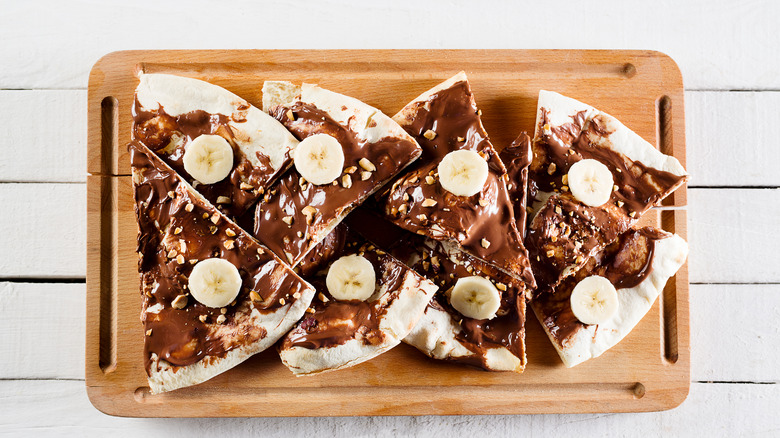 Zorandimzr/Getty Images
Listen, we're not here to yuck anyone's yum. If a pizza-shaped cookie cake satisfies your sweet tooth — then more power to you! But if you want to make a dessert pizza that resembles an authentic, savory one, then we've got you covered. For a sweet pizza with a tangy flair, try baking our easy-to-make fruit pizza made with cream cheese "sauce" and assorted berries assembled on a brown sugar dough. If fruit-based delicacies aren't your go-to for desserts, don't worry; there's plenty more to explore.
If you want a delectable pizza that also offers some health benefits, one chef on TikTok created a high-protein Oreo pizza founded on a crust made from coconut flour, Greek yogurt, and vanilla protein powder topped with crushed Oreos and protein-rich icing on a bed of chocolate sauce.
@thezachrocheleau

🔥 696 Cal 12" Protein OREO Dessert Pizza 📍A Dessert Pizza Crust that can be made in minutes that requires one bowl, no kneading, no rolling out of the dough with extra flour, etc. ✅ Macros for the WHOLE 12" Pizza 696 Cals, 60g Carbs, 8g Fat, 90g Protein ✳️ Ingredients for 12" Protein Dessert Crust: 40g Self Rising Flour 30g Vanilla Whey/Casein Blend Protein Powder (I use my brand aka the best protein for recipes in the game! "FDL" saves you 15% at ProteinCookieButter.com) 12g Coconut Flour 5g Zero Cal Sweetener 150g Plain Non Fat Greek Yogurt 75g Egg Whites ✳️ Ingredients for OREO Frosting: 45g Vanilla Whey/Casein Blend Protein Powder 22g Black Cocoa Powder 5g Zero Cal Sweetener ✳️ Ingredients for Protein Icing (only used a little bit of it): 30g Whey/Casein Blend Vanilla Protein Powder 15g Powdered Sugar Cold Water to consistency Additional Toppings: Crushed OREO Thins (not in macros) #oreo #Cheesecake #pizza #oreopizza #dessertpizza #proteinpizza #dessert #healthy#healthydessert #mealprep #easyrecipes #weightloss #fatloss #lowcalorie #macrofriendly #gymfood #foodie
Another TikToker used a classic crust for her pizza dessert; but, instead of garlicky red sauce, she used Nutella as the foundation and topped it with crushed hazelnuts, a scoop of vanilla ice cream, and grated dark chocolate.
Other options for dessert pizza sauce include peanut butter, almond butter, custard, sweetened condensed milk, or even jam and jelly. Alternative toppings might be toasted marshmallows, M&M's, sprinkles, or white chocolate chips. And dare we suggest a brownie-inspired dough?
However you choose to make your dessert pizza, just remember, have fun with it!