Emeril Lagasse's Favorite Snack Food Is A Cult Classic Potato Chip Brand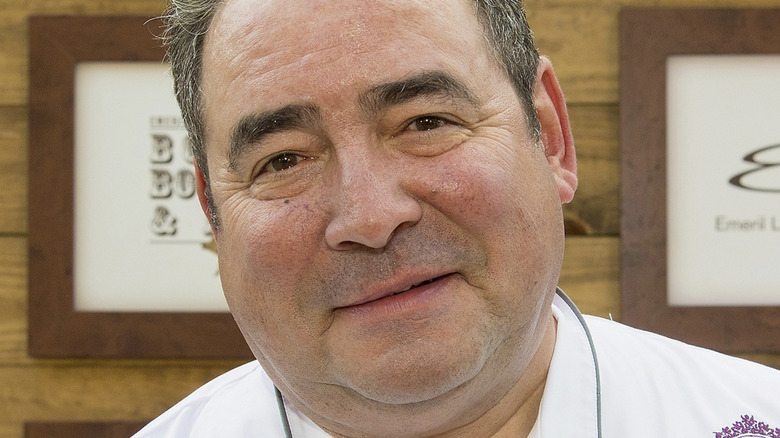 Erika Goldring/Getty
Chef Emeril Lagasse knows a thing or two when it comes to flavor. While he's known for his flagship Cajun restaurant, Emeril's, his catchphrase "BAM!" has truly resonated with fans. Lagasse appreciates well-seasoned food, so it's no surprise his favorite snack is a potato chip with deep Cajun roots. In an interview with "Good Morning America," Lagasse admitted that he swears by Zapp's original potato chips, especially when fresh out of the freezer. Yep, that's correct. Lagasse swears by his method, saying, "The original Zapp's in the freezer, try them, Oh my God."
The chef's fondness for potato chips began in his childhood, but it was after he moved to New Orleans to work at Commander's Palace that he fell in love with Zapp's. Zapp's potato chips come in several unique flavors, like Voodoo, Spicy Cajun, and Cajun Dill. But he doesn't just love to snack on the chips straight from the bag. Lagasse uses the chips to take deviled eggs to the next level of crunch, as well. For those who have never eaten Zapp's, what sets the chips apart is that the chips are kettle cooked, resulting in a super crispy and thin chip. The chips are also excessively seasoned, ensuring their bold taste.
A chip with zesty history
Emeril Lagasse isn't the only one who has developed a fondness for Zapp's potato chips. The Louisian-born brand offers customers more than just the basic flavors by embracing its Southern Cajun roots. In fact, it is rumored that Zapp's Spicy Cajun Crawtators were the first spicy chip introduced in the U.S. market. We can thank Ron Zappe for the Zapp's empire after the failed businessman moved to Louisiana and decided to try his hand at making kettle-cooked chips. In the beginning, he even handed out free samples on the street corner to entice potential customers.
One of Zapp's most beloved offerings? Voodoo chips. They give a nod to both the Voodoo rituals inherent to New Orleans' history and the unique flavor of Cajun food. The Voodoo chip actually contains four flavors, including salt, vinegar, BBQ, and jalapeño. Jumping off the success of Voodoo, Zapp's now also offers an Evil Eye flavor, which has notes of spicy tomato, salt, and vinegar. If you're anything like Emeril, try crushing these unique flavored chips onto your deviled eggs, or enjoy them sprinkled on an ooey-gooey grilled cheese.