Emeril Lagasse's Elegant Recipe Takes Deviled Eggs To The Next Level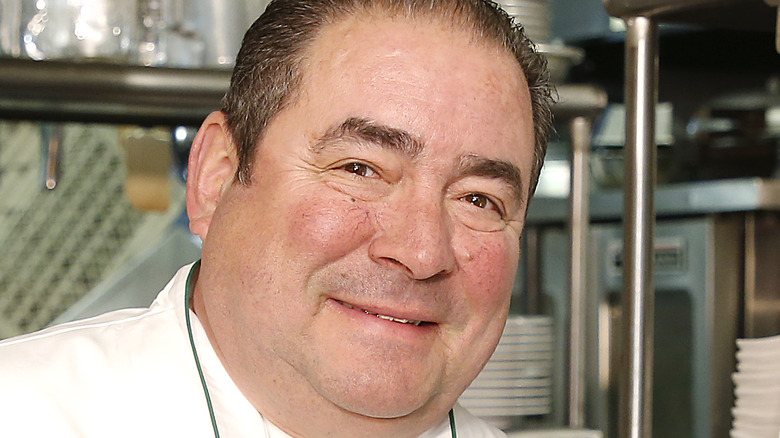 John Lamparski/Getty Images
Deviled eggs are a classic American dish, and are often served as a side or appetizer at potlucks, picnics, dinner parties, or holiday get-togethers. If you've never eaten one, they're essentially hard-boiled eggs that have been cut in half and then filled with a whipped mixture of egg yolk, mayonnaise, mustard, and other spices. As for where the name came from? It has nothing to do with anything dark or scary. According to MyRecipes, deviled is simply a culinary word used to describe a dish with a kick, namely one flavored with lots of fiery or spicy seasonings.
While you can enjoy deviled eggs in their original form, there are a lot of unique variations on the traditional finger food, from bacon to avocado to ranch. Even Emeril Lagasse has come up with his own take on deviled eggs, elevating them to gourmet status. In a recent Instagram post, he shared his stunning creation with fans. The verdict? They're an (edible) work of art.
Potato chips are Emeril's secret ingredient
Leave it to Emeril Lagasse to make even the most basic of appetizers (deviled eggs) into a creation worthy of any 5-star restaurant. On National Deviled Eggs Day, the celebrity chef shared a photo on Instagram of what he calls some of his favorite deviled eggs. They're from Meril, which is Emeril's fourth restaurant in New Orleans (via the Meril Instagram account). The eggs are topped with caviar and cost $15, according to the menu at Meril. But what really takes Emeril's deviled eggs to the next level is the addition of Zapp's potato chips, which gives them some salt and crunch. "Make sure to sprinkle those chips on top before taking a bite!" he captioned the picture.
Fans love Emeril's creative take on the classic finger food, with many posting heart-eye emojis on his photo. "Looks delicious and beautiful... almost too pretty to eat," one person commented, while another dubbed the eggs "extremely sophisticated."