14 Underrated Restaurant Chains You Need To Try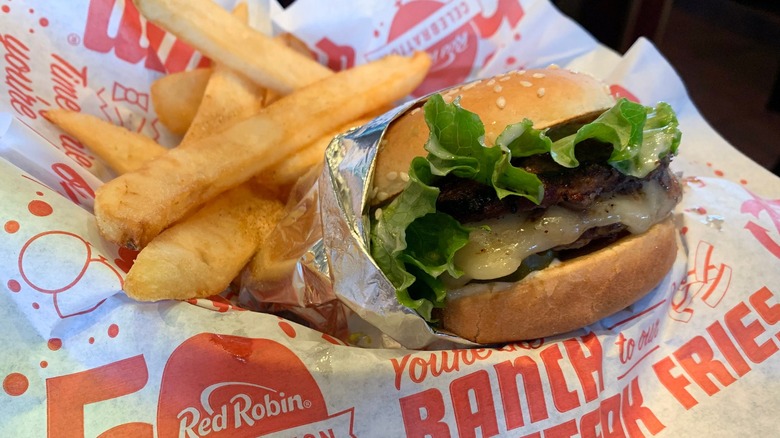 JJava Designs/Shutterstock
When it comes to going out for good food, many people are dismissive of chain restaurants and avoid them whenever possible. After all, these chain eateries couldn't possibly serve quality food or interesting menu items if they have more than one location, right? The truth is that so many chain restaurants are underrated and overlooked by diners who were taught to think less of them.
While most chain restaurants are not known for fine dining, that doesn't mean they don't have delicious or, in many cases, nutritious food. They usually gain popularity for their signature dishes, welcoming atmospheres, and attentive service, which are core reasons Americans like to dine out. 
If you fall into the category of people who are reluctant to give chain restaurants a chance, you may be missing out on tasty food that offers quality and convenience at the right price point. Here are a few underrated chains that deserve more attention.
1. Yard House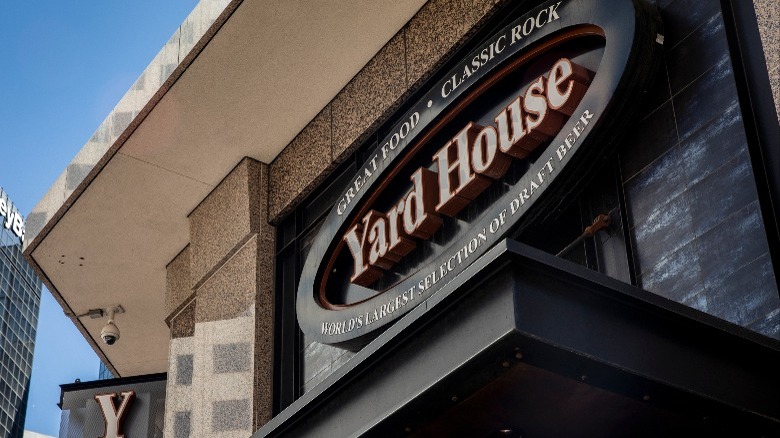 Bloomberg/Getty Images
With close to 90 locations across 81 cities in the United States, you may have come across a Yard House restaurant near your home or while traveling. Describing itself as having the world's largest selection of draft beer, you're definitely in for a treat if you enjoy trying local, seasonal, domestic, or international cold brews. In fact, the chain was named for the long, narrow yard glasses it uses to serve beer — from crisp lagers to frothy stouts and everything in between.
Not a fan of beer? There's still plenty to love at Yard House, even if you do not indulge in booze. The menu is inspired by New American cuisine and combines global flavors, quality ingredients, and a wide selection that will satisfy everyone. House favorites include grilled burgers, gourmet salads, seafood dishes, tacos, and steaks. It even offers vegan food items.
Another notable Yard House perk is its happy hour menu. Depending on the location, the restaurant offers excellent deals on some of its best dishes and drinks. You can get half off select appetizers and all pizzas on the menu — in addition to discounts on beer, wine, and cocktails. 
2. Red Robin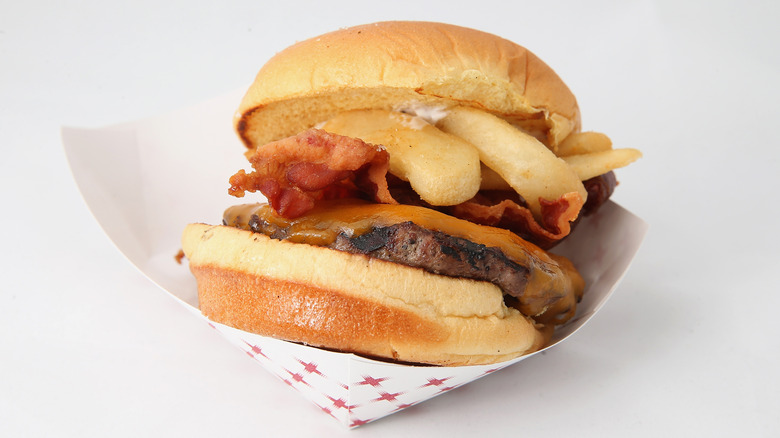 Neilson Barnard/Getty Images
Unless you've been living under a rock, you've probably seen TV commercials and advertisements for Red Robin, featuring its mouth-watering burgers. While it might seem like a basic diner-type establishment on the outside, its selection of gourmet burgers can hold its own with the best in the culinary world. The restaurant chain may even be responsible for some of the popular trends you see at fancy burger joints today, including thick-cut steak fries and topping burgers with a fried egg.
If you're a burger aficionado who has never tried Red Robin, you're missing out. It turns out that the chain holds itself to very strict industry standards when it comes to its burgers and other menu items. All patties are made with domestic, all-natural, preservative-free beef that is 100% USDA-inspected. Produce is sourced from GMO-free family farms, and most sauces and dresses are made in-house. Even the specialty bacon is smoked and prepared by Red Robin. The restaurant also offers two plant-based proteins for vegetarians to substitute on any burger — one being a custom Red Robin grain and quinoa blend, and the Impossible Burger patty as the other.
3. BJ's Restaurant & Brewhouse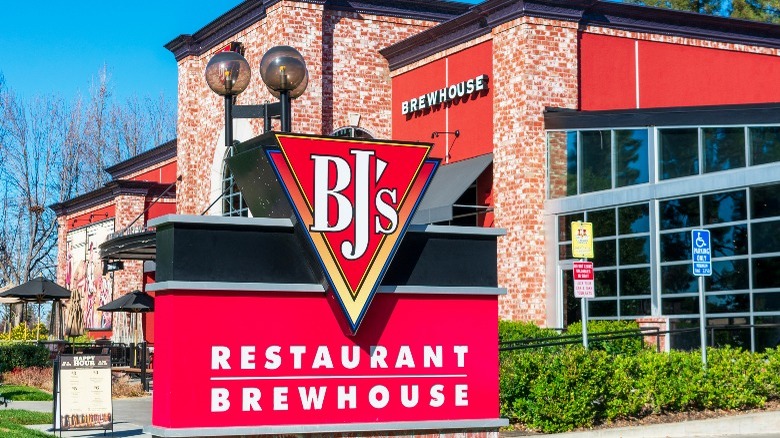 Michael Vi/Shutterstock
Starting out as a California nod to deep-dish pizza, BJ's Restaurant & Brewhouse has evolved into an energetic eatery and bar that offers surprisingly good food, an impressive drink selection, and craft beers made in BJ's own breweries. BJ's famous deep-dish pizzas are made with hand-pressed dough that rises twice for a dense and crispy crust that has a satisfying crunch. While you can order one of BJ's signature pizzas, you also have the option to create your own with your favorite meat and vegetable toppings. The restaurant also offers different crust styles if you prefer something lighter.
The rest of BJ's menu is versatile and fresh, ranging from burgers to pasta dishes, as well as seafood and lighter fare. For health-conscious diners, you will be pleased with BJ's Enlightened choices, which include gluten-free, vegetarian, low-calorie, and superfood options that will fill you up without breaking your diet. If you haven't been to a BJ's yet, it's definitely worth a visit.
4. Lazy Dog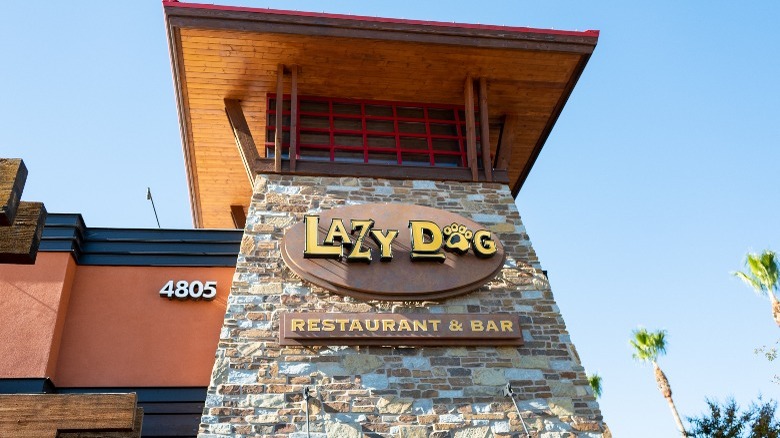 Gado/Getty Images
Although you may not be familiar with Lazy Dog unless you live in California or a few other states, this restaurant chain is on the rise, with several new locations set to open in the next year. Its concept was inspired by the founder's memories of spending time with family in the Rocky Mountains. The restaurant astutely captures that vibe with cabin-like wood beams, cozy lighting, rustic decor, and a laid-back atmosphere that, yes, even welcomes dogs on the patio.
That vibe also translates to the menu, which is packed with seasonal items and elevated comfort food dishes that can trigger family vacation nostalgia in the best way. All ingredients are sourced locally from businesses that align with the restaurant's values. Offering small plates, healthy bowls, burgers, meat and chicken dishes, happy hour, and weekend brunch, all meals are prepared in-house by hand.
If you've avoided dining at Lazy Dog because you know it's a chain, a meal at this restaurant will quickly put your assumptions to bed. And don't forget to bring your furry friend to indulge in the dining options for dogs!
5. Bonefish Grill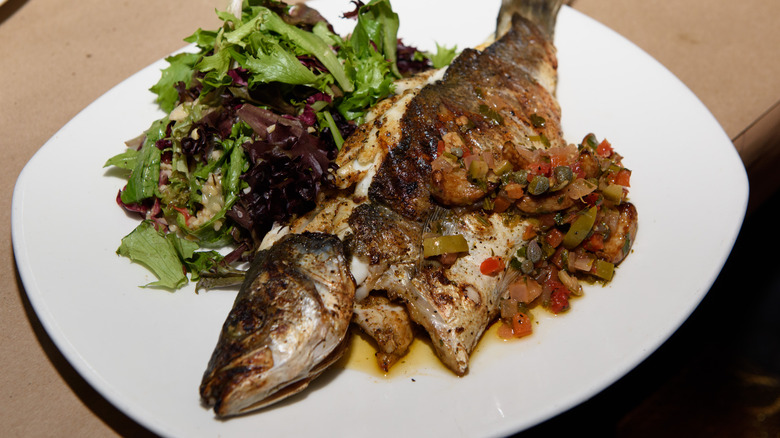 Dave Kotinsky/Getty Images
Seafood lovers can be tough critics. Since fish and other sea creatures are delicate and easily overcooked, they must be carefully prepared by experts who understand their flavors and textures. As a chain restaurant that specializes in seafood, Bonefish Grill consistently delivers good food, quality ingredients, and a fresh selection you may not have expected.
The chefs focus on sourcing the freshest ingredients and fish from around the world. The establishment is known for its wood-burning grill that perfectly prepares fish while infusing subtle oak wood and smoky flavors into the dish. The restaurant also features daily specials that highlight fish that are in season with local ingredients and sides from the area.
From its humble beginnings in St. Petersburg, Florida, in the 1990s to the nearly 180 locations open in the United States today, Bonefish Grill has stayed true to its approach to fresh seafood and "Polished Casual" dining experience.
6. Texas de Brazil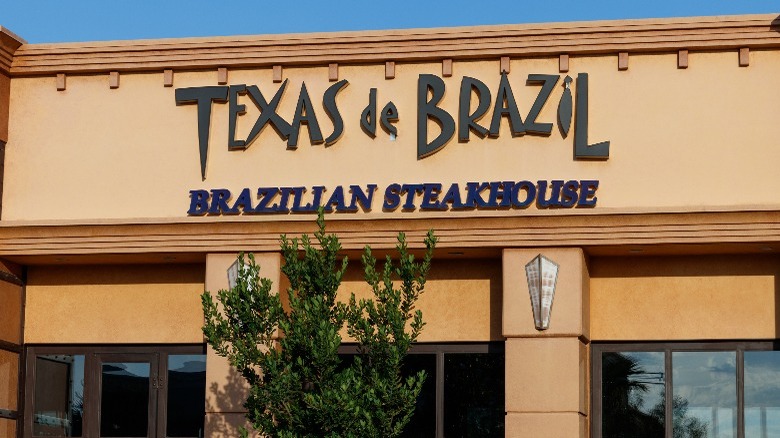 Jonathan Weiss/Shutterstock
Brazilian churrasco is a cooking technique that involves an array of grilled meats and vegetables that are seasoned, skewered, and cooked on a special barbeque that rotates the food directly over the flames. At Texas de Brazil and other Brazilian steakhouses, these meat skewers are brought straight to your table so the server can slice off juicy portions right in front of you — also known as rodizio style.
If you think you've been there and done that, Texas de Brazil brings a unique approach you may not have seen at other spots. The chain combines the delicious taste of traditional Brazilian churrasco and the twangy hospitality that is synonymous with Texas. Initially appealing to the ranchers of the Lone Star State, this fun dining experience featuring Texas-style meats is now available in almost 50 locations across the U.S.
While you may think of chain restaurants as out-of-touch corporations, Texas de Brazil is actually family-owned and operated. It is also a particularly charitable business that raises funds for non-profits and supports organizations that work with veterans and military families (via PR Newswire).
7. California Pizza Kitchen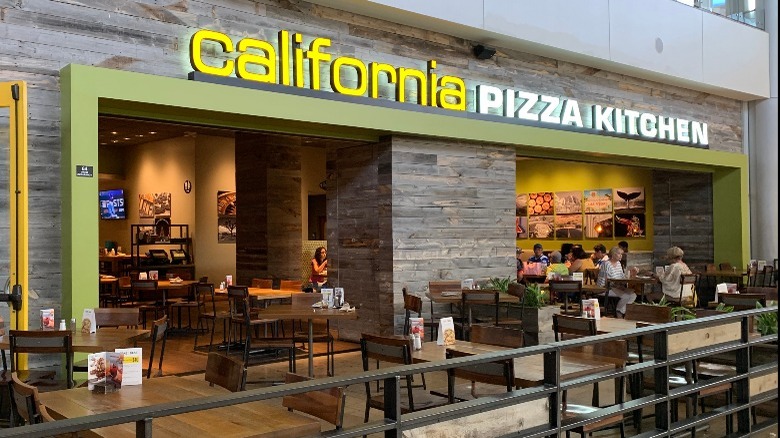 JJava Designs/Shutterstock
California Pizza Kitchen (CPK) was established in 1985 in Beverly Hills and introduced diners to a new take on pizza. Rather than a traditional pizzeria where a group typically shares one type of pizza, people could order individual pizzas with all the fresh toppings they wanted. Although this approach was already a hit at some high-end restaurants in Los Angeles, CPK gave average diners the opportunity to flex their creativity and palates.
With almost 200 locations in the United States and worldwide today, you may feel jaded about this nearly 40-year-old chain. However, CPK continues to push itself with innovative menu items that appeal to new and veteran diners. In fact, CPK was the first to introduce gluten-free and cauliflower crusts, making it easier for health-conscious patrons to keep their diets on track.
In addition to its signature pizzas, CPK offers healthy bowls, pasta dishes, hearty soups, and gourmet salads. The chain also has a convenient app with a decent rewards program that is worth the download. If you dine there regularly, you'll quickly rack up enough points to redeem special offers and vouchers you can use for any menu item.
8. Raising Cane's Chicken Fingers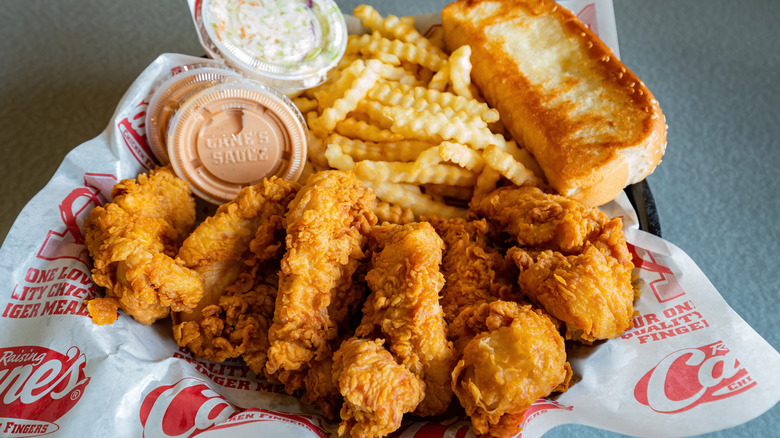 Kit Leong/Shutterstock
If you think chicken fingers are overrated, you just haven't had a good one yet. The best chicken fingers are well-seasoned, crunchy on the outside, and juicy and tender on the inside — exactly what you'll find at Raising Cane's. Just as In-N-Out specializes exclusively in delicious burgers, this quick-serve restaurant chain offers a limited menu that focuses on mouth-watering chicken fingers. You can order from the combo options, the tailgate menu that feeds between six to 30 people, or chicken fingers à-la-carte.
At Raising Cane's, you get so much more than basic chicken fingers. Each premium chicken finger is marinated for 24 hours in the restaurant's signature marinade, hand-battered, and cooked to order. The establishment proudly states that it does not use heat lamps to keep food warm, which means you don't have to worry about rubbery or dry chicken.
Raising Cane's is also famous for its crave-worthy Cane's Sauce, which pairs perfectly with chicken fingers and the crinkle-cut fries and crispy Texas toast that come with the combo meals. The restaurant crew mixes fresh cabbage, carrots, and dressing in-house to make creamy coleslaw daily. Enjoy all the sides and a refreshing iced tea with your chicken finger combo to get the full Raising Cane's experience.
9. Jason's Deli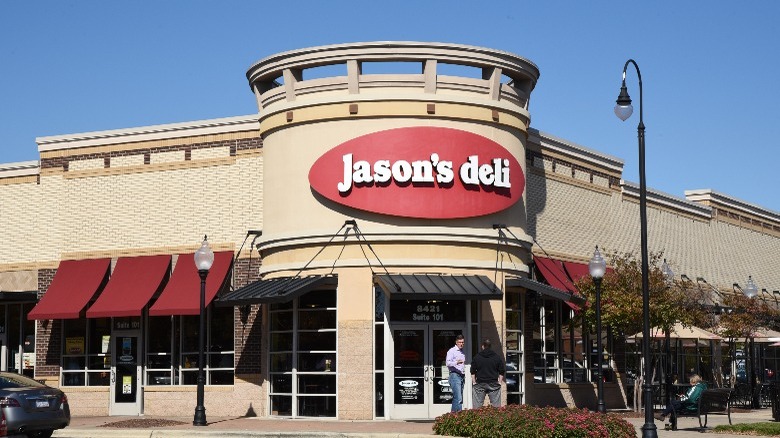 Sharkshock/Shutterstock
Unlike other fast-food sandwich chains, Jason's Deli boasts an expansive menu that goes beyond deli classics. In addition to favorites like the Reuben and roast beef sandwiches, diners can also choose between paninis, wraps, bowls, hot pasta dishes, soups, salads, baked potatoes, and vegetarian options.
With about 250 locations in 28 states, Jason's Deli is a family-owned restaurant chain that uses wholesome ingredients from trusted partners. It was one of the first restaurant groups to eliminate artificial trans fats and other nutritional concerns from all menu items, which means you never have to deal with processed MSG, high-fructose corn syrup, food dyes, and artificial colors or flavors in your food.
If all that doesn't entice you enough to give Jason's Deli a shot, here's the kicker: The restaurant offers free soft-serve ice cream to paying customers. Diners with a sweet tooth don't need to order extra dessert — however, the cookies, fudge-nut brownies, and cheesecakes are also worth a try if you saved enough room.
10. Texas Roadhouse
You don't have to book weeks ahead and drop a good portion of your paycheck at a fancy steakhouse to enjoy a worthy steak. Texas Roadhouse offers quality, hand-cut steaks and homemade sides that won't break the bank. Since its introduction in Indiana in 1993, the vision behind Texas Roadhouse was to create a restaurant that offered delicious made-from-scratch food and unrivaled service to patrons.
Fast-forward to today, and Texas Roadhouse is one of the largest steakhouse chains in the country, with more than 600 locations across 50 states and U.S. territories. As such a powerhouse, it's easy to assume that the original quality-driven version of the establishment would have gone downhill. However, Texas Roadhouse has actually enhanced its menu and service as it continues to expand. Along with perfectly seasoned steaks that are cooked to order, you also get a complimentary playful bowl of shelled peanuts, a healthy serving of freshly-baked bread, and a fun atmosphere with line-dancing servers.
The restaurant chain has used its reach to support food industry sustainability as well. The Texas Roadhouse website describes its corporate sustainability efforts, which include reduced energy consumption with high-efficiency kitchen equipment, less food waste since everything is made from scratch, and recycling fryer oil for biofuel.
11. Blaze Pizza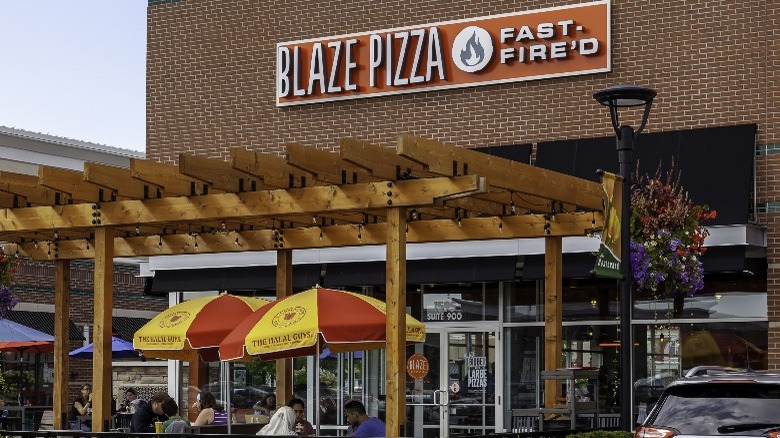 Jhve Photo/Getty Images
Serving up fast-fired, individual pizzas with fresh toppings, Blaze Pizza has changed the fast-food pizza industry for good. Following the same assembly line model used by Subway and Chipotle, Blaze Pizza has guests build their own pizza by choosing their crust, sauce, cheese, and toppings before quickly cooking it in a high-temperature oven.
While that process on its own might not seem that impressive, the ingredients behind the counter are what really make Blaze Pizza a standout in the chain restaurant scene. Starting with its pizza crust, founders Elise and Rick Wetzel told Mashed in an exclusive interview that "The secret to ours is this 24-hour fermentation period," and went on to say, "We refrigerate it for 24 hours, and during that time, the flavors really come out."
Additionally, the establishment never uses frozen dough and has eliminated cured meats with nitrites from its menu, along with artificial colors and preservatives. Patrons have a wide range of healthy toppings to choose from, as well as vegan, gluten-free, and keto-friendly crust options.
12. Qdoba
First opened in 1995 in Denver, Colorado, as Zuma Fresh Mexican Grill, Qdoba has transformed over the decades into the strong restaurant franchise it is today, with more than 700 locations in the United States, Canada, and Puerto Rico. Although Qdoba does not have as many outlets as the leading build-your-own burrito chain, it deserves more credit when it comes to fresh ingredients, quality proteins, and expert cookery.
While Qdoba offers flavorful Mexican fare like many of its competitors, what sets this chain apart is the fact that all salsas, sauces, and toppings are complimentary with every meal — including the guacamole and queso. This means you can enjoy your burrito, bowl, tacos, or other favorite menu items with melty queso dip or freshly-made guacamole at no extra charge.
On top of that, Qdoba is committed to flavorful, clean, responsibly-sourced food that tracks with its quality and ethical values. Qdoba's tasty food reflects the efforts put into preparing fresh ingredients and using the right cooking techniques to bring out bold flavors. If you've been disappointed with your go-to fast-service Mexican restaurant lately, it's time to give Qdoba Mexican Eats a try.
13. Maggianno's Little Italy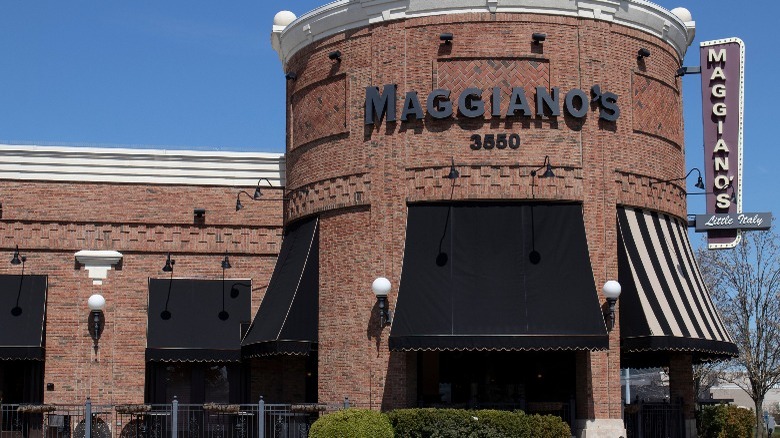 Jonathan Weiss/Shutterstock
There's nothing quite like an Italian family-style dining experience. Sharing conversation and laughter over flavorful authentic dishes is an excellent way to spend time with loved ones. Maggiano's Little Italy seems to capture that warm and welcoming atmosphere and recreates that special family mealtime for restaurant-goers. Originally opened in Chicago in 1991, Maggiano's focuses on simple Italian classics made to share. As word got out about the delicious food and cozy, intimate vibe, the restaurant became an immediate hit, with more locations opening soon after. Today, there are over 52 locations across the country serving up Italian fare as individual plates or family-style platters.
If you're looking for good Italian food that honors classic family dishes with fresh ingredients and traditional preparation, Maggiano's Little Italy is a great option. From ravioli to eggplant parmesan and classic spaghetti and meatballs to lasagna, Maggiano's menu is sure to include your favorites, serving up bold flavors and childhood memories in equal measure.
14. Lucille's Smokehouse Bar-B-Que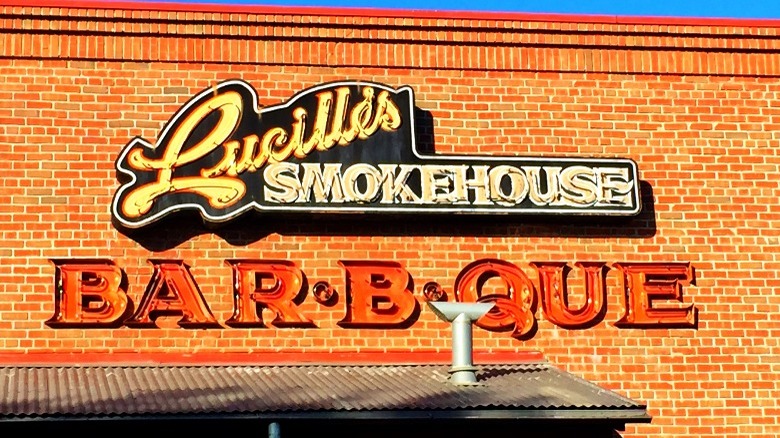 Juan Camilo Bernal/Getty Images
Despite being a chain restaurant, BBQ lovers may be surprised to learn that Lucille's Smokehouse Bar-B-Que has won several awards and accolades for its exceptional selection of ribs, brisket, chicken, tri-tip, and pulled pork. It's no surprise since the restaurant's founder spent several years touring Southern BBQ restaurants to perfect his own recipes. The result is a restaurant that nods to all styles of BBQ, including Carolina, Texas, Memphis, and St. Louis styles.
Lucille's cooks take their time to hand-rub meats with spices and marinades before they sit for at least 12 hours. Then, they slowly and methodically smoke all BBQ meats in-house with hickory wood for up to 24 hours to infuse every bite with the smoky flavors you expect from award-winning BBQ. Pair your meal with backyard BBQ favorites like potato salad, macaroni and cheese, garlic mashed potatoes, coleslaw, fries, or BBQ beans.
Even if you're not in the mood for BBQ, Lucille's has a little bit of everything that appeals to different types of diners. Take your pick between Southern-inspired appetizers, salads, seafood specialties, burgers, and sandwiches. The restaurant also has an impressive dessert menu, drink selection, and menu items just for kids.