RIP Dairy Queen's Cherry Dipped Cone (At Least For Now)
Generations of Dairy Queen devotees have done nothing but love the ice cream and fast food chain since it first opened in 1940. So, why does Dairy Queen insist on breaking their hearts? It seems like every year another favorite menu item gets the axe: In 2022, chocolate sprinkles joined the ranks of discontinued menu items, leaving only rainbow sprinkles. The same year, the chain delighted marshmallow lovers with a S'mores milkshake, but it has been off and on the menu since. Waffle cones and Buffalo Chicken Snack Melts are two other dearly missed treats.
This week brought the devastating news that another DQ favorite is disappearing: the Cherry Dipped Cone. Many fans first caught the news on TikTok when a Michigan Dairy Queen location in Shelby Township announced it in a post on May 19, saying that the bright red dip was already gone from the chain's warehouses. "Once we deplete the inventory in the store, we'll be sold out until further notice." 
After the news broke, DQ confirmed the development with an Illinois Fox television affiliate. However, a representative teased the vague possibility that the company would bring Cherry Dipped Cones back someday. 
DQ fans will have to settle for other dipped cone flavors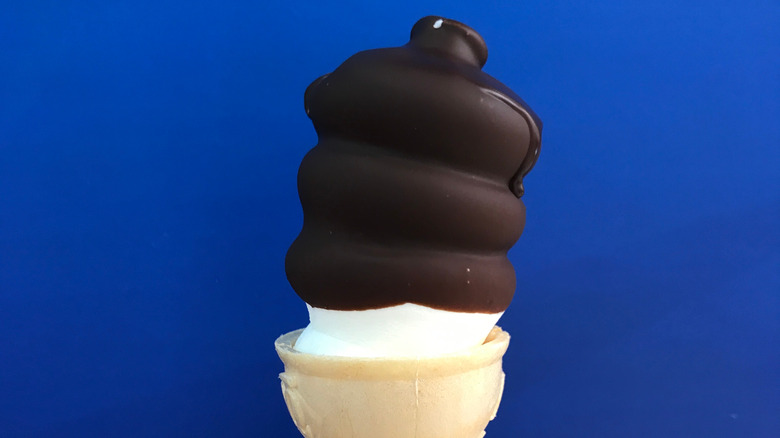 Prw_99/Shutterstock
Fans of Dairy Queen's Cherry Dip may luck out if they run to their local shop, where the last of the flavor may still be available. Once it's gone, the chain's menu shows that dip options for their classic cones will be limited to Chocolate Dipped and Churro Dipped flavors. This isn't the first time that the Cherry Dip has disappeared at DQ: In 2019, fans reported it was no longer available at some locations, which created a fair amount of confusion and speculation. 
While seeing limited edition and funky flavors come and go is understandable, why DQ would remove such a popular and classic item like the Cherry Dipped Cone is a mystery. Ice cream cones coated in similar-looking, similar-flavored dips are a staple of soft-serve ice cream stands everywhere; it's clearly a combo that people of all ages love. This is also evidenced by the fervor of DQ fans online in reaction to the news, with one fan tweeting at DQ, "Do the right thing and bring back the Cherry Dip."