13 Discontinued Dairy Queen Menu Items We Desperately Miss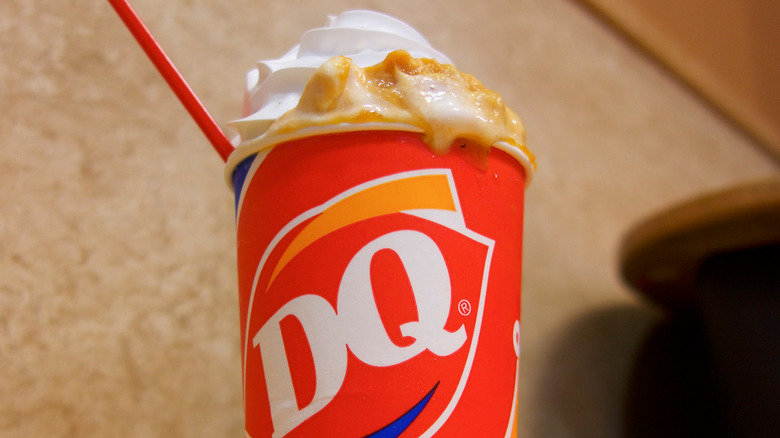 Charles F. Kaye/Shutterstock
The name says it all, Dairy Queen is a grand ruler of the fast-food confection world. If you ever wondered what genius invented soft serve, the credit goes to John Fremont McCullough and Alex McCullough — the father-son duo who founded Dairy Queen (although the forebears at Carvel have also laid claim to this delightfully cold and melty innovation). Soft serve has been the crown jewel of Dairy Queen's menu since 1940 when the first location opened in Joliet, Illinois. With a history spanning more than eight decades and thousands of locations spread over 20 countries, the Dairy Queen menu has gone through a ton of revisions. As a result of these evolutions, there are quite a few discontinued menu items that are desperately missed by Dairy Queen's adoring public.
Dairy Queen is best known for its vast array of soft serve incarnations, from Blizzards and dipped cones to banana split sundaes and party-sized cakes, but the "grill & chill" franchise's menu goes beyond the freezer. Dairy Queen has offered hot food since the 1950s, with burgers, chicken, onion rings, and fries consistently appearing on the menu throughout the years.
Whether DQ Snack Melts were your jam or there's a long-lost Blizzard flavor you've been pining for since the early 2000s, we're taking a little trip back in time to commemorate some of the discontinued Dairy Queen menu items we wish we could order again.
1. Did Dairy Queen seriously discontinue chocolate soft serve?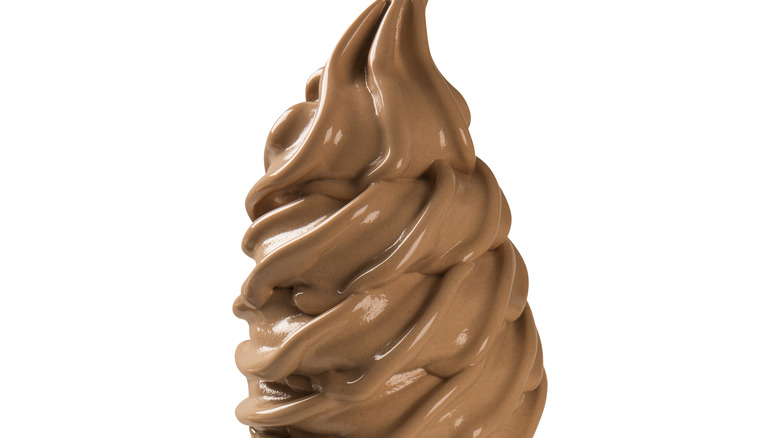 Paulo Vilela/Shutterstock
We know what you're thinking, this cannot possibly be true. The great debate of vanilla vs. chocolate can't even happen if chocolate doesn't have a seat at Dairy Queen's picnic table. In recent years, the internet has been abuzz with disbelief regarding the fact that DQ customers in some locations were told that chocolate soft serve was discontinued.
So what gives, did Dairy Queen get rid of chocolate soft serve or not? The official answer is ... sort of. Dairy Queen is a franchise, meaning that locations operate under Dairy Queen's registered name but are run by individual owners. Dairy Queen took to its official website to clear up the controversy, stating, " ... some DQ® locations carry regional items or optional items (like chocolate soft serve or crunch topping for cones) that you may not find in every restaurant." 
That list of "optional items" includes the almighty chocolate soft serve. If a franchise owner decides a chocolate soft serve machine is a waste of money or space, that location is permitted to forgo it. Sure, you could douse your vanilla soft serve in chocolate syrup or other chocolate-coated accouterments and pretend it's chocolate soft serve, but for many of us that could never be enough. Next time you're craving a chocolate-based Blizzard, you may want to check ahead of time if the nearby DQ can deliver the goods. Worst case scenario, head down to Texas where several locations proudly keep chocolate soft serve on the menu.
2. So long, Dairy Queen chocolate sprinkles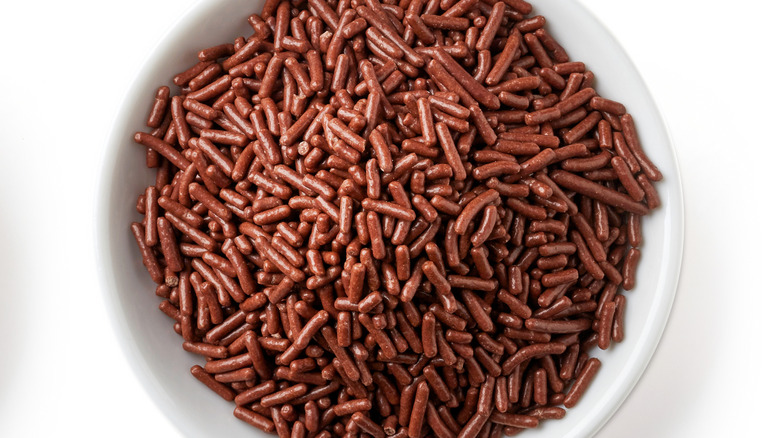 bigacis/Shutterstock
First chocolate soft serve, now chocolate sprinkles? Dairy Queen dropped chocolate sprinkles in 2022, leaving rainbow as the sole sprinkle choice. If you're wondering why Dairy Queen has gotten so cutthroat about chocolate lately, it's not fully the company's fault. Apparently, the United States is shaping up to be a chocolate sprinkles-scarce nation. Other businesses like Gilles Frozen Custard in Milwaukee, Wisconsin had to nix chocolate sprinkles from its menu in 2022 due to a supply issue. Meanwhile, sprinkle manufacturers are being accused of degrading the quality of chocolate sprinkle recipes by reducing the amount of cocoa used — likely a response to cocoa's high demand and limited availability.
Another reason Dairy Queen has shaken chocolate sprinkles loose from its menu is its insistence that rainbow sprinkles are simply more popular. In a June 2022 Facebook post from a Dairy Queen in Manchester, New Hampshire stated that "Chocolate Sprinkles have discontinued ... At least temporarily ... This was a decision made by Corporate DQ and out of our direct control at least for now. Across the country, typically Chocolate Sprinkles have only been popular in the Northeast." 
In the grand tradition of people not wanting to accept the discontinuance of nostalgic food items, a change.org petition was created calling on Dairy Queen to bring chocolate sprinkles back. Whether this will prompt action from the bigwigs at DQ remains to be seen.
3. Butterscotch dipped soft serve cones are still in demand
People felt robbed when Dairy Queen took butterscotch-dipped cones off the menu in 2009. Sure, butterscotch is a retro flavor, but we counted on Dairy Queen to stick to its old-timey roots and keep the beloved rust-orange shell coating in its cone dip repertoire which also included chocolate and cherry. In the spring of 2019, customers could have their cones dipped in a different orange-hued flavor called Dreamsicle, a play on the classic orange and vanilla combo of the creamsicle popsicle. Dreamsicle dip ran as a limited, seasonal menu addition, but DQ had another flavor trick up its sleeve for the fall of that year. They decided to throw a wrench in the pumpkin-flavored everything trend by resurrecting the inimitable butterscotch-dipped cone as an autumn special. Many relished in the return of the butterscotch-encased cone, but Dairy Queen had no intention of permanently keeping butterscotch dip on the menu.
Once again, people mourned butterscotch's exit — and its fleeting presence as a limited edition inspired another change.org petition aimed at Dairy Queen. Come 2021, Dairy Queen again made butterscotch-dipped soft serve cones available as a promotion, but only in Canada. Dairy Queen continues to play a cat-and-mouse game with its cone dip flavors. The classic cherry dip is only offered in select locations while more gimmicky dip options like Fruity Blast, a pastel purple shell meant to taste like cereal in 2022, and 2023's Churro, make brief appearances on Dairy Queen's menu.
4. Girl Scout Thin Mints Blizzard: two iconic treats unite
If Dairy Queen has a signature move, it is the seasonal launch. It also knows how to get people lined up at the take-out window by incorporating seasonal ingredients into Blizzards that are almost as legendary as Dairy Queen itself. Enter the Girl Scout Thin Mints Blizzard. July of 2008 saw Dairy Queen's induction of Girl Scout's Thin Mint cookie as the latest (and greatest?) Blizzard flavor.
The Blizzard has been around since 1985 — that's right, 45 years after Dairy Queen first opened and has been its bestselling menu item ever since. The licensing partnership between Dairy Queen and Girl Scouts was an exciting prospect for both institutions and what better way to get the party started than with a Thin Mint Blizzard? After all, Thin Mints are Girl Scouts' top-selling cookie and the cookie's presence in Girl Scout Cookies' history dates back to 1951.
Unfortunately, the Thin Mint Blizzard fell prey to the Blizzard of the Month fad that Dairy Queen started back in 2003, which introduced a carousel of new Blizzard flavors, while also ripping some favorite additions from our grips far too soon. Thin Mint Blizzard reappeared as Blizzard of the Month a few times, most recently in May of 2022, but the unpredictability has us wishing it was a permanent menu item.
5. BBQ Pulled Pork Sandwiches are an inconsistent menu item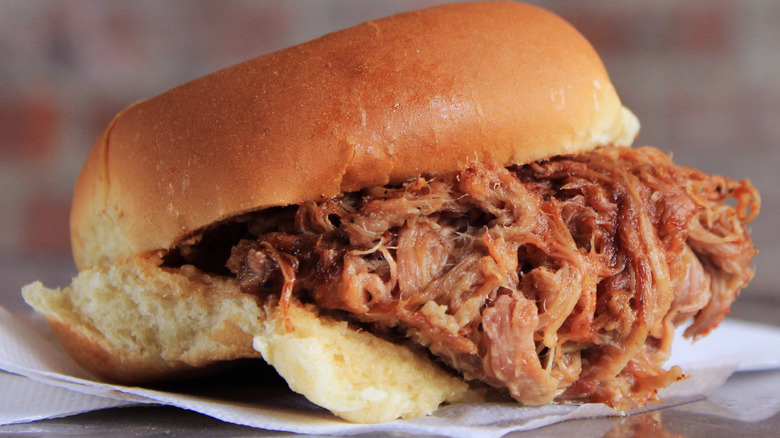 Cory Woodruff/Shutterstock
Dairy Queen gave its hot food menu some Southern flair by selling a BBQ pulled pork sandwich, but it wasn't a mainstay menu item over the years the way hamburgers and hot dogs have been. That changed in 2017 when Dairy Queen saw a demand for the BBQ pulled pork sandwich and revived it. This was the same year that Dairy Queen began advertising its new Kansas City BBQ Pork Sandwich as an addition to the DQ Bakes portion of the menu. The Kansas City BBQ Pork Sandwich was spruced up with the addition of pickles and a pretzel bun, separating it from the simpler BBQ pulled pork sandwich that the chain originally sold.
The Kansas City BBQ Pork Sandwich was discontinued around 2019. Although the regular BBQ pulled pork version stuck around some locations, it is no longer a menu item that can be found in every Dairy Queen and is also absent from several DQ Grill & Chill menus.
6. The S'mores Shake is no more
Dairy Queen's release of the S'mores Shake in 2022 was exciting for customers who were patiently waiting for another DQ S'mores creation since the S'Mores Blizzard which debuted in 2013 and made quick, unpredictable appearances as the Blizzard of the Month nearly every year until 2020. The S'mores Shake was a decadent, drinkable alternative to the much-loved campfire confection but if you've got your heart set on sucking pulverized graham crackers through a straw you might be disappointed by Dairy Queen. 
As of 2023, the S'mores shake was no longer a menu feature but the news isn't all bad. In March 2023 Dairy Queen took to Twitter to announce that the S'mores Blizzard was coming back as April's Blizzard of the Month. After one fan suggested that Dairy Queen extend S'mores' visit to the menu beyond the spring the company hinted that it could happen with a playful, "You'll have to wait and see!" 
7. Hawaiian Blizzard: because aloha also means goodbye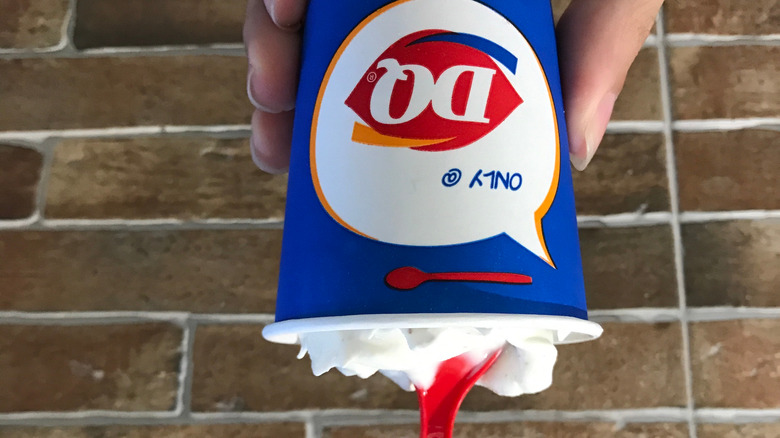 Prw_99/Shutterstock
Longtime frequenters of Dairy Queen probably remember the Hawaiian Blizzard, a tropical-themed delight featuring shaved coconut, and chunks of pineapple and banana. The Hawaiian Blizzard was a descendant of the coconut isle sundae of Dairy Queen's vintage era that dates back to the 1960s. While the Hawaiian Blizzard was technically not one of the original Blizzard flavors, which were more candy and cookie-focused, its clever combination of three standard menu toppings made it a well-known flavor that customers could order for years. That changed for many Dairy Queen locations around the late 2000s when coconut was taken out of its once-expected slot in the toppings bar. Since then, the Hawaiian Blizzard has made regional, temporary appearances on select American Dairy Queen menus, but has failed to be named an official Blizzard of the Month for some time now.
If you're determined to integrate your tastebuds with the elusive Hawaiian Blizzard, it is now considered a Dairy Queen "secret menu item" that can still be ordered even when it is not being advertised. Just be advised that ordering a Hawaiian Blizzard may likely get you pineapple and banana because those are the only toppings the Dairy Queen staff has on hand. But is it really Hawaiian without coconuts?
8. Buffalo Chicken Snack Melts didn't have staying power
Buffalo Chicken Snack Melt was part of the DQ Bakes movement of 2015, which sought to bring an artisanal touch to Dairy Queen's food menu. The Snack Melt may also have been Dairy Queen's answer to the simple yet effective McDonald's Snack Wrap, seeing as it is hard to deny the resemblance.
A Buffalo Chicken Snack Melt consisted of unbreaded strips of grilled chicken, ranch dressing, and Buffalo sauce folded into an oven-toasted tortilla wrap. At 260 calories, the Snack Melt was a much lighter Dairy Queen menu offering. Buffalo Chicken was joined by Chicken Quesadilla and Chicken Bacon BBQ to complete the triad of Snack Melt flavors and customers were enjoying the latest moves Dairy Queen was making in the kitchen ... but it didn't last. Snack Melts were one of several items from DQ Bakes that have been cycled out of the regular Dairy Queen menu. The bright side? Buffalo Chicken Snack Melts seem relatively simple to recreate at home.
9. Was it too soon for the DQ Breeze?
Dairy Queen's Breeze provided all the sweetness you could ever want out of a Blizzard, the only difference was that Dairy Queen swapped the soft serve out for frozen yogurt. For customers who were really trying to behave, the Breeze could be served with fruit instead of the typical melange of crushed candy or cookies. This was honestly a beautiful concept dreamed up by Dairy Queen in 1990. Dairy Queen's Breeze rode the wave of the frozen yogurt trend that took hold during the 1980s but failed to sustain its popularity in the coming decade.
The Breeze stayed on the menu until 2000, which is surprising considering that it was never a big seller. If only Dairy Queen could see into the not-so-distant future, in which the delectable combination of froyo swirled with a boatload of toppings would rewin the hearts of the nation once more. Perhaps the tipping point toward the Breeze's discontinuation was the fact that it was ordered so infrequently that many DQ locations' frozen yogurt supply would spoil before it needed replenishing — gross. Still, we would definitely be tempted to order a Breeze if it were on the Dairy Queen menu today.
10. Cherry Sundae's sad departure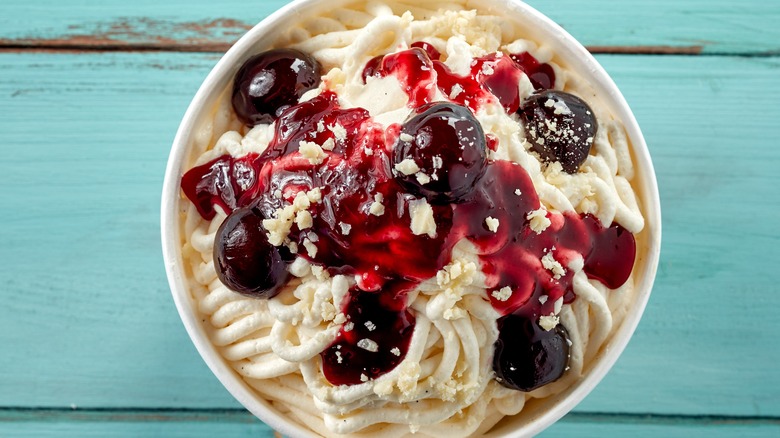 stockcreations/Shutterstock
Cherry topping was one of Dairy Queen's early sundae flavors and it really aged well, looking sultry for nearly 80 years with deep red cherries and sauce generously coating of dishful of glorious soft serve. That all changed when Dairy Queen's corporate reaches discontinued cherry topping in 2015. DQ's cherry topping should not be confused with its cherry cone dip, the quirky sibling to chocolate and butterscotch dip, whose fire engine red coating has been a fixture on some regional Dairy Queen menus and eliminated from others. News of the cherry sundae's discontinuance from DQ was not taken well by the general public, who sounded off on platforms like Facebook and other online bulletin boards.
A compromise was on the horizon. Dairy Queen's Very Cherry Chip Blizzard came on the scene in 2022 as a limited-time-only fall treat. The Very Cherry Blizzard momentarily revived DQ's cherry drought and mimicked a Blizzard of the Month from 10 years earlier: the Choco Cherry Love Blizzard of February 2012 — a simpler time, when classic cherry sundaes had a well-worn place on the regular Dairy Queen menu.
11. Red Velvet Blizzards are a winter exclusive
In the theme of Dairy Queen toying with our hearts, the frozen treat purveyor released the luscious Red Velvet Blizzard in February 2014 only to pull it from the standard menu shortly after. What's in a Red Velvet Blizzard anyway? Well, it starts with chunks of red velvet cake, (which is a mild-flavored chocolate cake with red food coloring for those who are still wondering), cream cheese frosting, and the vehicle of all modern-day Blizzards: vanilla soft serve. 
The Red Velvet Blizzard was a hit right off the bat, inspiring Dairy Queen to re-release it as the Blizzard of the Month every February — that's right, just in time for Valentine's Day. That's quite cute, as long as you live somewhere with a Dairy Queen that stays open all year long (such as a DQ Grill & Chill location with indoor seating). Some Dairy Queen enthusiasts who dwell up north may never get the chance to dig into a Red Velvet Blizzard with that special someone because there's a good chance that in February, the local Dairy Queen will be shrouded in an actual blizzard, and the doors will remain locked for at least a few more weeks.
12. Waffle cones were fun while they lasted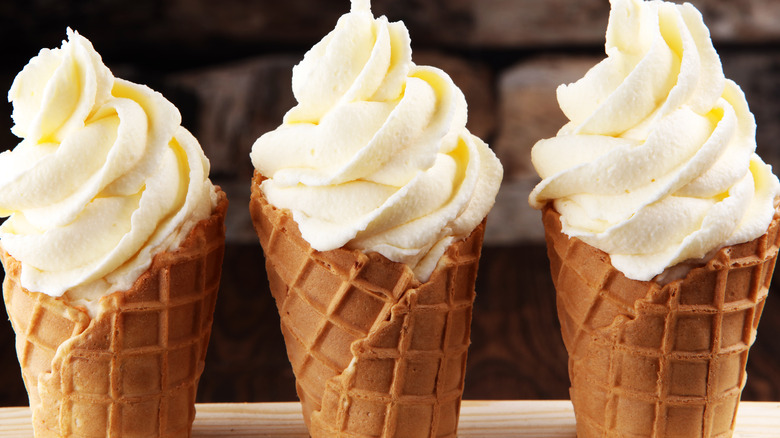 beats1/Shutterstock
Waffle cones, perhaps one of ice cream's best-ever accessories, have been around since the start of the 20th century, but remember — Dairy Queen technically doesn't serve ice cream. Sorry to blow your mind, but according to FDA regulations, ice cream must contain at least 10% milkfat to be classified as such. Dairy Queen soft serve on the other hand has 5% milkfat, so soft serve is all it will ever be. Even so, DQ soft serve ensconced in a golden waffle cone sounds pretty great, doesn't it?
It was great. Waffle cones were advertised by Dairy Queen in 2013 as an accompaniment to an old favorite, the Oreo Blizzard. Within three years, complaints on social media were cropping up about waffle cones no longer being available, causing Dairy Queen to acknowledge on Facebook that waffle cones had indeed been discontinued, leaving the less exciting cake cone the only choice in the majority of locations.
13. Strawberry Shortcake, where have you gone?
We've discussed the ubiquitousness of chocolate and vanilla as the building blocks of many great soft serve-based indulgences, but there's no question that strawberry also holds a worthy place in dessert culture. We know this and Dairy Queen knows this. Dairy Queen included strawberry shortcake as part of its "Royal Treats" lineup. It was a spongy angel food cake doused in strawberries, vanilla soft serve, and the granddaddy of all toppings — aerosol whipped cream. Some regional Dairy Queen websites still advertise strawberry shortcake, but when was the last time anyone was actually able to eat one?
Many Dairy Queen locations have replaced strawberry shortcake's place on the Royal Treat menu with the triple chocolate brownie — which has earned less than great reviews from the online crowd. Despite this, Dairy Queen still recognizes the popularity of strawberry-led confections and morphed the strawberry shortcake into a Blizzard of the Month in May 2014. 
Not to be confused with the Strawberry Cheesequake Blizzard or the New York Cheesecake filled with Strawberry Royal Blizzard — which has a hollowed center filled with strawberries — the Strawberry Shortcake Blizzard blended pieces of shortcake and strawberry topping with vanilla soft serve, and it was tasty! Of course, strawberry shortcake's incarnation as a Blizzard was an elusive menu item that remained absent from the Blizzard of the Month roster since its 2014 debut. At least the Strawberry Cheesecake Blizzard is there for us (for now).