Here's Why Dairy Queen Stopped Saying Hot Eats, Cool Treats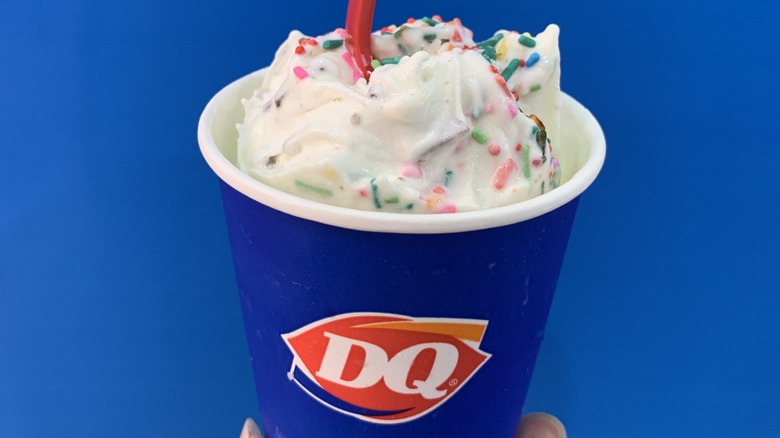 Prw_99/Shutterstock
The local Dairy Queen, or DQ as it is sometimes called, is as much a fast food restaurant as it is a cultural landmark. The chain is synonymous with the Blizzard, a frozen treat that's been a dessert staple since 1985. Of course, what's a sweet treat without a savory side to fill your belly? Dairy Queen has a full menu, complete with fried chicken baskets, cheeseburgers, fries, and hot dogs. Like any good fast food chain, Dairy Queen relies on marketing ads and catchy slogans to draw customers into its restaurants. One of its long-standing catchphrases was, "Hot Eats, Cool Treats."
Hot Eats, Cool Treats was first registered in 1992 and while the trademark is still active as of April 2023, it's no longer used as the company's slogan. The company has changed slogans through the years depending on what the focus of the business was. The company has gone through several slogans since the chain began operating, with Hot Eats, Cool Treats dominating the 90s. The slogan appeared in a 1994 Dairy Queen commercial, which featured the hot eats cheeseburger. A 1995 commercial featured the chain's cool treats at the time, which included a Peanut Buster Parfait, banana split, and royal fudge and cake treat. Those longing for the nostalgia of the 90s took to Reddit to share their thoughts on Dairy Queen no longer using the Hot Eats, Cool Treats slogan.
The slogan has changed over the years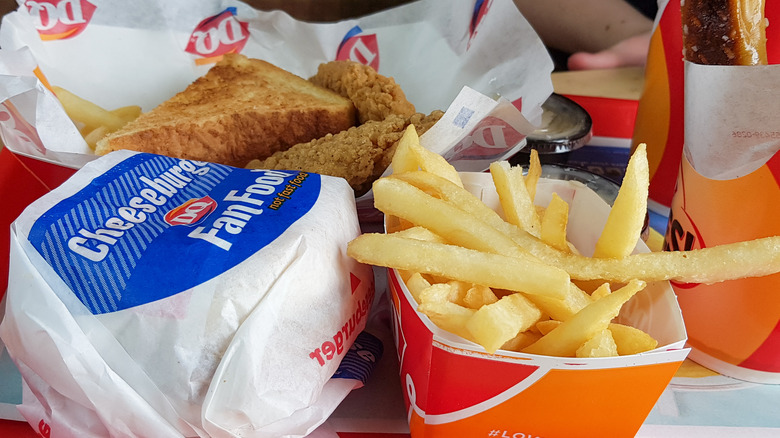 Rusty Todaro/Shutterstock
The aptly named Reddit forum "I miss Dairy Queen's now-defunct slogan: Hot Eats, Cool Treats" was created in 2017 as a place for fans to reminisce. Fans thought the old slogan was catchy, without being desperate. The slogan matched the vibe of the chain's restaurants, which were laid-back, welcoming, neighborhood joints. One person wrote, "It was a good marketing technique! I mean, where else can you get a chicken strip basket AND a Blizzard?!" Another person didn't even realize the slogan had changed, writing, "In my head, Hot Eats is still the new one and the old one is 'We treat you right.'"
After Hot Eats, Cool Treats took a back seat, two new slogans emerged to take its place. "Meet Me at DQ" and "DQ: Something Different" took over and several stores changed their logos to simply read DQ. In 2011, DQ began using the phrase, "So good it's ridqulous" in commercials, as a subtle hint to the new name. Fast forward to the 2010's, and DQ's new slogan became, "Fan Food, Not Fast Food." This was the chain's attempt at reminding customers that it did offer more than just frozen summer treats. DQ could be looked at just like any other fast food chain, with offers like the "5 Buck Lunch special," which included a full meal and sundae for dessert. Some DQ Grill and Chill locations even began offering breakfast items as a way to bring in more customers more often.
Dairy Queen's slogan today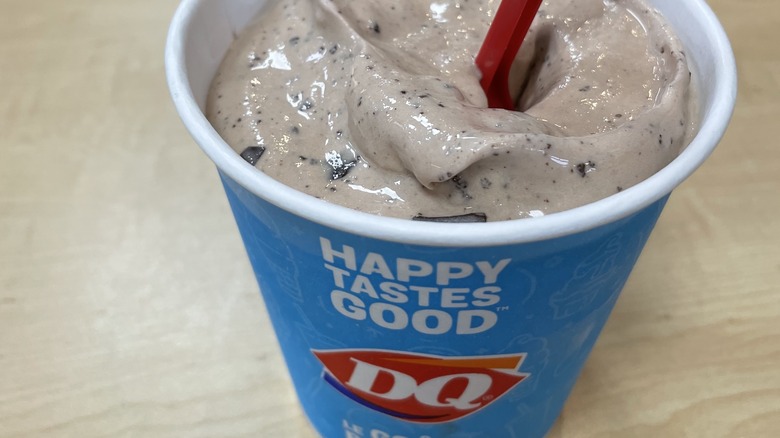 Rosalie Che/Shutterstock
Even though the beloved slogan was discontinued, much like several other menu items such as butterscotch-dipped soft serve cones and BBQ pulled pork sandwiches, a new one has taken its place. Dairy Queen's newest slogan is "Happy Tastes Good." Instead of focusing on specific food items, the slogan reminds customers of the full experience of dining at a DQ. The company also researched to prove that dining at the chain really did make people happy. According to a 2019 national consumer survey, "69 percent of respondents felt that enjoying a Blizzard to start the summer made them happier than other summer activities like taking road trips."
While Happy Tastes Good remains the main slogan, franchises, and customers in Texas may be more familiar with the slogan, "That's What I Like About Texas." Texas has the most DQ chains of any state, and with that, the chains offer unique menu items that can only be found in the Lone Star state. Some Texas-specific menu items include a chicken fried steak sandwich and Texas T-Brand Nachos. Texans and DQ are so intertwined, that the chain is referred to as "The Texas Stop Sign" throughout the state. Even with all the love, Vermont remains the only state without a Dairy Queen. Even with the different locations throughout the U.S. and internationally, DQ strives to deliver on its mission to, "Create positive memories for all," while focusing on making customers happy at the same time. Only time will tell if the newest slogan sticks, or if an older one gets resurrected in the future.