Butter Isn't The Only Fat You Should Be Cooking Eggs In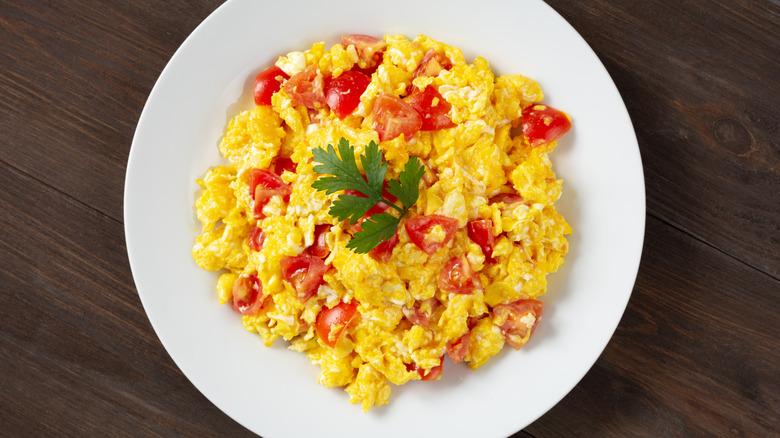 robert6666/Shutterstock
One of the greatest stumbling blocks to creativity and innovation is human nature: We do what we do because that's what we've always done. Habits are tough to break. While this type of restriction is necessary for traditional purposes, such as keeping Grandma's secret meatloaf recipe as is, it can really inhibit your ability to tweak something to an "even better" status. For example, one of the easiest ways to make your scrambled eggs even better is to break a few habits.
You can use a non-stick pan and a silicone spatula; but, ideally, you need some kind of fat to keep your scrambled eggs from sticking while stirring. Adding some olive oil or giving the pan a light coating of cooking spray are often touted as acceptable options. But, if we're being honest, butter is better. Not only does it help keep your scrambled eggs lighter and creamier, but it also adds flavor. As a result, your eggs have a better flavor and a better texture.
However, butter is not the only way to accomplish that feat. For instance, the leftovers from a jar of sun-dried tomatoes are ideal for this task. Not only does sun-dried-tomato oil contain a robust pounce of unexpected flavor, but it also adds a pinkish hue to your dish that enhances its presentation.
Other fats that can elevate your scrambled eggs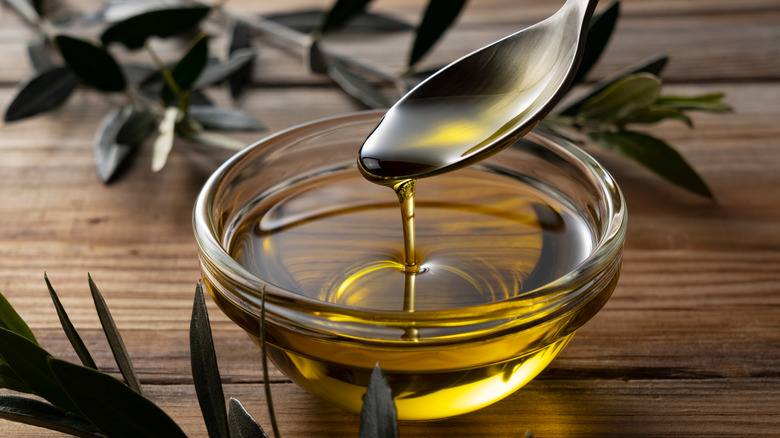 masa44/Shutterstock
Speaking of other delectable fats, the first one that comes to mind, especially in relation to breakfast foods, is bacon grease. However, that's a well-documented, tried-and-true option. But have you ever thought about scrambling your eggs in chicken fat? It has all the properties you need to keep those eggs from sticking, plus it has that potent comfort-food taste. If that's a little too far afield, duck fat is a classic option that many overlook.
Coconut oil is another great choice for cooking. However, while this might seem like a sly way to add a hint of the tropics to your morning meal, most varieties do not offer a distinctive flavor. If you want the best chance of creating an island vibe, consider using unrefined coconut oil. Since this virgin oil comes from cold-pressed, fresh coconut meat, it has a much better chance of providing an impactful flavor element.
One other fun way to create a unique fat for scrambling is to mix two or more ingredients. For instance, if you can't decide between olive oil and butter, use them both. This way, you get the flavor and health benefits of olive oil mingled with the decadent appeal of butter. And, as an added benefit, it helps you keep your saturated fat intake a little lower.