Japanese Fast-Food Chains We Wish Would Come To The US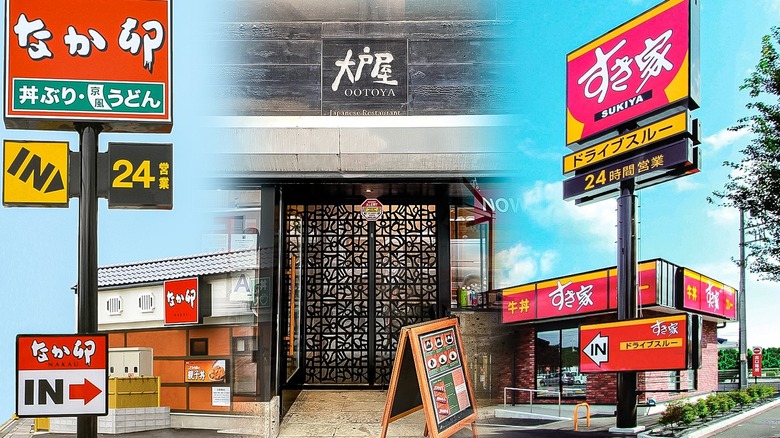 Static Media
McDonald's is one of Japan's leading fast-food chains. But the country has several local franchises that are successful and tasty alternatives to better-known international names. Many of these eateries rely on the classic fast-food concept that originated in the U.S. — filling menus with burgers, hot dogs, fries, and buckets of fried chicken.
However, Japan tends to execute these fast-food dishes slightly differently and incorporates Japanese influence and culture into the mix — whether by using traditional ingredients or regional cooking techniques. These spots tweak these internationally known superstar times so they would better suit the local taste.
Japan further defines and outmatches fast-food standards. Many of these popular fast-food chains don't only rely on tried and tested Western fast-food concepts. Essentially, anything that is quick to cook or easily assembled into a dish can be classified as fast-food, so the Japanese ingeniously applied this concept to their traditional dishes. American culture would undoubtedly benefit from this strategy that allows quick and effortless service but keeps the food traditional and nutritiously superior to burgers and fries. Although it's difficult to guarantee that all of these suggestions would be successful stateside, at the very least, seeing some of these names in the U.S. would help to diversify its fast-food scene.
Nakau
Nakau is one of Japan's more popular fast-food chains. The brand currently has approximately 470 outlets throughout the country, with most shops in and near Tokyo and Osaka. Nakau is owned and operated by Zensho, a multi-brand giant currently running 20 separate food businesses mainly built around fast-food or fast-casual concepts.
This fast-food restaurant specializes in oyakodon, a variety of donburi (rice bowl), that is an everyday dish and lunch staple in Japan. This nourishing classic originates from the 19th century and it typically consists of a heap of rice topped with thin chicken slices and tender scrambled eggs — all garnished with sliced onions and seasoned with soy sauce. Rice bowls come in various sizes and present an affordable, filling, and quick meal. Apart from oyakodon, Nakau also offers house-made udon noodles in a well-seasoned broth and traditional Japanese curry served with steamed rice. Like most similar franchises, there is always the set menu option that includes soup and a side dish with your order for a reasonable price.
MOS Burger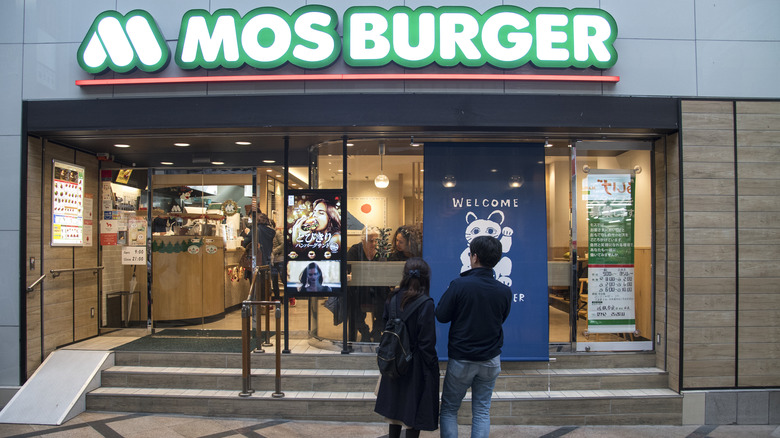 Tang90246/Getty Images
MOS Burger is one of the biggest brands in Japan's fast-food business. As you may have guessed from the name, burgers are the flagship product of this franchise. Currently, the company operates in more than 1,300 locations in Japan alone, with international outlets in several Asian countries and Australia.
Founded in 1972, MOS Burger brought American-style hamburgers to Japan and creatively tweaked them to suit Japanese food preferences. The franchise is best known for its signature MOS Burger, consisting of a beef patty topped with a meaty sauce and a slice of fresh tomato. But MOS is also the birthplace of the rice burger — a version where the bun is replaced by pressed rice patties — which has now become a common menu item. MOS also offers chicken, seafood, and plant-based burgers, and you can also opt for various salad-wrapped burger options.
The U.S. is the birthplace of hamburgers, and the country doesn't lack superb hamburger joints. However, it would be interesting to see how a Japanese interpretation of burgers would sell.
Lotteria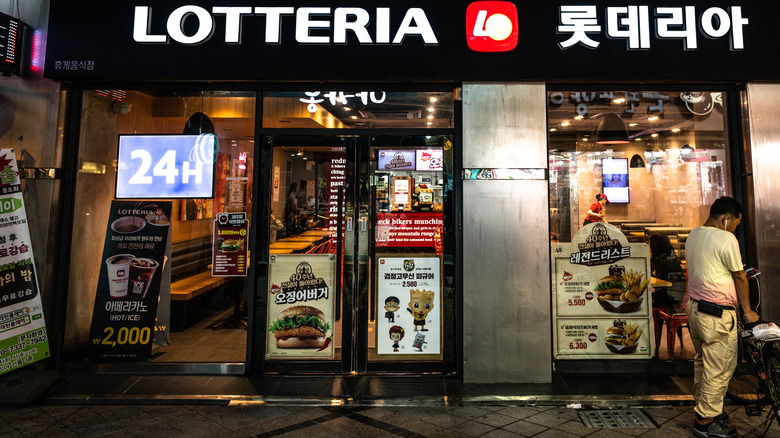 Julien Viry/Getty Images
Lotteria is one of Japan's longstanding establishments that began in 1972. Apart from local Japanese outlets, the franchise operates in several Asian countries. Lotteria gives off a classic fast-food vibe that would remind you of some American favorites, but the menu is slightly different and reveals some unique items that were created to suit locals' tastes and preferences.
The stores offer a classic bun and patty burger made with 100% beef or a mix of beef and pork, accompanied by all the classic add-on items like cheese, lettuce, tomatoes, and sauces. The local influence is visible in items such as Rice and Teriyaki Burgers that are more in line with Japanese culinary traditions. Shrimp appears in the classic form or packed inside the rice bun, while the chicken sandwiches come in a milder honey and ginger version or as the spicy, Thai-influenced fillet sandwich. The rest of the menu is equally diverse, combining local and international influences. Drink offerings include beer and some cocktails, which would be a welcomed shift from the typical American fast-food menus that steer clear of alcoholic drinks.
Hidakaya
Hidakaya is a Japanese chain with a varied menu, but ramen is heralded as its specialty. Though ramen is one of Japan's legendary dishes that can hardly be classified as fast-food, Hidakaya finds its place on the list as it follows the same fast-food protocol: Keep the menu packed with affordable dishes, make the service quick and efficient, and serve dishes in a casual environment.
Apart from ramen noodles, the menu includes various fried dishes, rice bowls, and Chinese-style stir-fries. All the mains can be partnered with a nice selection of side dishes, including fried specials such as spring rolls, fried fish, pan-fried gyoza, and side items like edamame, tofu, kimchi, and pickled bamboo. The drink list is quite diverse for a casual establishment and features beer, vodka, sake, whiskey, and some non-alcoholic options. Like similar establishments, Hidakaya also offers an affordable set menu.
While  casual places serving Asian-inspired dishes are not a rarity in the U.S., having a fast-food chain dishing out affordable dishes of consistent quality would be a welcomed addition.
Jonathan's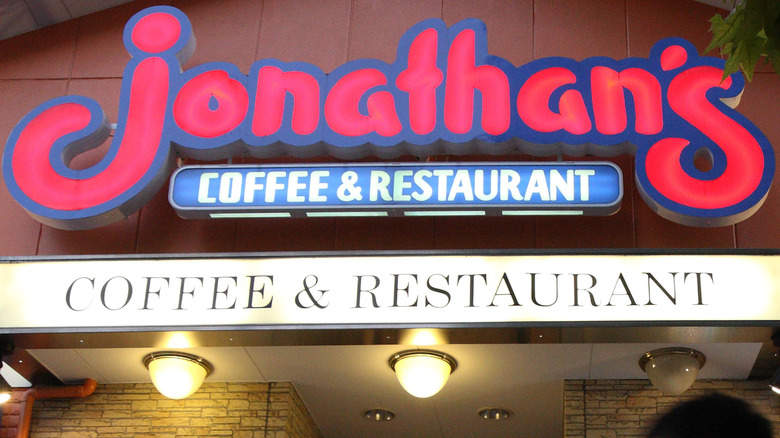 Bloomberg/Getty Images
cJonathan's is a unique Japanese restaurant chain best described as a quirky fusion between a coffee shop and a fast-food family restaurant. The business launched in 1980 and is currently owned by Skylark Group, a large corporation that operates several food brands specializing in local and international cuisine.
Jonathan's sourced inspiration from American-style coffee stores, but the concept was adapted to fit Japan's local food traditions. The restaurant serves a versatile breakfast menu that includes typical international breakfast items such as eggs, pancakes, and sandwiches. Also, the restaurant includes local-inspired versions of traditional Japanese set menus with various savory items. Along with the standard menu that includes a wide selection of meat and rice dishes, pasta, gratins, and pizzas, there is an additional lunch-only option. Desserts are equally attractive and change according to season, but you can expect to find some ice cream and fruit-based specialties. Interestingly, the drink bar is self-service, reminiscent of the similar practice in the U.S. Due to its rather unusual food philosophy, it would be interesting to see how Americans would react to this familiar restaurant concept that features some unconventional food options.
Bikkuri Donkey
Bikkuri Donkey is a time-honored Japanese chain that started in 1968 with one small shop in Morioka City. Founder Akio Shoji changed the original name and opened more shops nationwide. Currently, the business operates in more than 330 locations. The existing, slightly odd name of the chain translates as the surprised donkey. No, this is not a reference to the type of meat served at the stores. The name was inspired by Shoji's philosophy to keep the guest surprised. He chose a donkey to represent his business as the animal stands for perseverance. Shoji also changed the menu ideology by replacing classic hamburgers with what is traditionally known as hambagu — hamburger patties served without the bun, usually accompanied by rice and sauces.
Hamburger patties are still Bikkuri Donkey's flagship item. You can top them with various sauces or gooey cheese, and they usually come with steamed rice on the side. Of course, you can always go for other sides or choose one of the set menus. Fruity parfaits dominate the dessert section. Its drink menu includes coffee, creative float varieties, and a nice beer selection.
Sukiya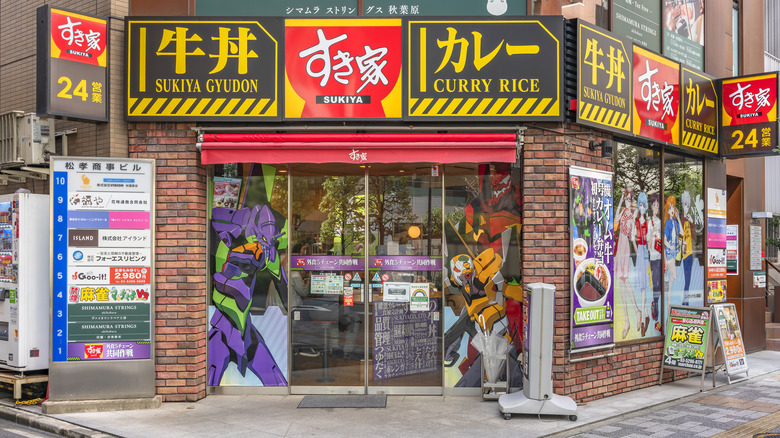 Kuremo/Getty Images
Sukiya might not be something that Americans would label as fast-food, but in the Japanese context, it classifies as a convenient fast-food chain serving quickly assembled Japanese dishes.
In Japan, Sukiya is one of the biggest names in the fast-food industry. There are more than 2,000 regional outlets located across the country. Sukiya specializes in gyudon, a variety of donburi — traditional Japanese rice bowl — that is topped with beef. Traditionally, the meat for gyudon is simmered with sliced onions in a mix of soy sauce, dashi stock, and mirin. Cooked meat is then served on top of the rice and accompanied by numerous garnishes, with some traditional choices such as pickled ginger or thin slices of green onion. Sukiya also offers Japanese curry and rice and other types of rice bowls. Set menus present the best deal with a combination of the main dish, soup, and an additional side.
First Kitchen/Wendy's First Kitchen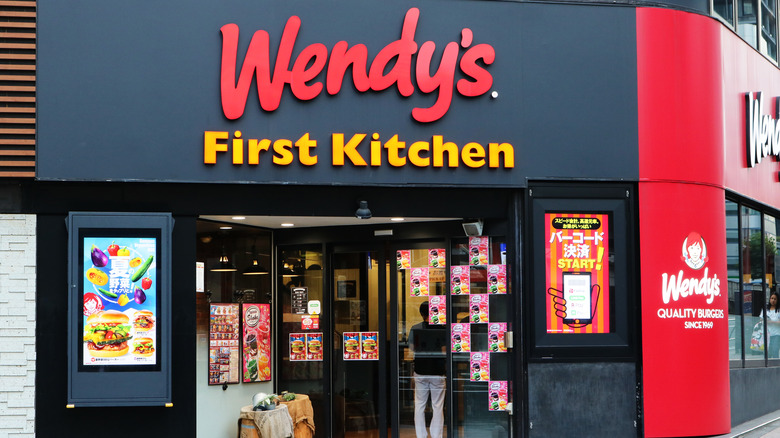 Ned Snowman/Shutterstock
First Kitchen is one of Japan's fast-food chains whose offerings are more aligned with the American idea of fast food but with a bonus — as its menu includes a good selection of pasta dishes and several regional specials. The varied menu offers classic beef burgers, including the Egg and Bacon special that has been around since the company was founded, and a variety of burgers that incorporate traditional Japanese flavors such as teriyaki and soy sauce. There are also shrimp items and fried chicken sandwiches. The pasta menu features several items modeled on Italian specialties and some featuring entirely Japanese additions. Like in any other classic fast food joint, you can get all your orders with a side of fries. Desserts and drinks may remind you of something you would see in the U.S., but they are usually a fusion of American-style dishes tweaked with Japanese ingredients and flavors.
First Kitchen launched as a Japanese franchise under Suntory Holdings Ltd. In 2016, the Japanese branch of American Wendy's acquired the business with all the operating outlets. The idea was to offer a fusion of Japanese and American flavors by offering some familiar classics from First Kitchen and tried-and-tested favorites by Wendy's. Though the U.S. has plenty of Wendy's across the country, it would be interesting to see how this international fusion would work on American soil.
Torikizoku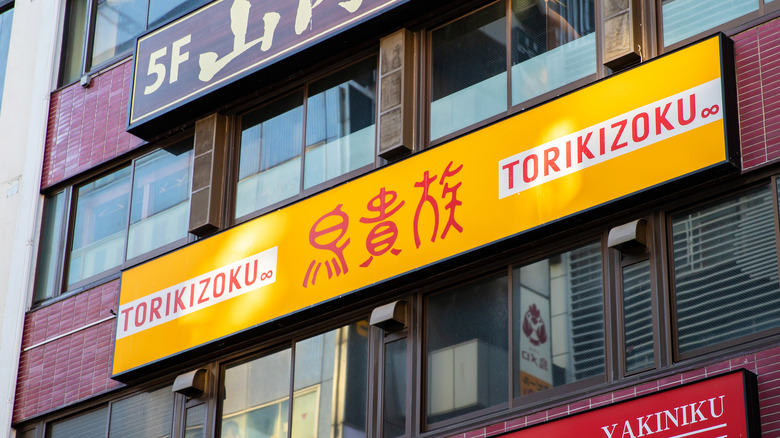 yu_photo/Shutterstock
Yakitori is a traditional Japanese dish best described as a variation of chicken skewer. In Japan, chicken skewers can be made with virtually any part of the animal — including entrails and chicken skin. The skewers are traditionally grilled over charcoal, and you will usually find them at restaurants that specialize in yakitori. In its basic form, yakitori is already reasonably priced and doesn't call for overly complicated and lengthy preparation. Also, typical yakitori joints are quite casual, so it's not surprising that the yakitori concept was replicated in chain restaurants.
Torikizoku is one of the bigger Japanese chains that specializes in yakitori. The company was founded in 1986 with the idea to offer excellent quality, keep the prices low, and use locally-sourced ingredients. The largest part of the menu is taken over by yakitori. You can find varieties made with various chicken cuts — often smothered in the traditional yakitori sauce.
Apart from yakitori, Torikizoku features fried chicken specials, salads, tempura, and fries. The drinks menu is pretty extensive for a chain restaurant. Apart from sodas and soft drinks, you can also enjoy some alcoholic offerings. As yakitori is traditionally munched down with a beer in hand, it would be a sacrilege not to include it on the menu.
Matsunoya Tonkatsu
Tonkatsu is a legendary dish in traditional Japanese cuisine. In its basic form, this is a thin, breaded, and fried pork cutlet. There are many conventional establishments in Japan specializing in this unpretentious classic, but Matsunoya is one of the more popular chain restaurants where tonkatsu is a signature dish. Tonkatsu is usually served with finely shredded cabbage on the side, sometimes with a thick savory sauce, but you can choose from an array of side dishes. If pork is not your thing, you can order fried chicken or shrimp. Matsunoya has all the qualities of a great fast-food joint: The menu is easy to navigate using a screen, the prices are affordable, and your order arrives fast.
This is one of the Japanese fast-food chains that could build a large following in the U.S. Tonkatsu oozes plenty of Western character, and there aren't many who claim to not like the juicy piece of meat turned into a crispy delight. The additional bonus is that some outlets are open late, which means you could potentially go for the crispy schnitzel every time you feel the craving.
Hotto Motto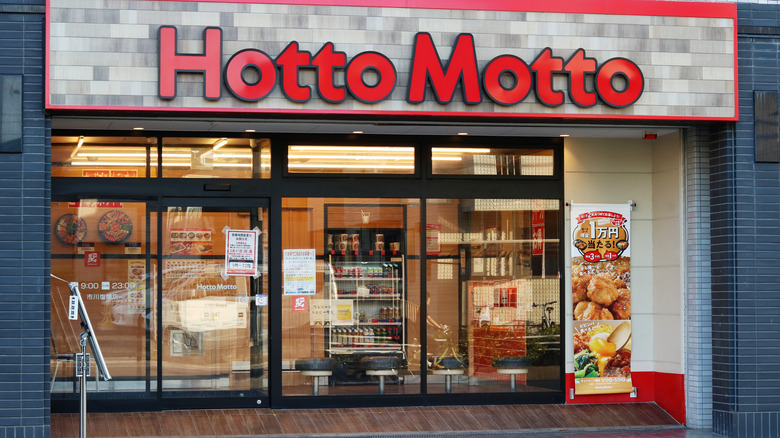 Ned Snowman/Shutterstock
Hotto Motto is a Japanese fast-food restaurant where you go for the quickly assembled bento box order. Bento boxes are a centuries-old tradition. They come in various sizes with a different number of compartments but are intended to carry one's meal. They typically consist of one main dish and various sides. Each part of the meal is then nestled in a separate section. Some traditional foods packed inside the bento box include salads, pickled veggies, omelets, vegetables, rice, and various grilled, fried, or baked dishes made with meat or seafood.
The menu here is diverse, featuring fried specials, hamburger patties, and various stir-fries. It also includes typical Japanese specialties such as curry and oyakodon (rice bowl topped with eggs and chicken). Along with set boxes, you can always add and tweak the meal to your taste. Hotto Motto also offers large platters ideal for bigger groups, parties, and gatherings.
Hotto Motto franchise ventured outside its native country and even had one outlet in Australia. However, the Australian shop has permanently shutdown for reasons unknown.
Tendon Tenya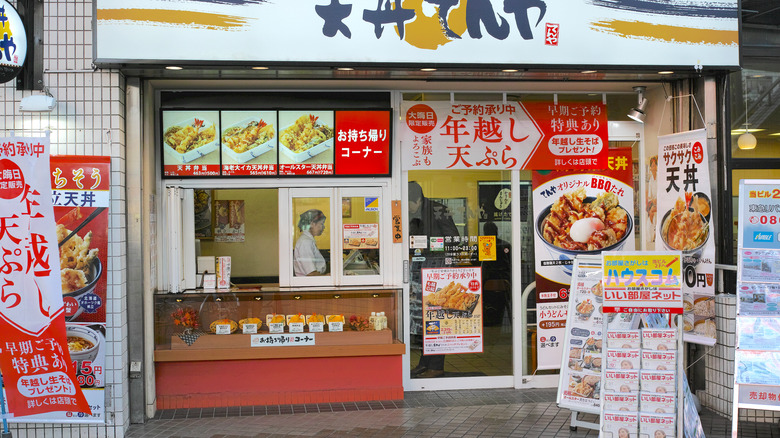 Takamex/Shutterstock
Tendon Tenya is one of the staple fast-food chains in Japan, specializing in the ultimate Japanese favorite — the incredibly crispy tempura. Though tempura was allegedly brought over to Japan by the Portuguese, the locals have adopted and ultimately perfected the art of coating everything in batter and frying until crisp.
The flagship item at the franchise is the tendon, a dish with a heap of steamed rice topped with various tempura pieces. You can choose the size of the portion and whether to partner the bowl with a side dish — namely greens, tofu, or eggs. Tendon Tenya relies on the classic tempura combinations made with prawns, squids, or chicken, accompanied by green beans and lotus root.
Americans love fried dishes, and though Tendon Tenya might not be the most wholesome option on this list, it's the one with the most potential to succeed stateside. The chain preserves its local flare but carries familiar techniques and flavors, which is a winning combination. Also, its drink menu carries beer and sake — two options ideal for paring with deep-fried tempura.