Traditional Teriyaki Sauce Recipe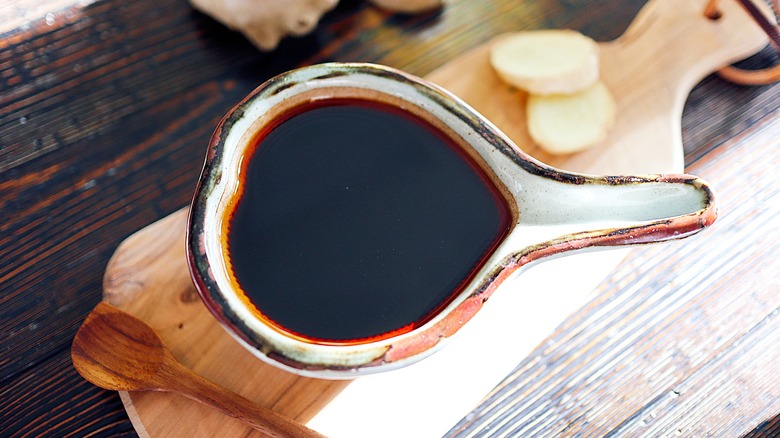 Cecilia Ryu/Mashed
When you think of teriyaki sauce, specific dishes may come to mind, such as teriyaki chicken. While there's no denying that chicken and teriyaki are a match made in heaven, there are quite a few different ways to use teriyaki sauce, and it's actually quite easy to whip up in your own kitchen. Recipe developer Cecilia Ryu has crafted this traditional teriyaki sauce recipe, so you can opt for a homemade dish instead of getting takeout — again.
"I love this sauce because it's very easy to make, and it goes well with so many things," Ryu explains. You could make your own stir-fry and top it off with this sauce. Or, let's say you steamed some vegetables as a side dish, and you want to add a little pop of flavor. This sauce will do the trick! And, with only 5 minutes of prep time and 15 minutes of cooking, it couldn't be any easier.
Gather the ingredients for this traditional teriyaki sauce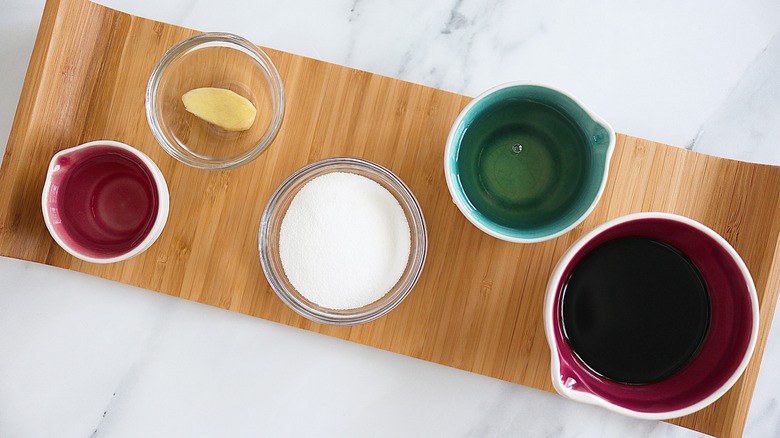 Cecilia Ryu/Mashed
As Ryu pointed out, this recipe only requires five ingredients: soy sauce, mirin, water, sugar, and fresh ginger. Ryu notes that ginger isn't typically used in teriyaki sauce recipes, but she loves the unique ingredient because "it adds more depth in flavor." You could leave the ginger out entirely, but it really does add a special something to the sauce without being overbearing.
Bring the ingredients to a boil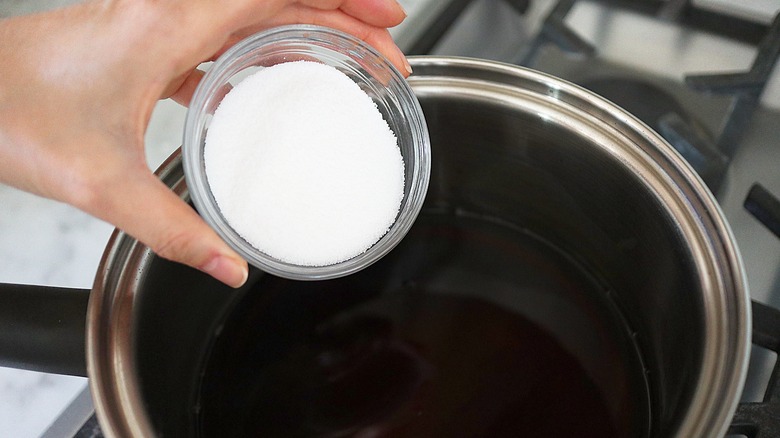 Cecilia Ryu/Mashed
Place a small saucepan over medium-high heat, then add the soy sauce, mirin, water, and sugar. Stir consistently until the sugar dissolves completely and the mixture comes to a boil.
"You can substitute the water for an equal amount of sake," Ryu suggests. She also notes that you could adjust the amount of sugar, but her usage of ½ cup really hits the sweet spot — pun intended — and "creates the most authentic flavor."
Add the ginger and simmer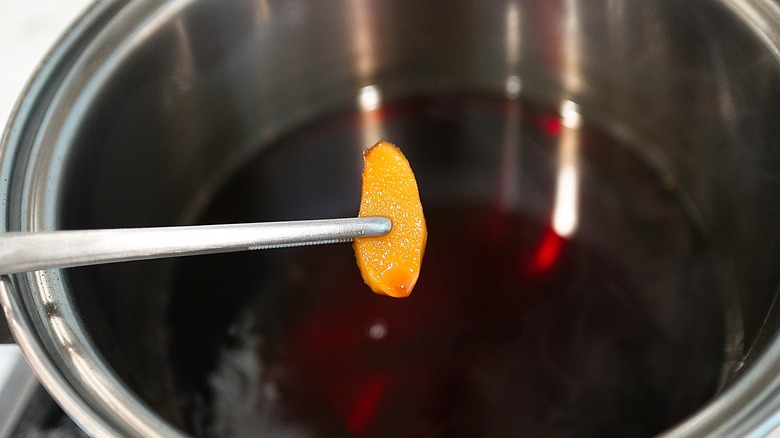 Cecilia Ryu/Mashed
Once the sauce is at a boil, reduce the heat to medium-low, bringing it down to a simmer, then add the ginger. While Ryu uses a ¼-inch slice of fresh ginger, you could add more to taste. Allow the sauce to simmer for 10 minutes, absorbing all of that ginger flavor. As it simmers, you should notice it thickening up.
Allow the sauce to cool, then serve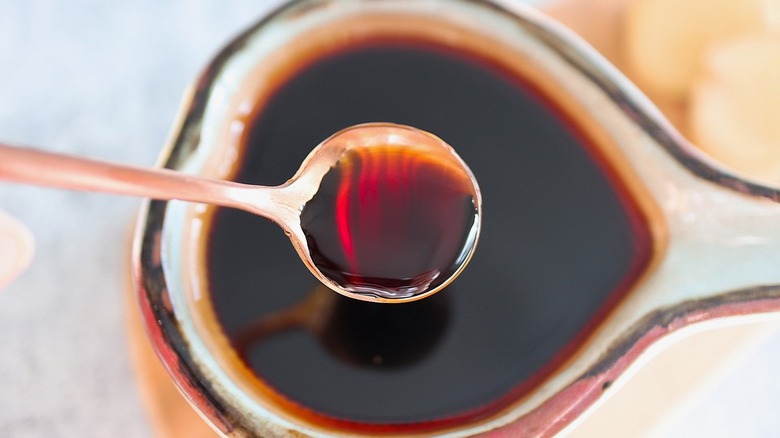 Cecilia Ryu/Mashed
After 10 minutes, remove the sauce from the heat and remove the ginger slice. Let the sauce sit and cool down, and once it reaches room temperature, you're ready to serve and enjoy.
"There are so many foods this goes well with," Ryu says. "Chicken, steak, salmon, fish, meatballs ... and not only just meat, but with tofu and vegetables as well." If you happen to have leftover sauce, you can simply store it in a sealed container in the fridge for up to 3 weeks.
Traditional Teriyaki Sauce Recipe
Teriyaki is the ultimate sweet-and-salty condiment, and it's very easy to make. Try this five-ingredient recipe, which gets a little kick from fresh ginger.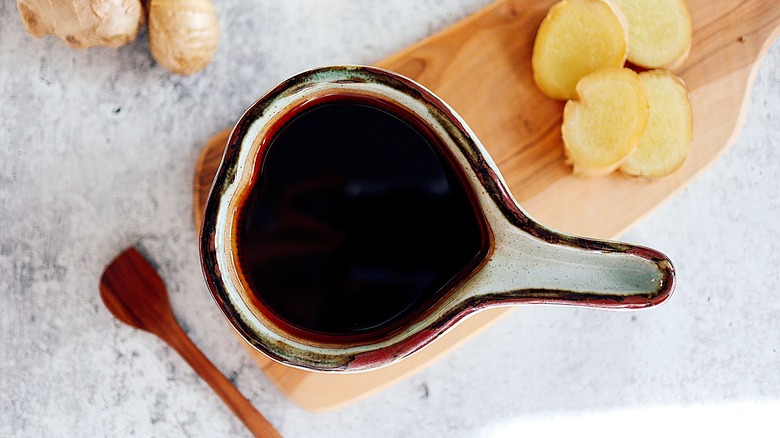 Ingredients
½ cup soy sauce
½ cup mirin
½ cup water
¼ cup sugar
1 (¼-inch) slice fresh ginger
Directions
In a small saucepan, combine the soy sauce, mirin, water, and sugar.
Cook over medium-high heat, stirring continuously until all the sugar has dissolved.
Once the mixture comes to a boil, lower the heat to medium-low and add the ginger. Simmer for 10 minutes, until the sauce has slightly thickened.
Remove the saucepan from the heat and dispose of the ginger. Allow the teriyaki sauce to come to room temperature. Once cooled, serve or store in a container in the refrigerator for up to 3 weeks.
Nutrition
| | |
| --- | --- |
| Calories per Serving | 209 |
| Total Fat | 0.4 g |
| Saturated Fat | 0.0 g |
| Trans Fat | 0.0 |
| Cholesterol | 0.0 mg |
| | |
| --- | --- |
| Total Carbohydrates | 31.2 g |
| Dietary Fiber | 0.5 g |
| Total Sugars | 25.2 g |
| Sodium | 3,505.7 mg |
| Protein | 5.5 g |