Canned Chicken Doesn't Have To Be Bland, Boring, And Cold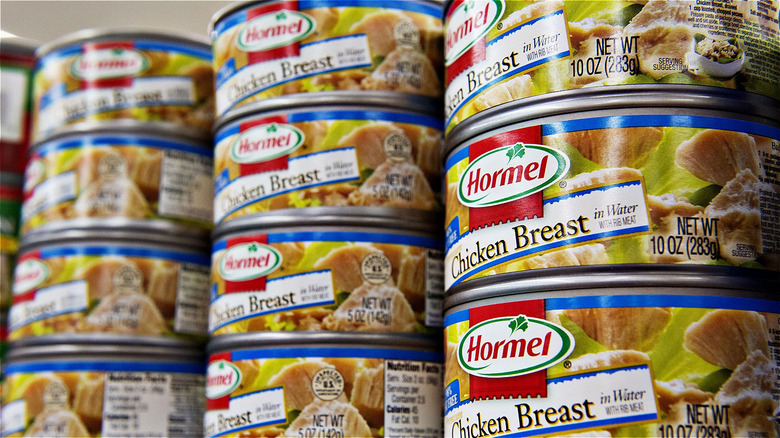 Bloomberg/Getty
Although the process of canning food was initially invented to preserve food for a long time so military forces could conveniently use it, canned foods are now a staple in many households. 
From cheeseburgers to canned beans, people consume all sorts of canned foods. That said, sometimes common foods like chicken are shunned when presented in canned form. You may avoid buying this pantry item because fresh chicken is easily accessible, and canned chicken can taste bland. However, canned chicken can be a quick protein fix. Plus, it's completely safe to eat. If you know how to prepare it, the canned chicken won't look unappealing, and it doesn't need to be limited to cold preparations, either. 
A TikToker demonstrated how to incorporate more flavor into canned chicken in a video for those who aren't convinced about its potential to be delicious. First, rinse the chicken to remove excess salt. After patting the chicken dry and seasoning it well, the creator cooked it in melted butter to add some fat until its color changed to a lightly caramelized brown. Then, they used it to make chicken quesadillas. "It was really tasty. 10/10 recommend. Your friends will not know the difference," the TikToker claimed.
Delicious ways netizens use canned chicken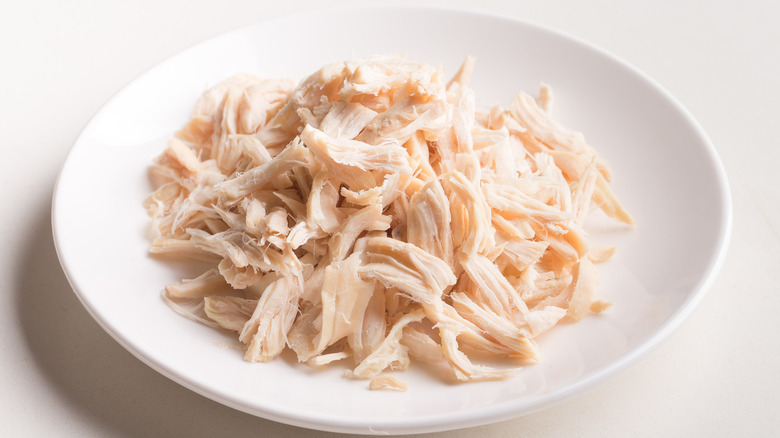 jiaming xie/Shutterstock
In the comment section of this TikTok video, other users shared how they use canned chicken in their recipes. "I actually really like it! It's super convenient for my chicken wraps!" one user commented. "I don't care for canned, but for buffalo chicken dip I usually use it," wrote another user.
No rule says you must eat your canned chicken as it is: There are plenty of delicious ways to upgrade this simple item. Netizens know how to get creative with it, as highlighted in a Reddit thread. "Mayo, mustard, and a bit of celery and you have chicken salad," one Redditor wrote. "I like to buy those chicken fried rice packets for about a buck and mix it in that, along with an egg and soy sauce. Makes a delicious meal for around 2 dollars," another Redditor shared. "We make a chicken pizza crust with canned chicken and egg," a third Redditor shared. 
Honestly, these ideas sound delicious! As the TikToker who originally shared the video said, "There are no bad ingredients, just bad chefs."