The Massive Jar Of Peaches You Can Find At Costco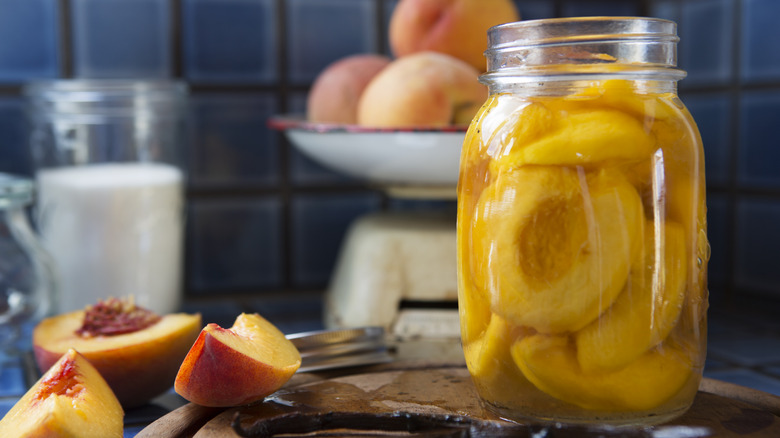 Cookedphotos/Getty Images
We may receive a commission on purchases made from links.
You don't have to be a Costco shopper to know that many of the store's products are larger than life. You've got a 208-liter barrel of olive oil that'll last you a few decades, but there are plenty other bizarre things to be found at Costco, like 27-pound tubs of mac n' cheese and 4-foot tall wine glasses.
TikToker Mama Linda added another strange item to the list, when she shared a video with her followers showing a huge jar of whole peaches in syrup. According to the listing on Amazon, each jar comes from Spain and contains 94 ounces of gourmet peaches (or about 5.8 pounds). A jar costs just under $29, making this item cost about twice as much per fluid ounce as a can of peaches you could pick up at Walmart.
Price aside, the internet has been going crazy over this particular item, so there must be something else special about them. Is it the versatility of the specific fruit, or perhaps the taste? Those who have tried the peaches for themselves have, well, mixed reviews at best.
Not everyone is loving Costco's giant jar of peaches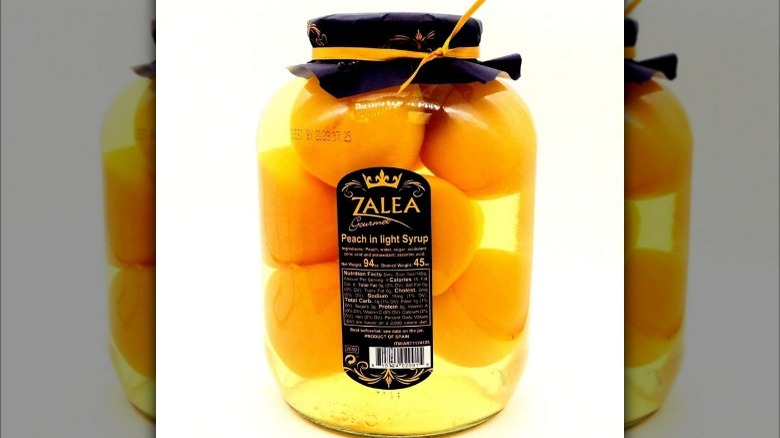 Mediterranean/Getty Images
In Mama Linda's TikTok review of Costco's jarred peaches, she notes that the product has a weird smell upon opening. However, she goes on to say the peaches have a good texture to them, and taste "sweet, but not too sweet."
Several viewers agreed, with one person commenting they finished the entire jar in a single night. That being said, others found the peaches to be too mushy for their liking. Similarly, Reddit users noted that the peaches grew mold within days of the seal being broken, and as such, the jar should be refrigerated, not kept in a cupboard. Considering how many of us already have full refrigerators, this giant jar isn't exactly ideal.
Of course, all of this just goes to say that if you're going to buy a jar of Costco peaches, your best bet is to use them quickly, whether that's in a fresh peach pie recipe, a homemade peach jam, or any other peach recipe that intrigues you.