Small-Batch Peach Jam Recipe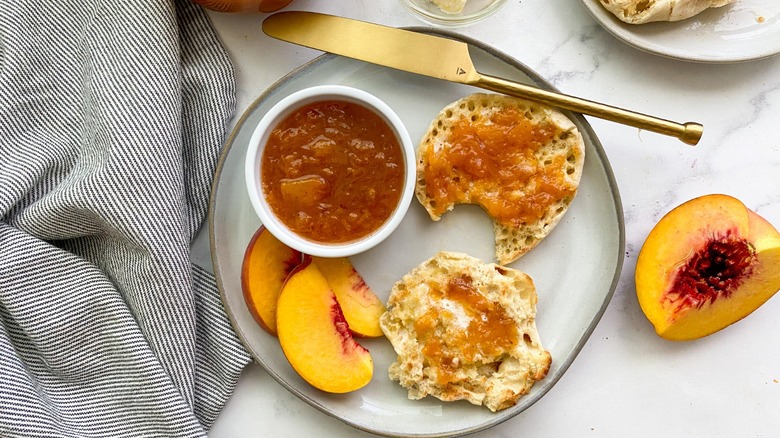 Miriam Hahn/Mashed
Making homemade jam is surprisingly very simple. This recipe for small-batch peach jam calls for only five ingredients and comes together in a matter of minutes. The best part? No pectin or gelatin needed. The peaches thicken up nicely with simply enough time to boil.
Recipe developer and health coach, Miriam Hahn, brings us this recipe for small-batch peach jam, and the serving options really are endless. If you think beyond the typical jam-spread toast, you can enjoy this jam in a variety of other ways. Hahn says, "I love to have this on English muffins, toast, scones, muffins or a PB & J sandwich. Also great on oatmeal or even as an ice cream topper!"
If you don't want all the jam for yourself, Hahn suggests gifting jars to friends and family. "This makes a great gift and I love packaging it in Weck glass jars. They are the type with the metal clamps and are super cute," she suggests. There's nothing sweeter than a thoughtful, homemade gift!
Gather your ingredients for small-batch peach jam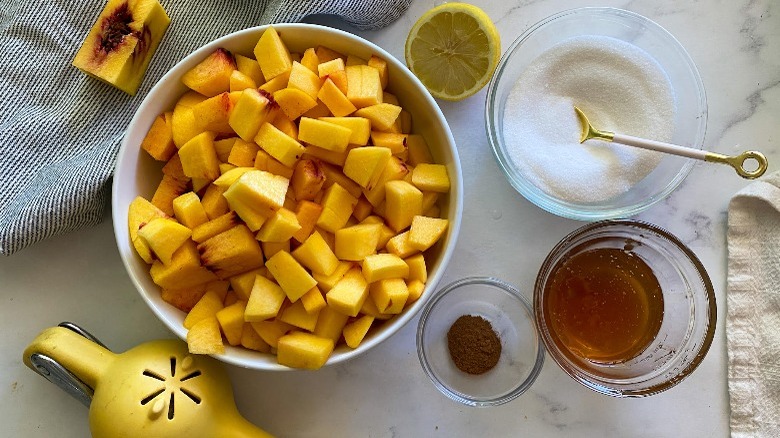 Miriam Hahn/Mashed
To make this small batch peach jam, you can start by gathering your ingredients. For this recipe, you will need peaches, sugar, honey, cinnamon, and lemon. Hahn notes that the "honey helps to thicken it while sweetening."
Peel and cut the peaches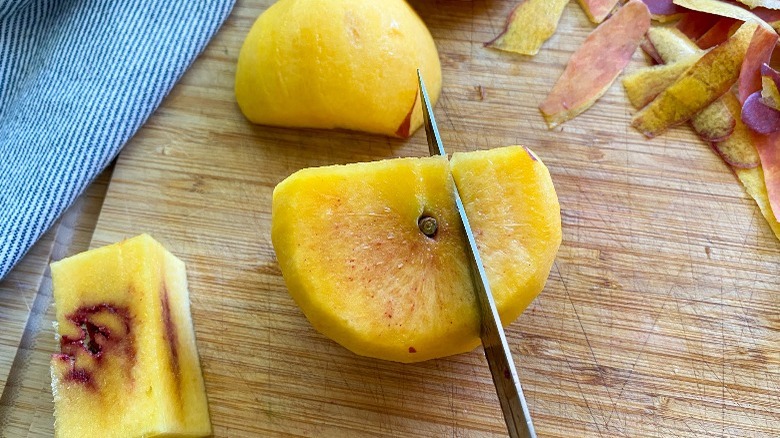 Miriam Hahn/Mashed
The first step involves peeling and cutting the peaches. Hahn recommends slicing the tops and bottoms off of the peaches before peeling. This way you can use your peeler in a straight line instead of trying to round it around the peach. After the peaches are peeled, core them, and chop them into ½-inch pieces.
If you want to skip this step, you can always substitute canned or frozen peaches as well. Hahn states, "I have only used fresh peaches for this recipe but I'm sure it will work with canned or frozen. It will be a shorter cook time with canned peaches and if they are packed in syrup, I would cut down on the sugar."
Boil ingredients in the medium pot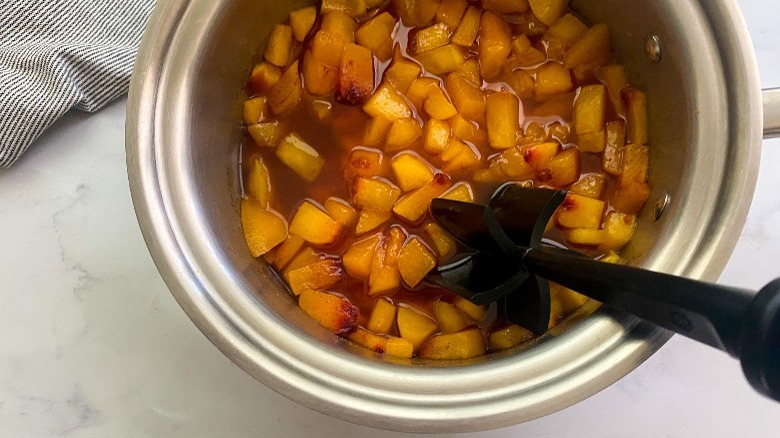 Miriam Hahn/Mashed
Add the chopped peaches, sugar, honey, cinnamon, and lemon juice to a medium pot. Bring this mixture to a boil and stir. Then, lower the heat to low and simmer the mixture, covered, for at least 15 minutes. "This method is pretty similar to making applesauce. Once you start mashing the peaches, it becomes thick and the sugar holds it all together," Hahn explains. "No need for pectin which is nice because that typically isn't a pantry staple!"
Mash peaches into desired consistency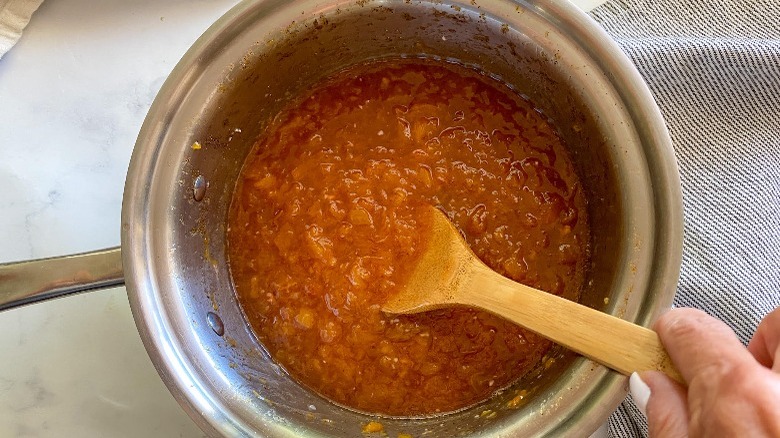 Miriam Hahn/Mashed
Remove the lid and mash the peaches with a potato masher. Then, add the lid and cook for another 15 minutes. At this point, check the consistency and thickness. If the jam needs to be thicker, continue to simmer for another 10-15 minutes. Make sure you allow it to sit for 15 minutes before you transfer it into a glass jar for storing.
Once you store the jam, feel free to use it as desired. Of course, jam on toast is a classic option, but English muffins, scones, bagels, or even pancakes could all benefit from this sweet, fruity spread.
Small-Batch Peach Jam Recipe
Spread some of this fresh and delicious small-batch peach jam on your morning toast.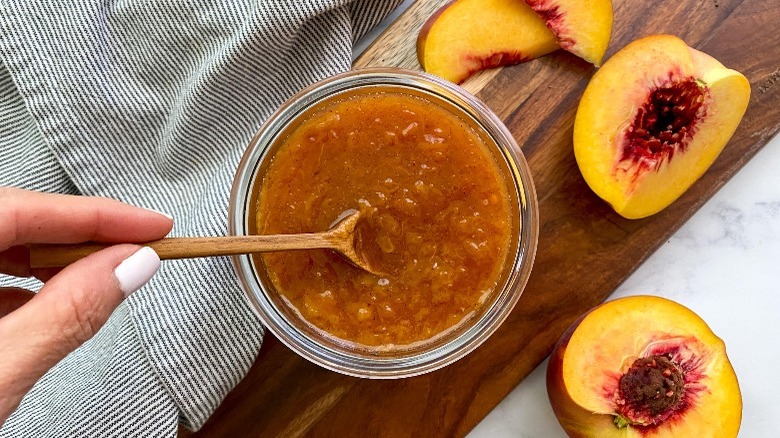 Ingredients
4 large peaches (about 5 cups when chopped)
¾ cup sugar
¼ cup honey
½ teaspoon cinnamon
½ lemon, juiced
Directions
Peel the peaches and cut into ½-inch pieces.
Put the chopped peaches, sugar, honey, cinnamon, and lemon juice in a medium pot. Stir frequently while bringing to a boil.
Once boiling, reduce heat to a simmer, cover, and cook for 15 minutes. Then, using a potato masher, mash the peaches. Put the cover back on and simmer 15 more minutes.
After the time is up, check to see if the jam is thick enough. If not, simmer 10-15 more minutes.
When it is thick enough, remove from heat and let it sit for 15 minutes. Then transfer to a glass jar and when completely cool, store in the fridge.
Nutrition
| | |
| --- | --- |
| Calories per Serving | 94 |
| Total Fat | 0.2 g |
| Saturated Fat | 0.0 g |
| Trans Fat | 0.0 g |
| Cholesterol | 0.0 mg |
| | |
| --- | --- |
| Total Carbohydrates | 24.2 g |
| Dietary Fiber | 1.0 g |
| Total Sugars | 23.2 g |
| Sodium | 0.5 mg |
| Protein | 0.6 g |