The Aldi Flavored Mayo We Wish We Could Find Outside Of Australia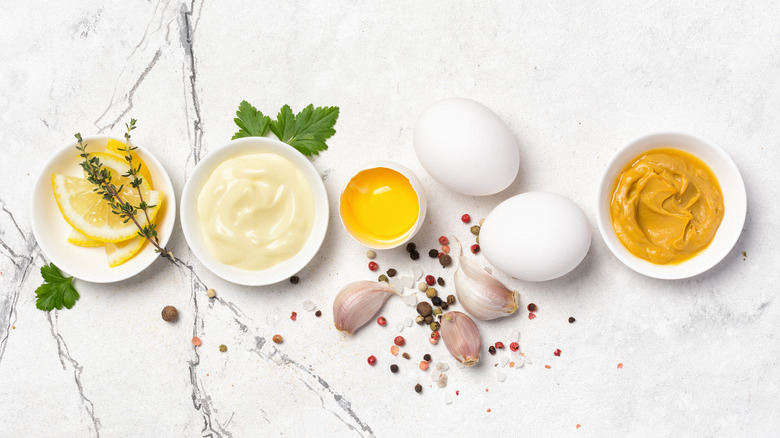 Chursina Viktoriia/Shutterstock
A dollop of mayonnaise — the favorite condiment of Mashed readers according to a 2021 survey — can add a wonderful umami taste to sandwiches, potato salad, or deviled eggs. It can covertly help boost flavor and texture as a secret ingredient in mashed potatoes, chocolate cake, and scrambled eggs. Deliciousness, of course, is often accompanied by calories and fat. For example, a serving (1 tablespoon or 14 grams) of Hellmann's classic mayonnaise has 90 calories and 10 grams of fat, while Spectrum brand Organic Olive Oil Mayonnaise has 100 calories and 11 grams of fat in 1 tablespoon.
Because of our love for mayo (and despite its high-calorie count), Americans eat about $2 billion worth of it each year. But Australia-based TikToker Steph Squats has found a better way — only we may have to go down under to get it. Aldi's Colway Dijon Mustard Mayonnaise is made and sold in Australia, and aside from its mayo-ness, the flavored spread is appealing because it has 16 calories and less than 1 gram of fat per 20 grams (over a tablespoon). It's water-based rather than oil-based, so gram for gram, it's a low-cal winner — although it's not easy to find.
Live outside Australia? Make your own flavored mayo
Shoppers in the United States can't order from Aldi Australia and have it shipped. So what can those of us who are stateside do? There are similar-tasting products at U.S. grocery stores, such as Heinz's Mayomust (although with a different ingredient list, Heinz's blend isn't quite as low-cal). Other great Heinz mayo mixtures are Mayochup (mayo and ketchup) and Mayoracha (mayo and sriracha). Hellmann's offers a line of flavored mayos including roasted garlic and jalapeño ranch, while Duke's has cucumber dill and bacon & tomato flavors. However, all of these options are likely to be higher in calories than the Aldi Australia blend, since they're oil-based. In a pinch, there's always plain old dijon mustard, which has a stronger flavor than mayo's but a similar creaminess.
Until Colway Dijon Mustard Mayonnaise makes its way to your local Aldi, or unless you live in Australia, you might try making your own homemade mayonnaise using egg yolks, Dijon mustard, oil, vinegar, lemon, and salt. (But remember this important egg tip.) You could also simply mix together mayo and mustard, emulating the Australian sauce.