Fool-Proof Homemade Mayonnaise Recipe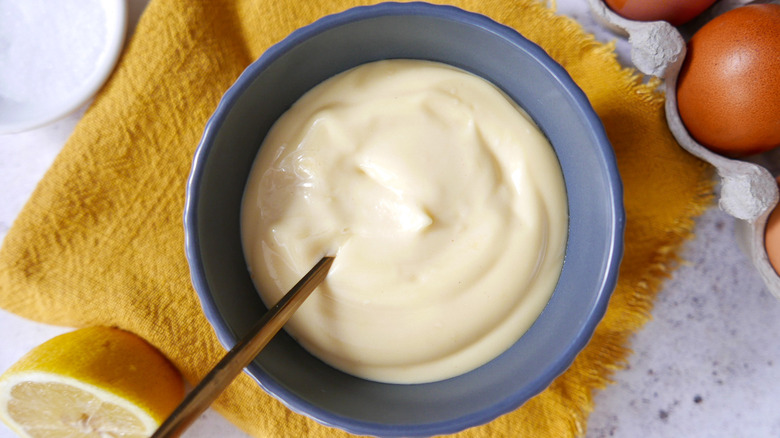 Ting Dalton/Mashed
You don't need to go to the store to purchase mayonnaise. Instead, why not take a crack at making it in your own home? Recipe developer Ting Dalton of Cook Simply UK came up with this easy recipe for fool-proof homemade mayonnaise, and as the title suggests, it's easy to make. Dalton raves over making homemade versus store-bought. "If you've never made homemade mayonnaise, then once you've tried this recipe, you'll never bother with shop-bought again," she says. There's just something about homemade mayo that tastes so much better than store-bought!
All you need are a handful of ingredients and a little patience, and you are well on your way to enjoying the freshest mayo you will ever eat. Whether you want it as a spread on a sandwich or a base for a pasta salad, this recipe is legit. "Delicious, creamy, and really light, this fool-proof mayonnaise is loved by my whole family," Dalton adds. Now, your whole family can love it too.
Gather the ingredients for this fool-proof homemade mayonnaise
Ting Dalton/Mashed
Ready to start? To make some mayo, you'll need an egg yolk, Dijon mustard, neutral flavored oil, white vinegar, lemon, and salt. "You need to use a neutral flavored oil, including grapeseed or canola. Don't use olive oils as they're very strong flavored," Dalton notes. 
Whisk the egg yolks and add mustard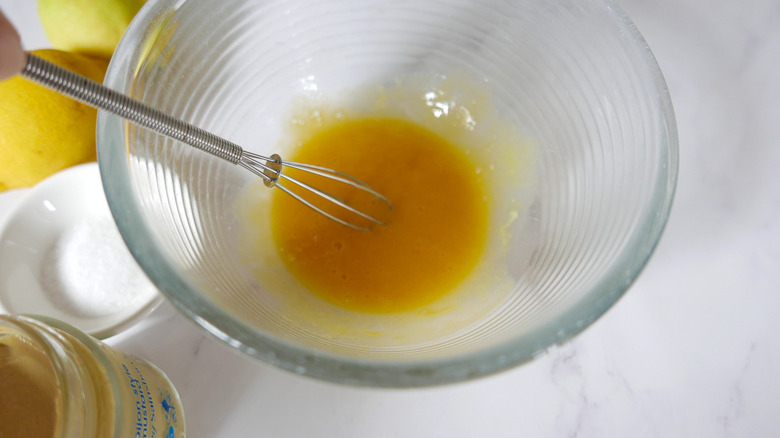 Ting Dalton/Mashed
The first step is simple. Crack the two eggs into a bowl and discard the egg whites, so that you only have the egg yolks. Use a whisk to mix the egg yolks, and then toss in the Dijon mustard. Whisk again to combine. 
Add the oil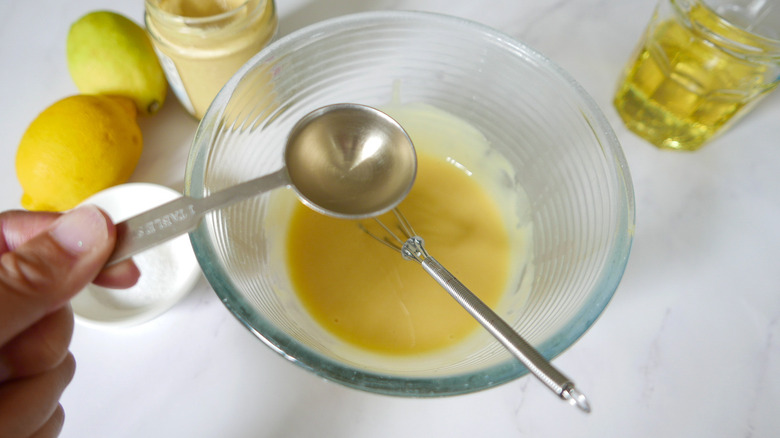 Ting Dalton/Mashed
Now, it's time to add half of the oil. Be sure to do it really slowly at first and as you add, continually whisk for 3 to 5 minutes or until the mixture thickens. "The key to making mayonnaise is patience. The oil needs to be added very slowly, while you continue to whisk. If you add it too quickly, the mayonnaise will split," Dalton shares.
Mix in the vinegar before finishing the oil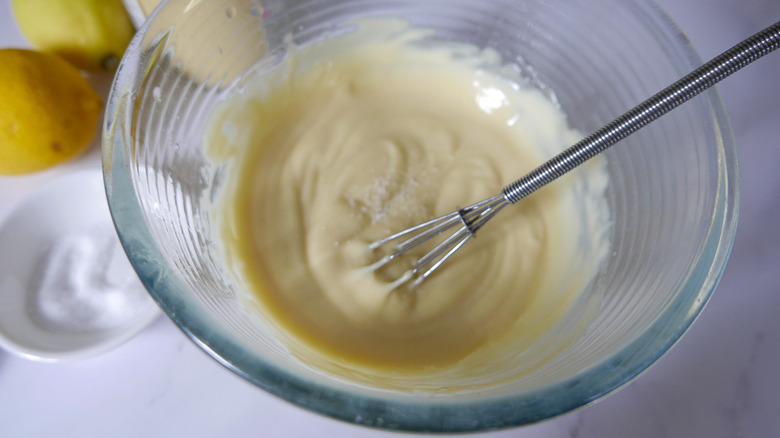 Ting Dalton/Mashed
When you're about halfway through adding the oil, toss in the white vinegar. Whisk with the other ingredients to combine. "I find it really satisfying to bring together the mayonnaise by hand, using a whisk. But it can take a good 10-15 minutes," Dalton notes. "If you're short on time, you can use a food processor in the same way, by adding the oil very slowly through the funnel."
Then, add the second half of the oil, again making sure to whisk continuously.
Mix in the salt and lemon juice and serve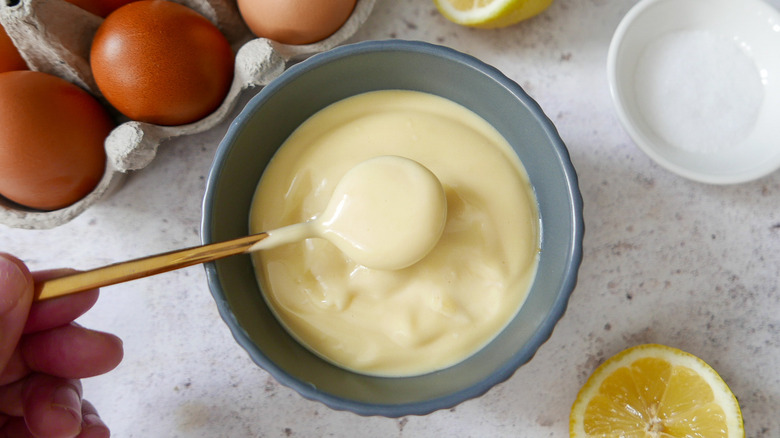 Ting Dalton/Mashed
The last two things you will need to add to the mix are a pinch of salt and a squeeze of lemon juice. Simply add the mayo to your favorite main course. "Add it to sandwiches, dip with french fries, or even for salads or pasta salads," Dalton suggests.
The great news is that you can also make this ahead of time. "This mayonnaise will keep in the refrigerator covered for up to three days," Dalton shares.
Fool-Proof Homemade Mayonnaise Recipe
Skip the store-bought stuff and make this fresh, homemade, and fool-proof mayonnaise instead.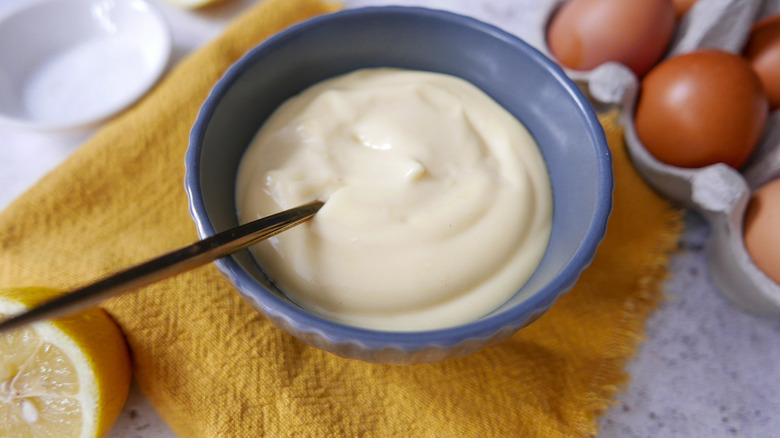 Ingredients
2 egg yolks
1 teaspoon Dijon mustard
1 cup neutral flavored oil
1 tablespoon white wine vinegar
1 pinch sea salt
juice from ½ lemon
Directions
Whisk the egg yolks in a bowl, then add the mustard and whisk together.
Gradually add the oil, very slowly at first, whisking continuously for around 3 to 5 minutes, or until thickened.
Once you've added about half the oil, whisk in 1 tablespoon of vinegar.
Continue to gradually add the remaining oil, whisking constantly. Season with a pinch of salt and a squeeze of lemon juice.
Nutrition
| | |
| --- | --- |
| Calories per Serving | 338 |
| Total Fat | 37.6 g |
| Saturated Fat | 3.1 g |
| Trans Fat | 0.1 g |
| Cholesterol | 48.7 mg |
| | |
| --- | --- |
| Total Carbohydrates | 0.7 g |
| Dietary Fiber | 0.2 g |
| Total Sugars | 0.2 g |
| Sodium | 31.1 mg |
| Protein | 0.8 g |