Chick-Fil-A Is Testing A Maple Bacon Chicken Sandwich In Just 2 Areas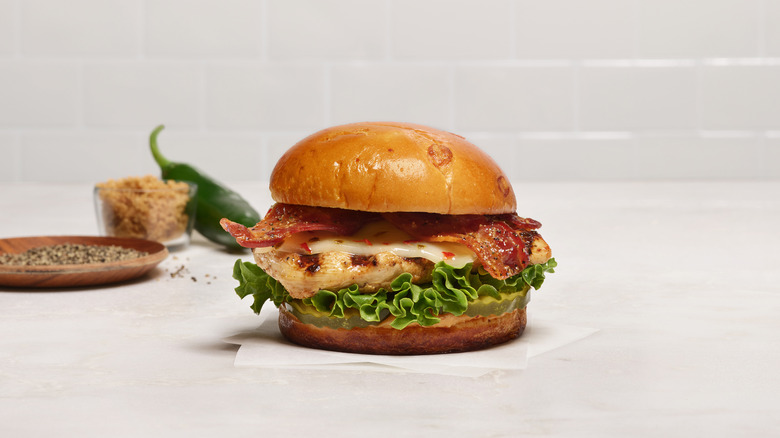 Chick-fil-A
Whether or not you're a fan, it's hard to deny that something shifted in fast food culture when the Chick-fil-A chicken sandwich was invented. Every restaurant wanted in on the chicken sandwich war, which has resulted in endless different takes on a chicken sandwich, from Popeye's instant hit to a more recent syrup-slathered sandwich on an Eggo Waffle.
Of course, Chick-fil-A itself hasn't settled for just a singular chicken sandwich. In addition to the standard option, the chain offers a cheese-topped "deluxe" sandwich, a spicy chicken sandwich, and a grilled chicken sandwich (available with or without cheese and bacon). And now, Chick-fil-A is trialing yet another version –- one with maple bacon, grilled chicken, lemon herb marinade, pepper jack cheese, and a maple-brioche bun.
That being said, the new sandwich's test run is being conducted only in Indianapolis and Lexington, starting Monday, June 12. So unless you're in the mood to drive to Indiana or Kentucky just for a meal at Chick-fil-A, you'd best be hoping the trial goes well enough that the chain takes the sandwich national. In the meantime, what else is there to know about the Maple Pepper Bacon Sandwich?
The newest Chick-fil-A sandwich is a bit of a mystery
Unfortunately, because Chick-fil-A's new Maple Pepper Bacon sandwich is being given a test run in only two cities –- which hasn't even started as of this post -– we don't know much else about the sandwich just yet. The sandwich appears on Chick-fil-A's website, but only has a description. No nutrition info, no price, no picture.
However, with the sandwich's description in mind, it does bear some resemblance to another limited-time, smoky-sweet offering from the chain. The Smokehouse BBQ Bacon sandwich also featured bacon, grilled chicken, and a toasted bun, only with Colby Jack cheese, BBQ sauce, and brown sugar on the bacon. This particular sandwich debuted in 2017, with seasonal fast food menu cameos in 2019 and 2022, and cost around $6.95.
Facebook users had generally positive reviews of the Smokehouse BBQ Bacon sandwich when they actually received it in its true form. Many others voiced disappointment with the product, but mainly due to poor customer service or the sandwich being improperly made. If the new Maple Pepper Bacon sandwich fares similarly, it seems reasonable to expect fans to enjoy it too.