Seasonal Fast Food Items And When You Can Get Them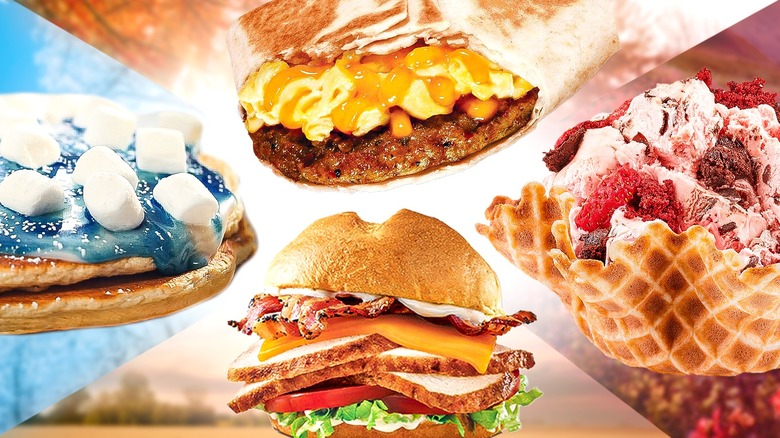 Static Media / Getty / Shutterstock
It's always the perfect season for tasty food at a low price, which is exactly why fast food seasonal favorites are so popular. Almost all of our favorite fast food brands bring about fun, new, seasonal menu items that give us something to look forward to each year. In recent years, some beloved items have been introduced, while others have visited temporarily, never to be seen again (unless the fanbase made a loud enough fuss to bring it back). Whatever your fast food favorite may be, you've likely found some exciting delights at particular times of year to look forward to and cherish while they last.
Maybe you wait all year with bated breath for fall favorites (hello, pumpkin spice season), or Christmas and holiday delights like sugar cookies and chestnuts. Perhaps your heart lies with spring and summer flavors like strawberry and watermelon goodness. Whatever your favorite season for fast food may be, here are some of our favorite seasonal fast food items out there and why they're worth the wait each and every year.
Chick-fil-A's Peach Milkshake
A true summer classic, the Chick-fil-A Peach Milkshake is a bright, cheerful delight of fruity joy in a cup. Creamy, sweet, and oh-so-refreshing, the Peach Milkshake is a seasonal item that is absolutely worth the wait. The beloved milkshake came about after Chick-fil-A's founder, Truett Cathy, shared his dairy treat recipe. Thus, the Icedream treat was born.
With its old-fashioned taste, and classic whipped cream and cherry topping, the Peach Milkshake graced our taste buds for the first time in 2009 and has since become a steadfast summer tradition for Chick-fil-A fans everywhere. While Chick-fil-A often maintains mystery about the specific release date of this delicious drink each year, we can usually count on our peachy keen bestie returning in time for the warm temperatures of late spring into summer, which is just around the corner. Fingers crossed we see this drink gracing Chick-fil-A menus everywhere in the coming weeks.
Dairy Queen's Frozen Hot Chocolate
Calling all chocolate lovers. Another frozen treat that has become a crowd favorite is the Frozen Hot Chocolate from Dairy Queen. If you're not a fan of hot drinks, this is a yummy and special treat that provides the comfort of hot chocolate but in a chilled and refreshing form. That's precisely why Dairy Queen brings this beverage back each winter and summer and why it is one of the most requested seasonal menu items to date.
The makings of the frozen hot chocolate start with a luscious cocoa fudge, followed by Dairy Queen's famous and velvety soft serve, covered in a chocolatey drizzle. Delicious. If you go for a small size, you're looking at 630 calories for the drink, made up of 10 grams of protein, 86 grams of carbs, and 29 grams of fat. It also is safe for those with wheat or gluten-related food allergies, as it only contains milk and soy.
Wendy's Grilled Chicken Wrap
Wendy's spring menu sprang back into action in March of this year and has brought back its popular spring items, including its Grilled Chicken Ranch Wrap. The Grilled Chicken Wrap may not be a fully original menu item considering McDonald's debuted its wrap in 2006. Unfortunately, the brand also took it away in 2016, with no hope of return, despite TikTok protests and outrage. Flash forward to Wendy's throwing out a somewhat sassy reference to "bringing back what others took away," and we can deduce that Wendy's delivered this fresh wrap in light of McDonald's refusing to bring back its wrap. Take that, Micky D's. Whatever beef went down with the two restaurants, fans are glad to have a yummy grilled chicken wrap like this one available.
The wrap starts with a warm flour tortilla and is topped with diced grilled chicken, shredded cheese, lettuce, and creamy ranch dressing. It's an excellent option for drive-thru guests who are on the go, as it is less likely to drip all over you than a cup of chili or a burger.
Chick-fil-A's Peppermint Chocolate Chip Shake
What is more festive and wintery than peppermint and chocolate? Obviously, the addition of a brisk, snowy chill, as the Chick-fil-A Peppermint Chip Milkshake provides. This holiday favorite comes around about the same time as the Christmas lights, trees, and carols, bringing a comparable amount of joy to Chick-fil-A diners.
Starting with Chick-fil-A's famous Icedream dessert, peppermint bark chips are hand-spun in to make a lovely blend of Christmas spirit. Then, it gets topped off with whipped cream and a bright red cherry to match the nose of everyone's favorite chimney-diving elf. With its minty, chocolatey, and festive flavors, the peppermint chocolate chip shake is yet another gift that the Christmas season bestows upon us. According to the current Chick-fil-A update, you can expect this tasty treat to fill your stockings and stomach again as soon as mid-November. It's a little something to be thankful for and to put on the old wish list.
Whataburger's Peaches and Cream Shake
Jumping onto summer's peachy bandwagon, Whataburger's new Peaches and Cream Shake is rumored to be out for only a limited time this summer season. For the super-reasonable price of $2.94, you can snag a limited peachy shake this summer season and enjoy the summer vibes. With a classic vanilla ice cream for its base, the Peaches and Cream Shake was invented to provide notes of fresh peachy goodness and a creamy texture to help cool down your summer days.
Whataburger's senior vice president, Rich Scheffler, boasted about the success of the brand's previously crafted shakes, including the banana, pineapple, coffee, and salted caramel, and expects an equally positive response to this one. Considering the immense popularity of Chick-fil-A's peach shake, we can imagine that it's only a matter of time before the masses discover this one and add it to the seasonal rotation. If peaches float your boat, you can find the new, summer-themed invention at Whataburger this summer.
IHOP's Winter Wonderland Pancakes
Christmas decorations start appearing in November at the latest each year, so it is only fitting that IHOP's Winter Wonderland Pancakes return to the menu around the same time. With festive marketing to boost the excitement, IHOP makes a big fuss over its seasonal pancakes, and for a good reason. The seasonally-offered winter wonderland pancakes are a wintery treat that rivals many desserts.
The pancake creation starts with a base of IHOP's classic buttermilk pancakes. From there, the IHOP chefs make a beautiful, winter-wonderland-themed, shimmery swirl of blue and white icing and cover it with a snowy dusting of powdered sugar. Finally, the mini marshmallows provide the festive touch that reminds us of our seasonal pal, Frosty. So magical. A colorful and sugar-filled conglomerate, the Winter Wonderland Pancakes are also fun, cheerful, and highly reminiscent of the most wonderful time of the year. You can indulge in your very own stack of winter cheer starting this holiday season. Don't forget to wear your favorite holiday sweater.
McDonald's Shamrock Shake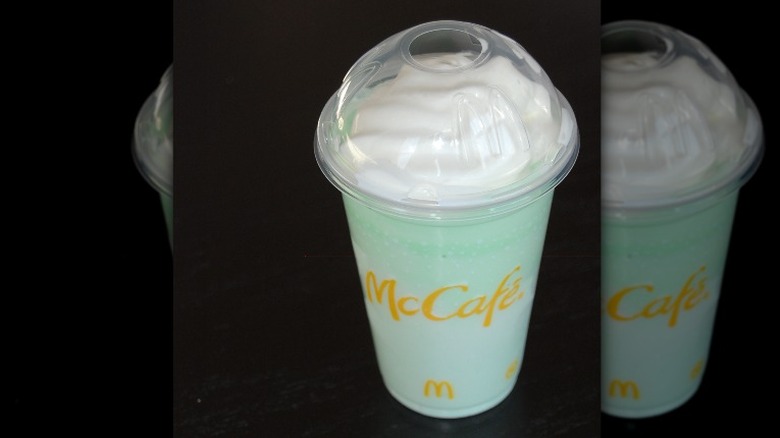 Mary at T-Comms/Shutterstock
Other countries must be green with envy if they do not have the McDonald's Shamrock Shake to look forward to each year. Bringing a vibrant glow to the luck o' the Irish, McDonald's provides a special nod to Saint Patrick's Day with the seasonal shamrock shake that has become a fan favorite.
The first shamrock shake was introduced in 1970 and has since returned with slight differences before finally appearing nationally in its current form in 2012. With a base of vanilla soft serve, the shake receives a dose of magic from minty shamrock shake syrup and light whipped cream topping. It is notably iconic for its bright green color and also can be adapted to include Oreos, which is always a good idea in our book. Typically, the beloved green concoction is only available in late February through March, which is (of course) the leprechaun's favorite season.
Chick-fil-A's Smokehouse BBQ Bacon Sandwich
When warm weather drifts in and nature wakes up to bring us mild evenings and a later sunset, it can only mean one thing — barbecues. There is something distinctly fun about cooking outdoors in the warm weather to celebrate the change of the seasons. Chick-fil-A obviously knows this, because it brought the same smoky charm to its Smokehouse BBQ Bacon Sandwich. The cookout-inspired sandwich quickly became well-known after its debut in 2017, which prompted its return in 2019, when it reached peak popularity.
The Smokehouse BBQ Bacon Sandwich brings the best of a barbecue to your bun by elevating the traditional grilled chicken sandwich. The traditional grilled chicken patty forms a tasty foundation on a Hawaiian-inspired sweet roll. With the addition of brown sugar and peppered bacon, Colby jack cheese, lettuce, tomato, and a special barbecue sauce, it's no wonder that it became an instant favorite. You can most likely expect this homestyle favorite to grace your Chick-fil-A again in late February, just in time for spring.
McDonald's Pumpkin and Creme Pie
You knew it was coming — a seasonal favorites list could not be complete without at least one mention of pumpkin something or other. Thus, we have McDonald's Pumpkin and Creme Pie. While McDonald's has long been known for its handy and portable apple pies, the Pumpkin and Creme Pie is a creation of the last decade, debuting in 2015. At a reasonable price tag of around $1, this seasonal and autumnal snack is hard to beat when you're in the mood for something sweet. Pair it with a pumpkin spice latte, and you will have achieved pumpkin-fueled heaven.
The mini pumpkin pie has already developed a devout fanbase, with some users posting enthusiastically to announce its return to the menu and others tracking its estimated return date with intrigue. Historically, we have seen the Pumpkin and Creme Pies hit McDonald's spots as early as October, so keep an eye out when autumn comes around, and you may be able to snag one.
Panera Bread's Autumn Squash Soup
Panera Bread is a well-loved stop for a quick bite of comforting, fresh food. Whether you go there for the fantastic sandwiches on fresh bread, the diverse array of salads, or the seasonal soup options, it has something to offer in every season, and fall is no exception. Panera's Autumn Squash Soup is a comforting bowl of fall flavor that brings autumn to your taste buds. Let's be honest — cooking squash soup at home is totally doable but isn't the quickest meal to prepare. So, when you're not in the mood to work out your arms by battling with a tough-skinned squash, Panera has a quick fix.
Countless bloggers and home chefs have kindly shared their copycat recipes and vegan-adapted versions, and it's no wonder that they want to recreate the fast food delicacy. Panera's soup combines pumpkin with carrots, butternut squash, onions, honey, cream, apple juice, autumn spices, and more to create a creamy bowl of comfort for the fall season. The brand recommends pairing the soup with the autumn squash flatbread pizza or bread pudding for the ultimate comfort food experience.
Steak and Shake's Pork Belly Steakburger
Steak and Shake bring us delicious burgers with tasty toppings year round but creates a special level of excitement when the brand unveils the seasonal menu items. One that gained its fair share of popularity was the Pork Belly Steakburger, which hit the Steak and Shake menu for the first time in 2020. A bright burger beacon amid an otherwise dark year, the pork belly sandwich combines the best of burgers and barbecue nostalgia. While it hasn't been available at every location, the corporate stores almost always have seasonal items ready to go and fresh to serve.
The Steak and Shake dream team designed the Pork Belly Steakburger to check the boxes for warm weather cravings, barbecue flavors, and the classic steakburger charm. It starts as a 100% beef double steakburger, topped with crispy and glazed pork belly. Next comes the caramelized onions, American cheese, and savory maple bourbon drizzle, bringing it all together and sending the consumer to hog heaven. You can usually find this burger in spring, just in time for warm-weather cookouts.
Taco Bell's California Breakfast Crunch Wrap
You've probably heard through the grapevine that Taco Bell is among the fast-food restaurants continuously updating its breakfast items. While the classic options included egg burritos, donut holes, and coffee beverages, the brand has recently expanded. New additions like cheesy toasted burritos, breakfast quesadillas, sausage, and bacon have expanded the possibilities for early-rising Taco Bell fans. With this comes the return of the seasonal California Breakfast Crunch Wrap.
It's a crunch wrap but for breakfast. What could be more inspiring to wake up for? This on-the-go breakfast includes a flour tortilla and optional fillings, including bacon, egg, sausage, steak, hash browns, cheese, guacamole, and tomatoes. To level it up, you can also add any of the creamy sauces (jalapeño or nacho cheese), sour cream, or a fresco tomato blend. At 630 calories, the breakfast crunch wrap is really a full handheld meal and rings in at $3.79. While the original crunch wrap was originally introduced in 2005, it came and went randomly for the next two decades. We hope that the crunch wrap and the seasonal breakfast variety will become a consistent annual addition. Nevertheless, the California Breakfast Crunch Wrap is yet another yummy option that Taco Bell has provided.
Del Taco's Caramel Apple Shake
Del Taco has risen steadily in popularity in recent years, and it offers classic fare like tacos, burritos, and more, allowing its customers to fully customize their orders (including some Del Taco secret menu items). The venue has also expanded into seasonal items, including fall-themed drinks with caramel and pumpkin themes. One that fans ask for year after year is the Caramel Apple Shake.
The Caramel Apple Shake is reminiscent of those caramel apple lollipops from the '90s. You know, the sticky ones that, if chewed, would become glued to the landscape of your teeth? Well, the shake provides a nostalgic flavor combination (for some of us) with a creamy, tart, and sweet combination. The shake starts with a base of classic vanilla ice cream and is mixed with Granny Smith apple purée and sweet, creamy caramel for the perfect balance of flavors. It's definitely worth a try if you can find one. The seasonal shake has previously shown up in autumn, so we should be able to expect its return this fall season.
Arby's Deep-Fried Turkey Sandwich
As we all know, Arby's "has the meats," so it can only be expected that the brand would deliver a delicious item for the holiday season, as it did with the Deep-Fried Turkey Sandwich. If your Thanksgiving traditions don't include a deep-fried turkey or deep-fried turducken, then this is your chance to have a stress-free (and fire-hazard-free) holiday treat.
The classic club sandwich starts with a festive foundation of deep-fried turkey breast and then is topped with lettuce, Swiss cheese, pepper bacon, tomato, and mayonnaise. Yum. The deep-fried turkey glory also extends to a few varieties, with options like the Fresh Cranberry Deep-Fried Turkey Sandwich, the Fresh Cranberry Deep-Fried Turkey Wrap, and the Classic Club (have you heard "deep fried" enough yet?).
These options bring the famous Thanksgiving flavors to light and combine all the club components, plus cranberry sauce, which gives it that leftovers hodge-podge, late-night sandwich vibe. A sandwich this tasty will surely shove any family drama deep into the recesses of your memory. In terms of the Arby's family turkey preparation, the folks there roast the turkey breast and then deep fry it for that extra indulgent touch, and we are indeed thankful for this seasonal sandwich.