Sgroppino Is The Boozy Lemon Slushie You Need On Your Home Cocktail Menu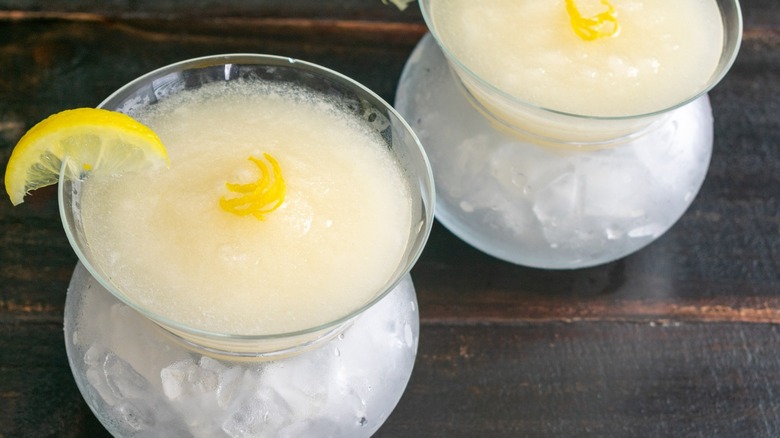 Candice Bell/Shutterstock
There are certainly other sipping staples packed with refreshing flavors, such as a fruity batch of sangria or a boozy lemonade, that always hit the spot. However, there's one Italian cocktail you absolutely need on your home cocktail menu, especially if you haven't yet tried it — sgroppino.
Don't worry. This cocktail doesn't require a laundry list of complicated and hard-to-find ingredients that will require multiple trips to multiple stores. Most recipes​​ for this simple yet satisfying frosty citrus sip call for just three things — lemon sorbet, vodka, and a sparkling wine such as prosecco. If you value presentation, you might consider a garnish such as lemon slices or mint, as TikTok user @miciamammas recommends in a video in which she makes the cocktail, but those are optional.
And, unlike many frosty beverages that require you to have a ton of ice on hand and break out the blender, the slushy texture comes merely from the inclusion of the sorbet. The ingredients are just whisked together, so you don't need to hunt down an electrical outlet outdoors in order to serve this refreshing cocktail to your guests.
The history of this citrus cocktail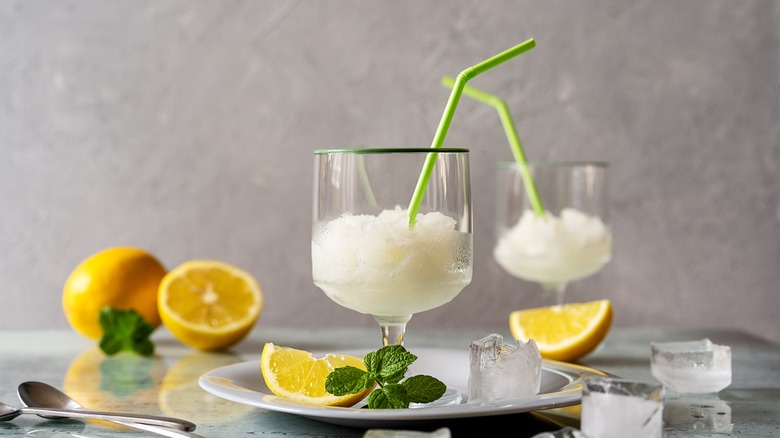 Tati Liberta/Shutterstock
The TikTok creator who whipped up a batch of sgroppino gave a few additional tips, such as using a chilled bowl to whisk together the mixture and serving it in a coupe glass. And, TikTok users were intrigued by the drink, with one commenting, "[L]ooks so refreshing" while another chimed in, "[T]his is the best. We are from Northern Italy and we had many there last summer."
Sgroppino is indeed particularly popular in the Veneto region, located in northeastern Italy, but it's enjoyed by individuals throughout the country (as well as those who just want to capture Italian summer vibes in their drink, wherever they're located).
And, while you may not have been familiar with this particular cocktail, it's been around for quite a while. The original version was concocted by Venetians in the 16th century and was intended to be a palate cleanser. However, nowadays you can enjoy it whenever you want, as a palate cleanser, dessert, or just something to sip on the patio.
While the classic combination is a definite winner, you should also feel free to try your own take on the cocktail, swapping out the sorbet flavor or the spirit (try limoncello for a truly lemon-packed drink) to create your custom version. Those who prefer their frosty drinks with a creamy touch might also consider swapping the sorbet with lemon ice cream or adding in a few tablespoons of milk for a twist.