The McDonald's Vietnam Matcha McFlurry We Wish Was In The US
There are a lot of delicious-looking McDonald's menu items you can't buy in the U.S., but green tea lovers and Oreo fans alike will probably think this sweet treat from McDonald's in southeast Asia should be brought to the States immediately. We're talking about the Matcha Oreo McFlurry, which is currently available at McDonald's locations in Vietnam. The Matcha Oreo McFlurry is made with vanilla ice cream, sweetened matcha syrup, and crushed pieces of Oreo cookie. It retails for 39,000 VND, which comes out to $1.66 USD.
Matcha can have a prominent, robust flavor, but it seems like the ice cream and Oreos help mellow it out. According to one TikToker, the McFlurry has "just a slight whisper of matcha taste." Vietnam isn't the only country where McDonald's has slung this sweet matcha dessert. In Japan and the Philippines, McDonald's customers were able to enjoy a Matcha Oreo McFlurry for several years, and it even made its way stateside. The McDonald's Global Headquarters Restaurant in Chicago, which has a McDonald's menu like none other in the U.S., even served up the Matcha Green Tea McFlurry for a limited time in 2019. But the Oreo-packed treat isn't even the only matcha treat served up at McDonald's in Vietnam.
Even more matcha at McDonald's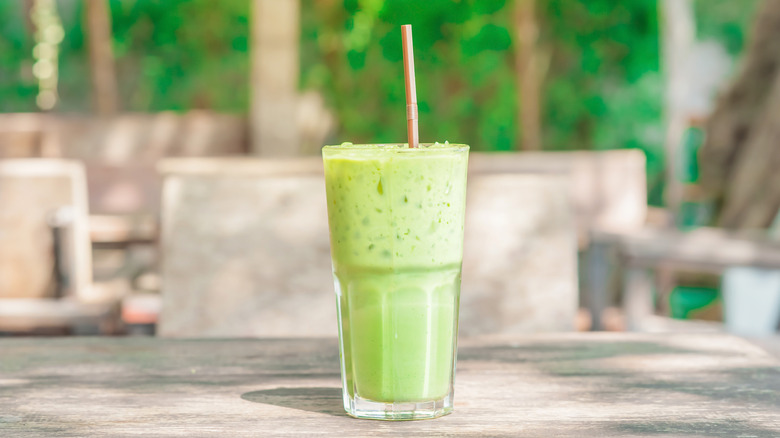 Sataporn_chayawan/Getty Images
The Matcha Oreo McFlurry isn't the only sweet matcha item on the McDonald's menu in Vietnam. The chain also sells a Matcha frappuccino, which one reviewer gave "two glorious thumbs up" (via Facebook). Also available is an iced matcha latte, which a reviewer for Insider said was "a delicious, refreshing addition" to their meal, and one of "the most interesting" menu items. But will this matcha craze ever reach American McDonald's locations?
Dunkin' officially released two new matcha products in 2021, and though you should read this before drinking matcha from Starbucks, the coffee chain also sells drinks made with this vibrant, grassy tea. Matcha drinks have been increasingly popular in the US as well as globally, and in the last 25 years sales of the tea have exceeded $10 billion in the US. Leading search terms for matcha in the US include matcha smoothies and matcha ice cream, so McDonald's US might want to start thinking about bringing its Matcha Oreo McFlurry stateside to capitalize on the trendy green tea. In the meantime, those craving this Vietnamese treat could always try whipping up a quick matcha ice cream recipe, then blending it with Oreo pieces to get an approximation of the Matcha Oreo McFlurry.