Homemade Empanada Dough Recipe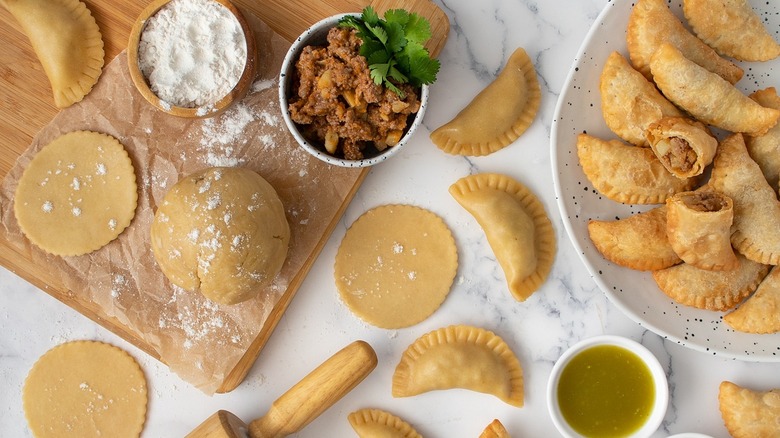 Patterson Watkins/Mashed
It's no surprise that empanadas are a popular snack and meal around the world. As Mashed recipe developer Patterson Watkins raves, "Empanadas have all the right munchie stuff!" Their qualities are plentiful, such as the fact that they are "hand-held," boast a "flaky outer crust [and] tasty inner filling," and of course, they are "dip-able." Watkins highlights, "That's a quadruple threat!" and we can only agree. 
Unless you live near a bakery or restaurant specializing in these sweet or savory treats, chances are your empanada cravings often need to be satisfied by frozen alternatives. While we have nothing against easy-to-make freezer meals, it's hard to compare with the real deal. Freshly baked empanadas made from hand-rolled dough are undoubtedly a step above anything you could buy in a box. Still, making dough from scratch can be intimidating if you've never done it before. Thankfully, Watkins is a pro and she will lead you step by step through the process, so you can savor your own batch of empanadas. 
Gather the ingredients for this homemade empanada dough recipe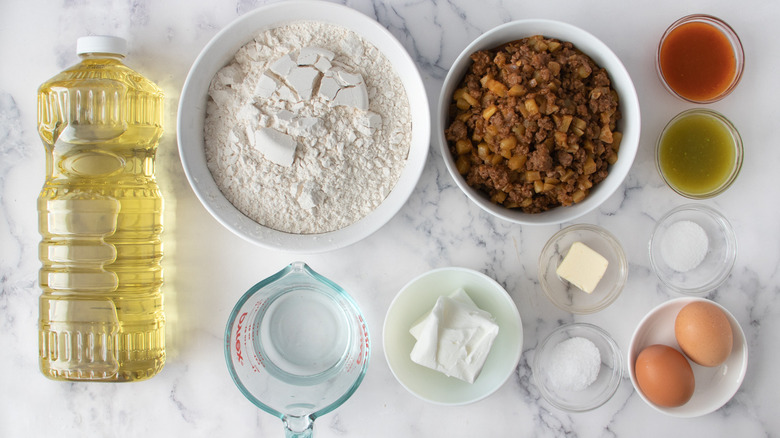 Patterson Watkins/Mashed
The dough incorporates fairly standard baking ingredients: all-purpose flour, salt, granulated sugar, vegetable shortening, butter, eggs, and water. Be sure to chill the shortening and butter to make them easier to work with. 
"This might be a first for some to work with vegetable shortening," Watkins acknowledges, and describes it as "a cool fat." The process that makes it solid at room temperature "helps with creating flake and maintaining texture," Wakins explains. Meanwhile, if you're wondering why you need two types of fat, she points to the differing water contents in butter (20%) and shortening (0%). Since the latter is 100% fat, it "has a higher melting point than butter, which reduces spreading and rewards with extra tenderness." Why use butter, you might ask? Shortening has zero taste, whereas "butter has flavor in spades!" Therefore, Watkins notes, this combo creates great flavor, flakiness, and tenderness.
Making empanada dough means you'll want to have your desired filling ready, unless you plan to assemble the pouches at a later date. If you're frying them once they're made, make sure to have vegetable, canola, or peanut oil on hand. Finally, don't forget your favorite salsa for dipping.
Combine the dough ingredients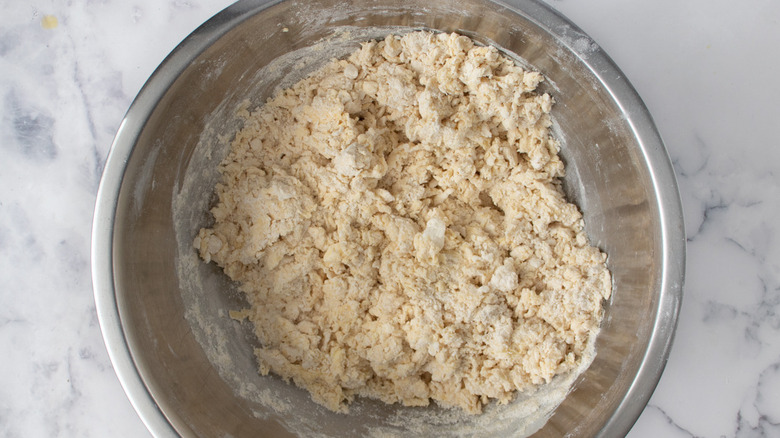 Patterson Watkins/Mashed
In a large bowl, whisk together the flour, salt, and sugar until combined. Then, add in the chilled shortening and butter and use a pastry cutter or fork to break up the fat with the flour to form pea-sized pieces.
In a separate bowl or large measuring cup, whisk together the eggs and water. Pour the liquid mixture into the bowl with the flour and stir the contents until they are loosely combined with a shaggy texture.
Knead the dough and let it chill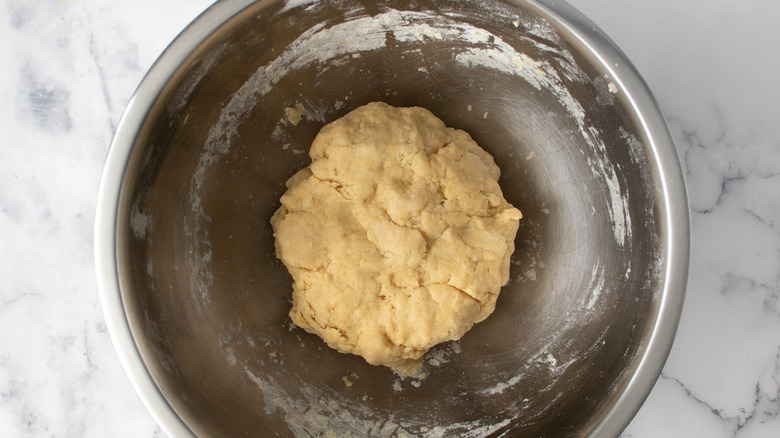 Patterson Watkins/Mashed
Use your hands to lightly knead and fold the dough for 1 to 2 minutes until it shapes into a ball that holds together. Watkins warns, "you don't want to overwork the dough," and notes that it should be "just enough massaging for it to come together." As she explains, "Flake is what we're going for (like pie dough) and overworking could lead to a more bready textured empanada — no crispy flake." Once you have a dough ball, wrap it with plastic and transfer it to the fridge for 1 hour. 
Roll out the dough and portion it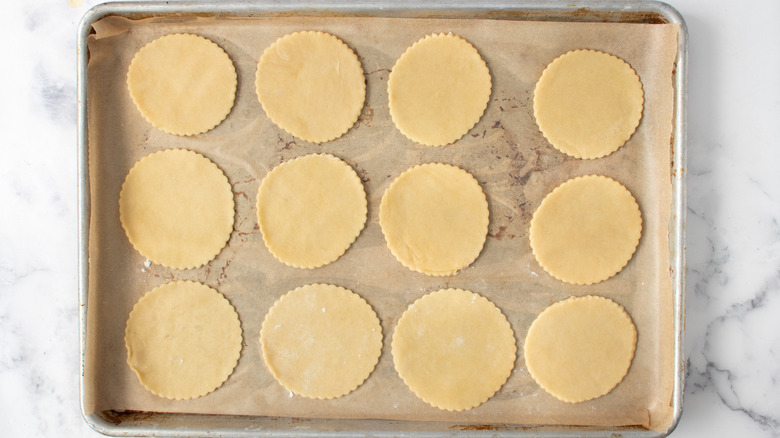 Patterson Watkins/Mashed
After the dough has rested and chilled for an hour, split it into two pieces. Lightly flour your work surface and roll each piece into a thin sheet. Use a round cookie cutter with a diameter of around 4 inches to cut the dough. Line a baking sheet with parchment or wax paper and transfer the dough discs to it, leaving some space between them to prevent sticking. If necessary, place another piece of paper over the first layer and continue with a second layer of dough rounds. 
Fill the empanadas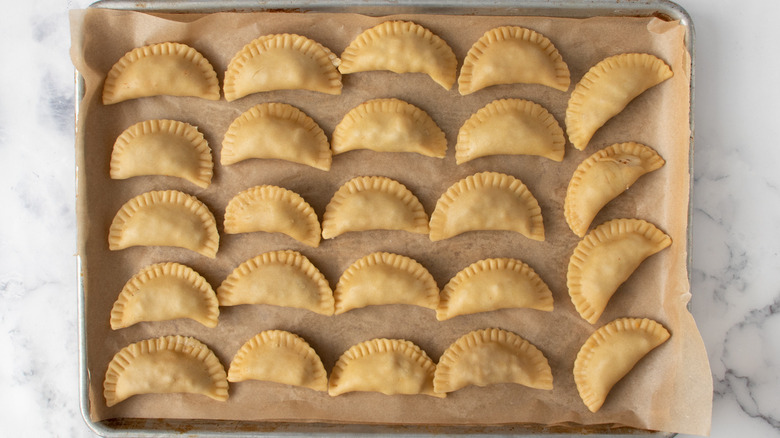 Patterson Watkins/Mashed
Now it's time to assemble the pouches, which calls for an "empanada filling and sealing station," per our recipe developers. Make sure you have your dough, whatever filling you intend to use, a small bowl of water, and a fork. The options for fillings are "endless," and Watkins lists "sweet, savory, cheesy, meaty," as some of the flavor directions you can pursue. "Got leftovers? Stuff 'em into an empanada," she suggests, and reveals, "My favorite happens to be the OG [...] beef and potato."
Once you've settled on the stuffing, take a dough disc and wet your fingers with water, then run them around the exterior edge of the dough. Scoop a tablespoon or so of the filling into the middle of the dough and fold the empanada in half to make a crescent shape. Use a fork to press and seal the edges shut to prevent the filling from spilling out. Watkins warns that overstuffing the empanadas "may cause splitting (and splooging)," and emphasizes, "Avoid the splooge."
Cook the empanadas immediately or store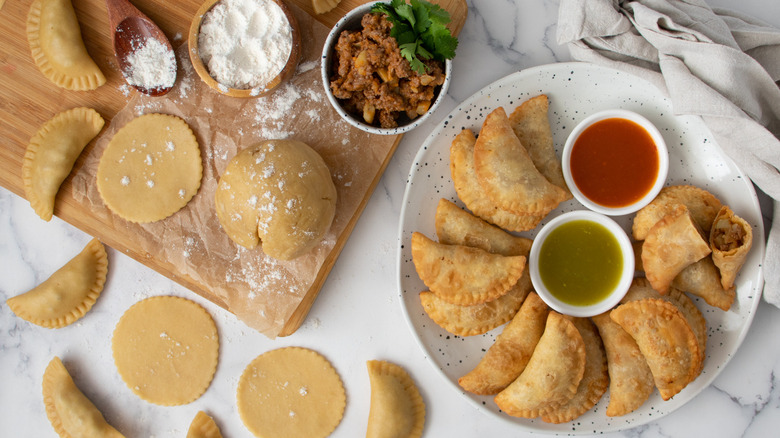 Patterson Watkins/Mashed
Once you've filled and sealed every empanada, you can store them for a future feast or dive right into the cooking process. If your willpower is strong, wrap them with plastic or transfer them to an airtight container using parchment paper to separate multiple layers. Refrigerate them for two to three days or freeze them for up to three months.
On the other hand, if all this empanada action has you salivating, decide whether you want to bake or fry them. Watkins notes that either option "will accomplish your empanada goals," though she enthuses, "My preference is (always) frying."
If you're of the same opinion, fill one-third of a large Dutch oven with frying oil and heat it to 375 F. If you are using a deep fryer, simply follow the manufacturer's instructions. Carefully add the empanadas in batches to avoid overcrowding. Fry them for 3 to 5 minutes flipping halfway through, until they are golden brown and nicely crisp. With a slotted spoon, transfer them to a wire rack to drain. 
Alternatively, preheat the oven to 400 F and line two baking trays with parchment paper. Place the empanadas on the tray, leaving ½ inch between each. Bake them for 15 to 20 minutes until they puff up with a crispy golden exterior. Remove the tray and transfer the empanadas to a wire rack to cool ever so slightly.  However you cook them, make sure to have your favorite salsa on hand for dipping.
Homemade Empanada Dough Recipe
This homemade empanada dough recipe also walks you through the steps of frying or baking the empanadas, resulting in a delightfully fresh snack or appetizer.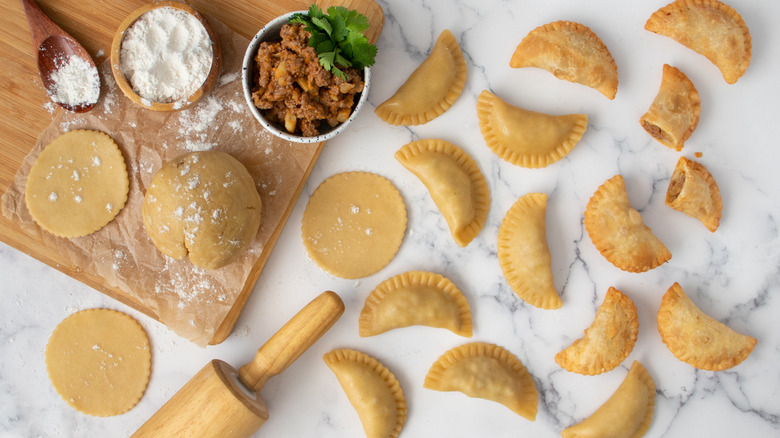 Total time: 1 hour, 30 minutes
Ingredients
4 cups all-purpose flour
1 ½ teaspoons salt
1 teaspoon granulated sugar
¾ cup vegetable shortening, chilled
2 tablespoons butter, chilled
2 eggs
¾ cup water (plus extra for sealing the empanadas)
Optional Ingredients
1 ½ cups desired empanada filling (pictured is beef and potato)
oil, for frying if needed
salsa, for dipping
Directions
Place the flour, salt, and sugar in a large bowl and whisk to combine.
Add the chilled shortening and butter to the bowl and cut it into the flour mixture with a pastry cutter or fork to create pea-sized pieces.
Combine the eggs and water in a medium bowl or large measuring cup and whisk to combine.
Pour the liquid mixture into the bowl and stir until loosely combined and shaggy.
Using your hands, lightly knead and fold the dough for 1 to 2 minutes until it forms a more cohesive ball. (Don't overwork the dough.)
Wrap the dough in plastic and refrigerate it for 1 hour.
Then, divide the dough in half and roll it into a thin sheet on a lightly floured surface.
Using a large circular cookie cutter (about 4 inches in diameter), portion the dough. Once you've used up all the dough from this sheet, roll out the second half of dough and repeat the portioning process.
Set the dough rounds on a parchment or wax paper-lined baking sheet, leaving a bit of distance to prevent them from sticking. (If you need to stack them, sandwich the rounds between another sheet of parchment or wax paper.)
Set up your empanada filling and sealing station with the dough rounds, empanada filling of choice, a small bowl of water, and a fork.
Take a dough portion and dip your finger into the water bowl to lightly moisten the outer edge of the dough.
Dollop a heaping tablespoon of filling into the center of the dough and fold the empanada in half, concealing the filling.
Using the fork, press and seal the edges.
Once all the empanadas are filled and sealed, cook them immediately via baking or frying, refrigerate, or freeze them.
Nutrition
| | |
| --- | --- |
| Calories per Serving | 147 |
| Total Fat | 7.9 g |
| Saturated Fat | 2.3 g |
| Trans Fat | 0.8 g |
| Cholesterol | 15.9 mg |
| | |
| --- | --- |
| Total Carbohydrates | 16.1 g |
| Dietary Fiber | 0.6 g |
| Total Sugars | 0.2 g |
| Sodium | 92.0 mg |
| Protein | 2.6 g |