Lambrusco Is The Prosecco Alternative You Should Be Sipping In A Summer Spritz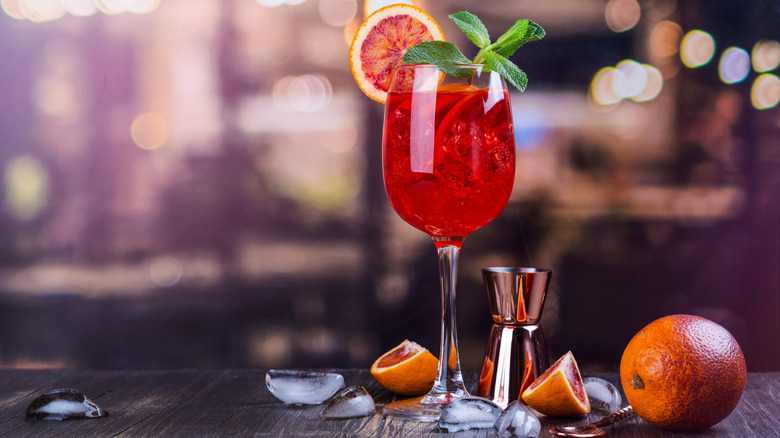 Ekaterina Markelova/Shutterstock
When things start heating up, there's no better cocktail to cool you down than a spritz. The spritz saw its beginnings in the 1800s when the Austro-Hungarian Empire still controlled northern Italy. Rumor has it that the German soldiers couldn't hang with the Italians– finding their wine too strong. In an effort to dilute the alcohol, they added a "spritz" of water. Over time, the recipe evolved. With the addition of bubbles and bitters, one of the most classic summer drinks known to man was born: the Aperol spritz.
As bars and restaurants across the globe contribute to the cocktail's revival by featuring it on their menus, it's safe to say that the Aperol spritz is currently enjoying its moment in the sun. And like a true trendsetter, it has begun inspiring cocktail creators to put their own spin on the beloved beverage by updating the recipe with some sweet new ingredients. While prosecco is considered a staple of the spritz, one TikTok user went so far with their revamp as to swap the sparkling white wine for Lambrusco – a sparkling red wine with a fruit-forward flavor and a lavishly rich color.
In the supremely satisfying video, a mixologist can be seen adding a heaping helping of ice to a wine glass before pouring in an ounce of Cointreau, an ounce of a bitter liqueur – such as Aperol or Campari– and a few ounces of Lambrusco, before topping the ensemble with sparkling water and garnishing it with an orange wedge.
Lambrusco is having a come-up, too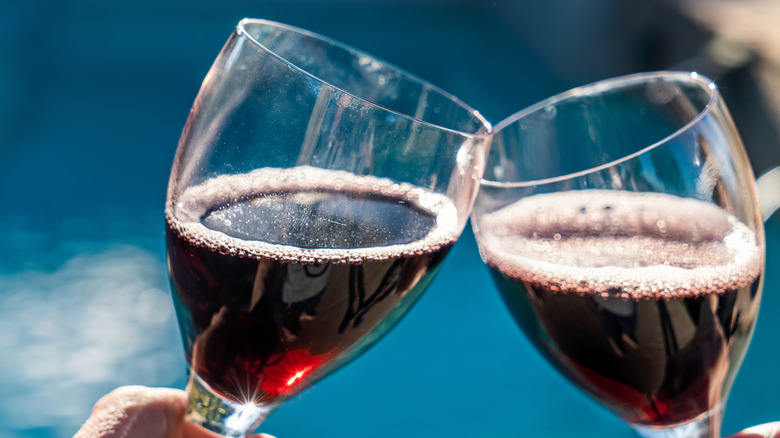 Markhatfield/Getty Images
While the addition of Lambrusco may be a modern makeover for the spritz, it also works to initiate a comeback for the sweet, red wine. Originating from the Emilia-Romagna region of Italy, Lambrusco may have first been produced during the time of the Etruscan and has been enjoyed across the country ever since. However, during the 1970s the sparkling red wine finally garnered favor overseas, becoming the highest-selling imported wine in America. Its popularity was short-lived, though. After a great number of poorly produced bottles hit the shelves, Lambrusco became known as a syrupy sweet beverage better suited for college tailgates.
But as is true with most things, everything old becomes new again – including Lambrusco! Much like the Aperol spritz, Lambrusco is experiencing a revival of sorts, as high-end restaurants and wine shops have taken to carrying high-quality versions of the delightfully fizzy drink. With a fruity and floral flavor profile that screams garden party, Lambrusco is the perfect wine to sip on a patio and can make a lovely addition to a citrusy spritz.