Traditional Food Media Is Satirically Portrayed On The Bear Season 2
Sean Zanni/Getty Images
Contains spoilers for "The Bear" season 2, episode 3 – "Sundae"
"The Bear" is back for a second season, and as the former staff of The Original Beef of Chicagoland navigates opening a new restaurant — aptly called The Bear — inevitably, both challenges and opportunities arise. In Season 1 we met Sydney, the talented sous chef who becomes Carmy's right-hand woman. Now, at the beginning of Season 2 Episode 3, as the opening day of The Bear is imminent, Sydney sits at a computer perusing articles about closing Chicago restaurants. Then, she slams the laptop cover shut with a stressed look on her face.
The articles Sydney is looking through cite the COVID-19 pandemic as the reason for some restaurant closures, while another article flashes on the screen reading that even a "Michelin star couldn't save" a particular eatery. A voiceover plays clips from newscasts announcing several popular restaurant closures. The scene is almost overdone, in a way, perhaps making the situation seem scarier than it really may be in order to highlight Sydney's own apparent fear that The Bear could face the same fate as the many failed Chicago restaurants.
Media will most likely play a role in The Bear's success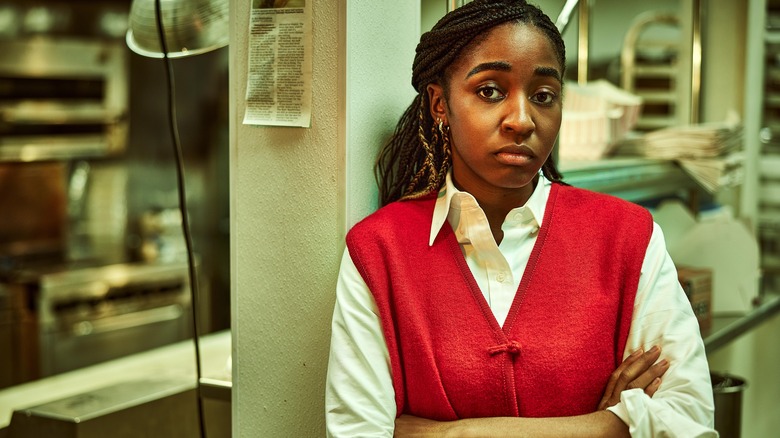 Hulu
One article Sydney comes across discusses one real-life Chicago restaurant, a Southern and German-inspired beer hall called Funkenhausen, closure stating, "Funkenhausen's decline is not rare today within Chicago's food industry." Meanwhile, a media voiceover states, "Bridgeport, known to be the neighborhood diner people counted on for the past seven decades, is closing its doors for good." The show uses these snippets from the media to showcase the perils of starting a restaurant in an uncertain economy. It also highlights and lampoons the important role that media play in the restaurant industry. 
Reviews, both from media outlets and public review platforms like TripAdvisor, are essential to the success of a restaurant, and if a restaurant is portrayed poorly in the media, it may be on the road to failure or closure. Food critic reviews from traditional media sources like newspapers or magazines, for example, can decide a restaurant's fate. They can help it to establish a good reputation among diners or deter guests from eating there. Sometimes, it all makes you wonder if you can trust food critics at all.
While the portrayal of traditional media in "The Bear" does seem satirical and overdone, it's understandable that Sydney has fears about opening a new restaurant in an environment where so many more are closing. We suppose we'll just have to watch and see what pans out for The Bear.