Easy Chicken Korma Recipe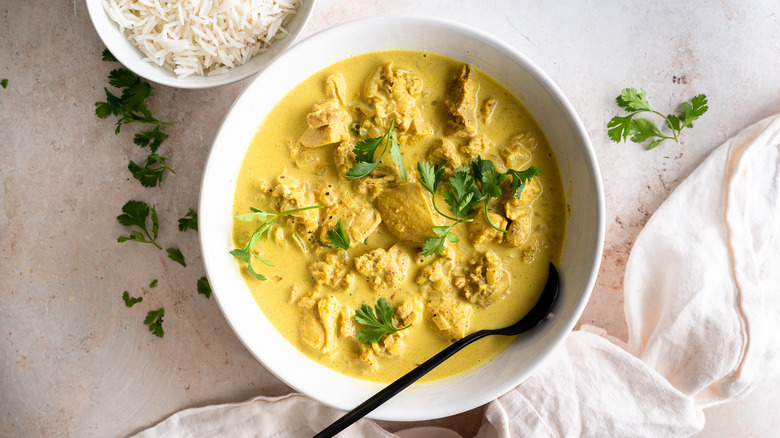 Christina Musgrave/Mashed
If you've ever dined at an Indian restaurant, then there's a good chance you've seen chicken korma on the menu. The classic dish typically features meat or vegetables cooked with yogurt and a plethora of warm spices, resulting in a flavorful, thick gravy. Chicken korma dates back quite a few centuries, with its roots planted in Mughlai cuisine, though nowadays it is a staple not only in India but in countries across the globe. One bite of the mild, comforting stew will not only have you going back for seconds, but it will make it pretty clear why this dish has withstood the test of time for hundreds and hundreds of years.
This recipe for easy chicken korma, brought to us by developer Christina Musgrave, stays true to the flavors of the classic dish, with a couple shortcuts that make it even easier to prepare. "My favorite thing about this dish is that it comes together super easily and is so delicious," Musgrave says. All of the ingredients are easy to source, and if you cook Indian cuisine often, then you likely already have all of the necessary spices waiting in your pantry.
Gather the ingredients for this easy chicken korma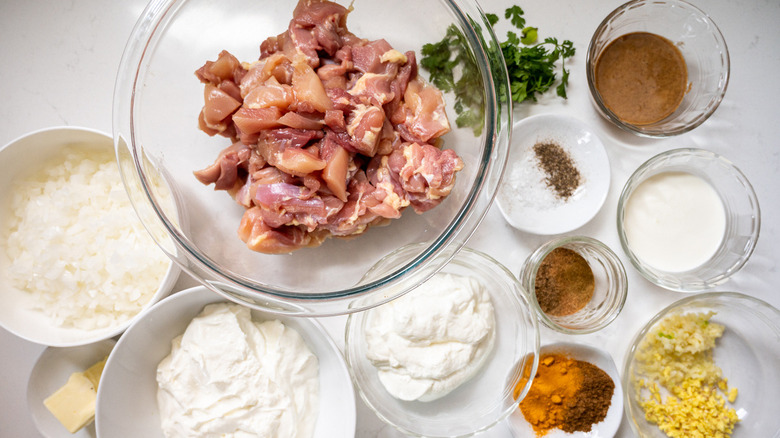 Christina Musgrave/Mashed
Chicken thighs are the star protein in this particular variation, and you'll want to make sure that they're boneless, skinless, and cut into small pieces. You'll also need full-fat Greek yogurt, garam masala, ginger, ground turmeric, ground coriander, ground cumin, salt, and pepper. 
For the sauce, you'll need some butter, a diced white onion, diced garlic, cashew or almond butter, some more Greek yogurt, and some heavy cream. "I used almond butter instead of making my own nut paste to make the recipe quick and easier," Musgrave notes. Finally, you'll want some fresh chopped cilantro on hand to garnish the dish.
Marinate the chicken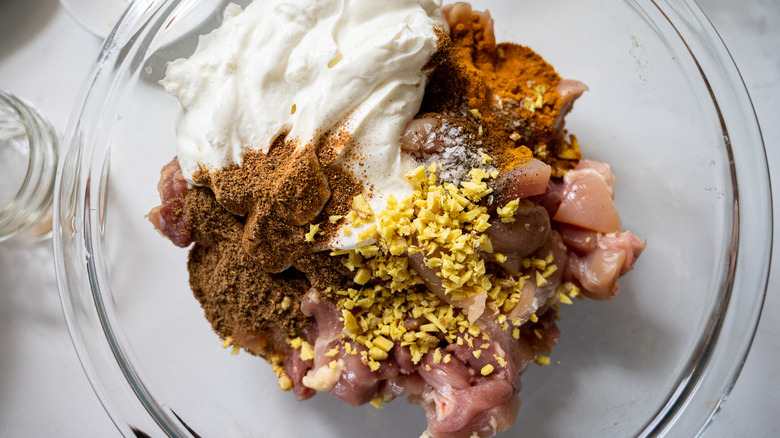 Christina Musgrave/Mashed
Grab a large bowl and add in the chicken pieces, 2 cups of Greek yogurt, garam masala, ginger, turmeric, coriander, cumin, salt, and black pepper. Mix it all up then cover the bowl, allowing the chicken to marinate for at least 30 minutes but up to 2 hours in the fridge. The yogurt helps tenderize the chicken as it sits in all those warm flavors.
Cook the chicken and build the sauce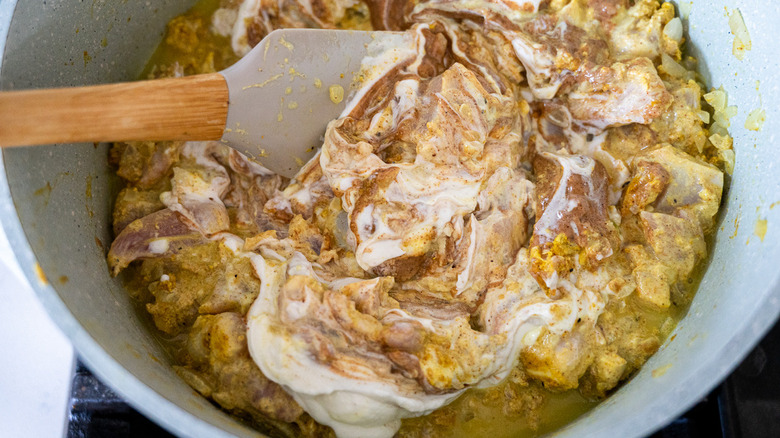 Christina Musgrave/Mashed
Once the marinating time is up, place a large pot over medium heat and add the butter and onion, cooking for 5 to 6 minutes until the onion has softened. Then, add in the chicken and all of that marinade and cook for another 5 to 6 minutes. 
Now, you can focus on building the sauce. To the pot, add the garlic, almond butter, and an additional 1 cup of Greek yogurt. Bring the heat down to low, allowing the dish to simmer for 10 minutes — during this time, the sauce should thicken and the chicken will cook all the way through. It's important you use full-fat Greek yogurt here; that fat content will help prevent it from curdling as it cooks.
Finally, stir in the heavy cream and garnish with some fresh chopped cilantro. 
Serve the chicken korma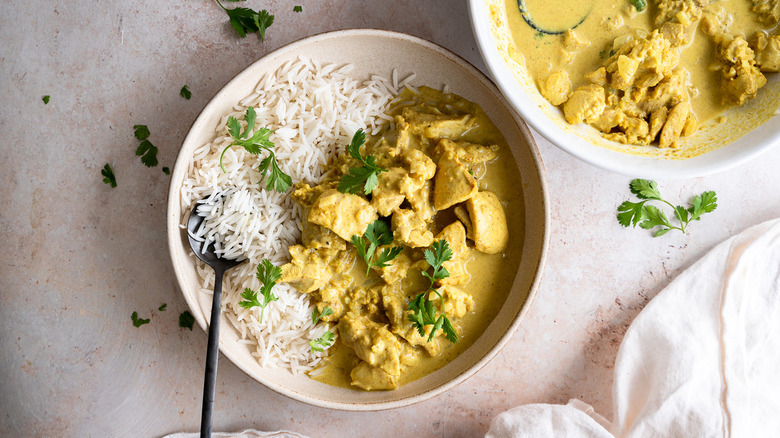 Christina Musgrave/Mashed
All that's left to do is enjoy the chicken korma, and Musgrave has a few classic pairing suggestions. "This dish is great with basmati rice and naan," she says. 
In case you aren't able to eat all eight servings at once, you can easily store and reheat leftovers. "Leftovers keep great in the refrigerator for 3 to 4 days," Musgrave notes. Because this dish makes a large serving amount and keeps well in the fridge, you can make a batch on Sunday night and enjoy chicken korma all throughout the week to come.
Easy Chicken Korma Recipe
Yogurt serves as a tenderizing marinade and a creamy component for the flavorful gravy in this comforting Indian dish.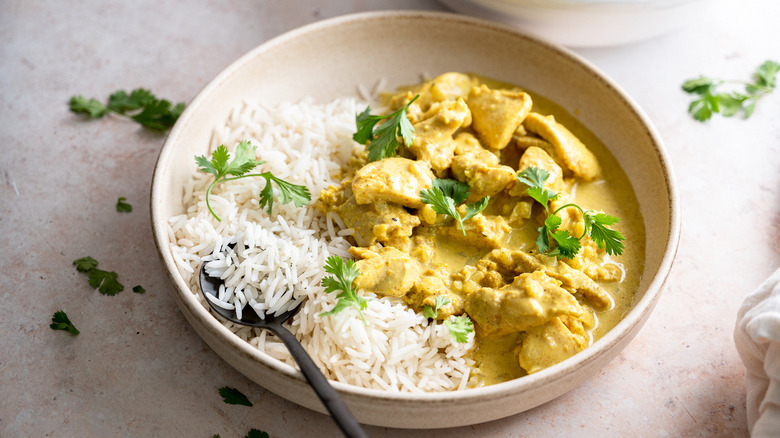 Ingredients
3 pounds boneless, skinless chicken thighs, cut into small pieces
3 cups full-fat Greek yogurt, divided
2 teaspoons garam masala
2 teaspoons fresh minced ginger
2 teaspoons ground turmeric
1 teaspoon ground cumin
1 teaspoon ground coriander
½ teaspoon salt
½ teaspoon black pepper
2 tablespoons butter
1 white onion, diced
6 cloves garlic, minced
2 tablespoons cashew or almond butter
¼ cup heavy cream
Optional Ingredients
chopped cilantro, for serving
Directions
Combine the chicken, 2 cups of Greek yogurt, garam masala, ginger, turmeric, coriander, cumin, salt, and black pepper in a large bowl. Cover and marinate in the refrigerator for 30 minutes or up to 2 hours.
Heat a large pot over medium heat. Add the butter and onion and cook for 5-6 minutes, until softened.
Add the chicken, marinade included, and cook for 5-6 minutes.
Add the garlic, almond butter, and remaining 1 cup of Greek yogurt. Reduce heat to low and bring to a simmer. Simmer for 10 minutes, until thickened and the chicken is cooked through.
Stir in heavy cream.
Top with cilantro and serve.
Nutrition
| | |
| --- | --- |
| Calories per Serving | 391 |
| Total Fat | 20.7 g |
| Saturated Fat | 9.1 g |
| Trans Fat | 0.1 g |
| Cholesterol | 190.3 mg |
| | |
| --- | --- |
| Total Carbohydrates | 8.0 g |
| Dietary Fiber | 1.2 g |
| Total Sugars | 4.7 g |
| Sodium | 362.4 mg |
| Protein | 43.0 g |