Simple Garam Masala Recipe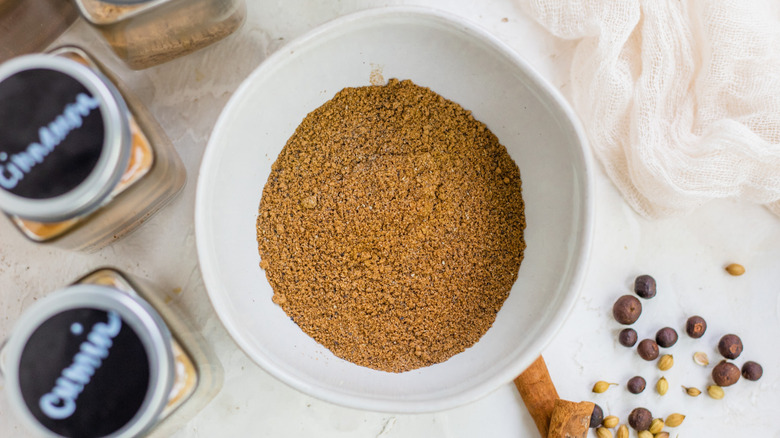 Jaime Shelbert/Mashed
Isn't there just something about a recipe with the word "easy" in it that makes you want to click and read it immediately? That's precisely what this recipe is — easy — and it's easy in every sense of the word. For starters, this garam masala takes only a few minutes to whip up. Another plus? You only need a handful of ingredients to make it. And if you use spices in your cooking a lot, there's a good chance you already have most of these ingredients at home, saving you money, as well ... and who doesn't love to save a buck?
Recipe developer Jaime Shelbert of Wholly Nourished came up with this fantastic guide to making garam masala that checks all the boxes. "I specifically like this recipe because it is a quick, easy way to concoct garam masala at home," Shelbert says. "There are other ways to [make] it using whole spices by toasting and grinding them. This way, you just use ground spices [you have] on hand to create [a] warming, traditional Indian spice mix." 
Gather the ingredients for simple garam masala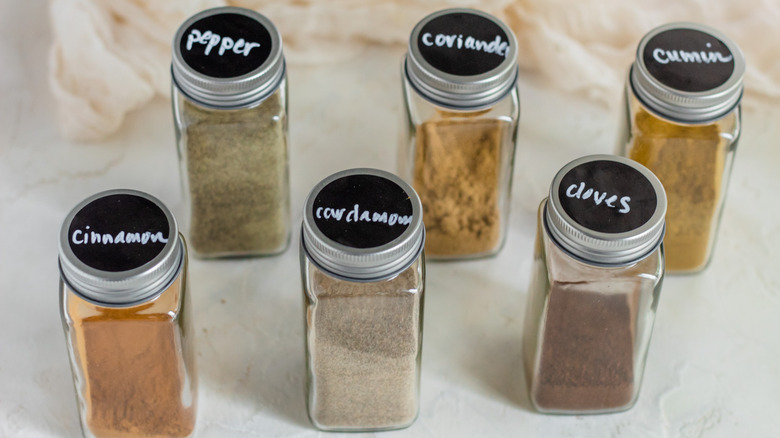 Jaime Shelbert/Mashed
As with any recipe, you need to make a list of ingredients and head to the store to purchase anything you don't have at home. While you're at the store, pick up cumin, coriander, cardamom, cinnamon, black pepper, and cloves.
Once you have all of those items, you can begin making this simple garam masala.
Measure the ingredients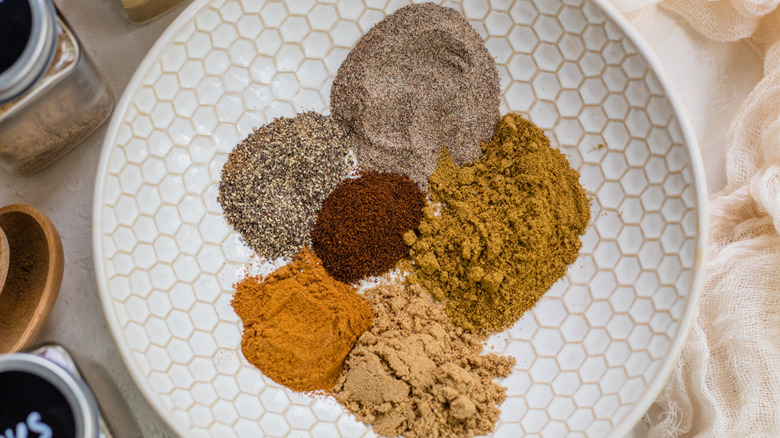 Jaime Shelbert/Mashed
Take out a small bowl and measure out all the spices. Once you measure each one out, add it to the bowl. And if you don't like a particular spice, you can consider experimenting with other options. "Spice combinations vary slightly for garam masala. Other spices to consider are mace, fennel, mustard seed, and nutmeg," Shelbert says. 
Whisk the spices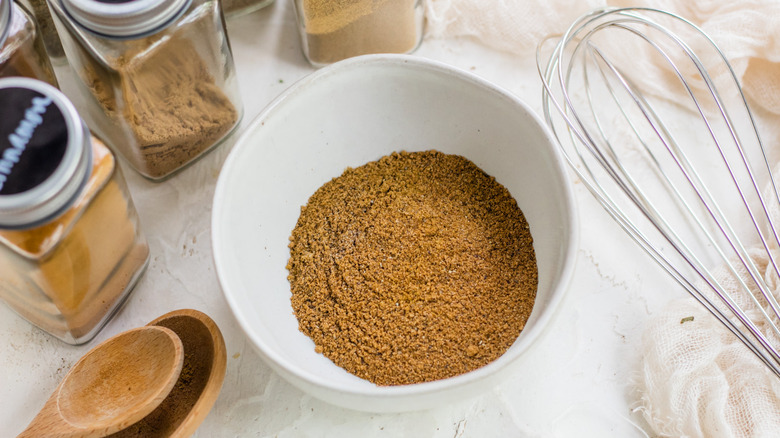 Jaime Shelbert/Mashed
Using a whisk, mix the spices together until thoroughly combined. This shouldn't take more than a few seconds. Don't have a whisk? No problem! "You can use a whisk or a fork to combine," Shelbert notes.
The resulting combination of spices is one you're sure to love. "Garam masala offers a depth of flavor to Indian dishes. It's warming with a hint of spice from the cumin, sweetness from the cinnamon and slight heat from the pepper," Shelbert says. 
Transfer to an airtight glass jar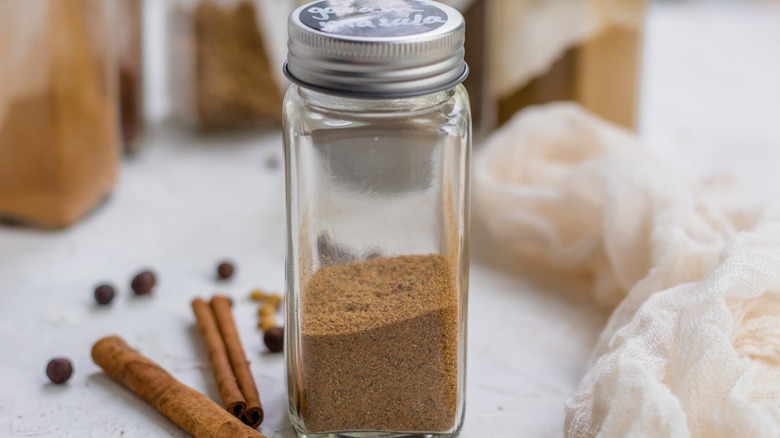 Jaime Shelbert/Mashed
Believe it or not, the last thing you need to do is transfer the mixture to an airtight glass jar. "This [spice blend] will last in an airtight jar for up to a year," Shelbert says. 
Serving suggestions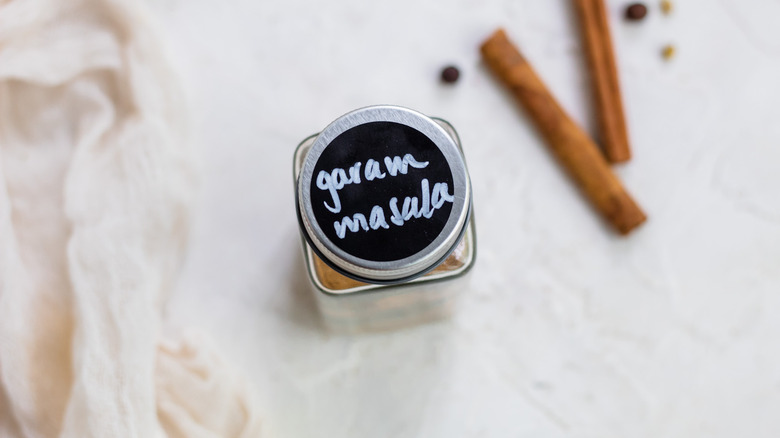 Jaime Shelbert/Mashed
What good is a spice blend without serving suggestions? "Garam masala is used in Indian dishes such as butter chicken, Chana masala and aloo gobi, and in general works well in soups and stews," Shelbert says. "It can also be added to stewed lentils or roasted vegetables." 
So the next time you're craving an Indian dish, pull out this spice blend and enjoy the sweet and warming notes it provides. 
Simple Garam Masala Recipe
Homemade Indian food dishes taste even better with a homemade blend of simple garam masala spices to deliver the "sweet and spicy" flavor you're looking for.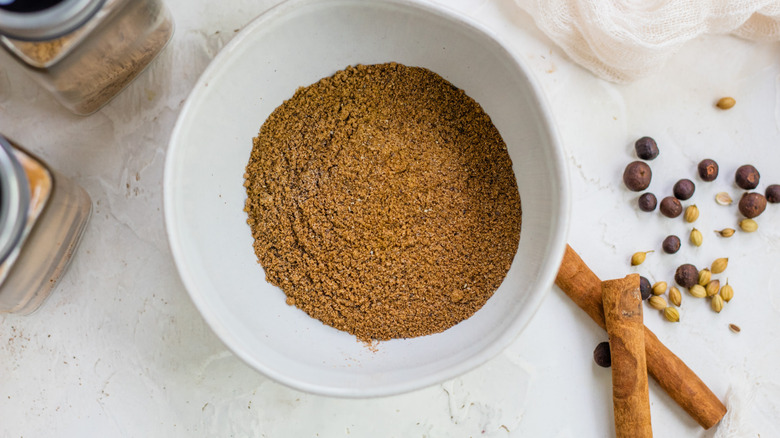 Ingredients
1 tablespoon cumin
2 teaspoons coriander
2 teaspoons cardamom
1 teaspoon cinnamon
1 teaspoon black pepper
½ teaspoon cloves
Directions
Measure out all the ingredients into a small bowl.
Whisk the spices until thoroughly combined.
Transfer to an airtight glass jar.
Nutrition
| | |
| --- | --- |
| Calories per Serving | 21 |
| Total Fat | 0.8 g |
| Saturated Fat | 0.1 g |
| Trans Fat | 0.0 g |
| Cholesterol | 0.0 mg |
| | |
| --- | --- |
| Total Carbohydrates | 4.0 g |
| Dietary Fiber | 1.9 g |
| Total Sugars | 0.1 g |
| Sodium | 5.3 mg |
| Protein | 0.8 g |