Sweet And Tangy Russian Chicken Recipe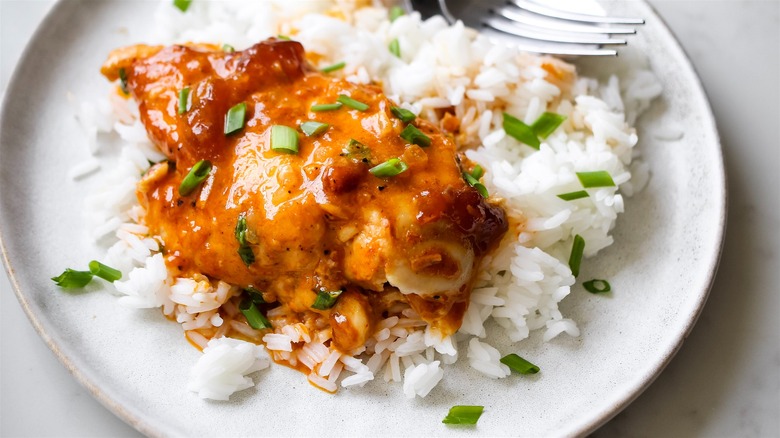 Feta Topalu/Mashed
"The title says it all," recipe developer Feta Topalu says about this sweet and tangy Russian chicken recipe. However, considering it doesn't have any connections with the world's largest country, the name Russian chicken is a bit of a misnomer. On the other hand, the American dish does get its name from Russian dressing, so perhaps it's a fitting moniker after all.
No matter how it came into being, the important thing is that Russian chicken is a convenient creation that's perfect for when you need a quick, protein-packed meal on a busy weeknight. "This chicken has all the sweet tang from a few pantry ingredients," Topalu notes. "I love how I can cook it up in a pinch from things that I already have on hand." Of course, you're not serving saucy chicken breasts all by themselves, and fortunately, Topalu's preferred pairing is another easy pantry staple: "This chicken is best served over a hot bowl of rice, which absorbs all of that tangy, succulent sauce," she says. Here's how you can transform a few common ingredients into this saucy chicken dish.
Get your Russian chicken ingredients together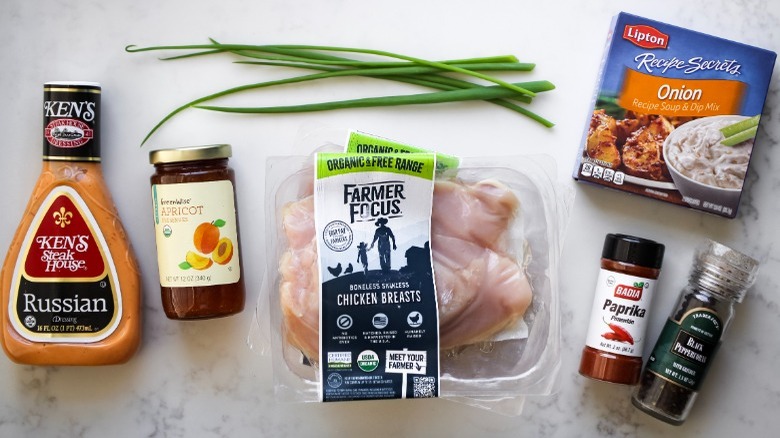 Feta Topalu/Mashed
Aside from green onions and boneless skinless chicken breasts, this ingredient list is made up of common, shelf-stable items: bottled Russian dressing, jarred apricot preserves, paprika, black pepper, and onion soup mix. Easy! "The onion soup mix is a unique ingredient," Topalu says. "It's loaded with an array of spices that make this dish tastier and so much quicker to whip up."
Make the sauce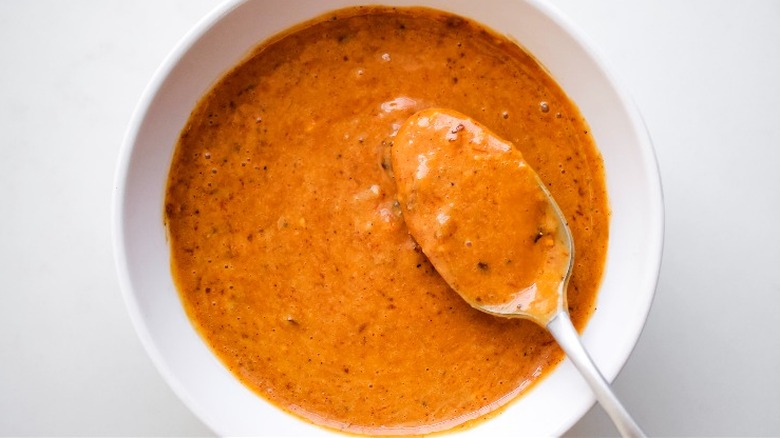 Feta Topalu/Mashed
Start things off by preheating the oven to 350 F and stirring together the sauce for your chicken. Simply combine the bottled dressing with the paprika, pepper, preserves, and soup packet. Give it a good stir, and voila, you've got your sauce. Yes, you could make your own Russian dressing, but Topalu says that "for consistent results, I recommend using store-bought Russian dressing. Homemade can be time-consuming, and the results will vary in comparison to the store-bought one."
Prep and bake the chicken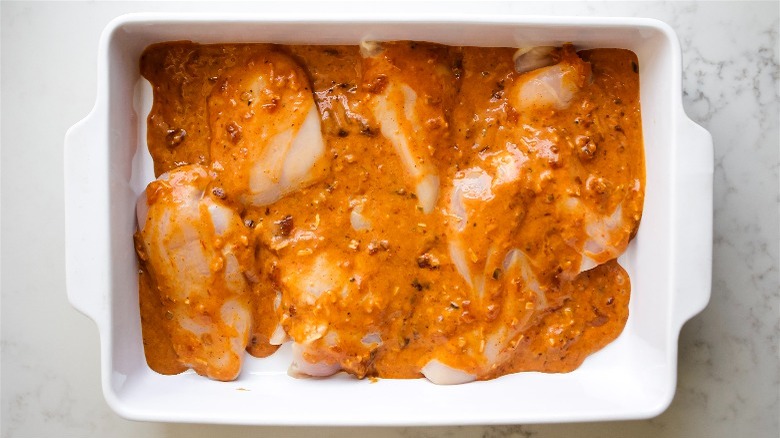 Feta Topalu/Mashed
The next step is just as easy as the last: Take your raw chicken breasts and line them up in a baking dish, then cover them evenly with the sauce you just made. Next, pop that in the oven to bake for about 45 minutes — you don't even need to cover the dish!
Garnish and serve your Russian chicken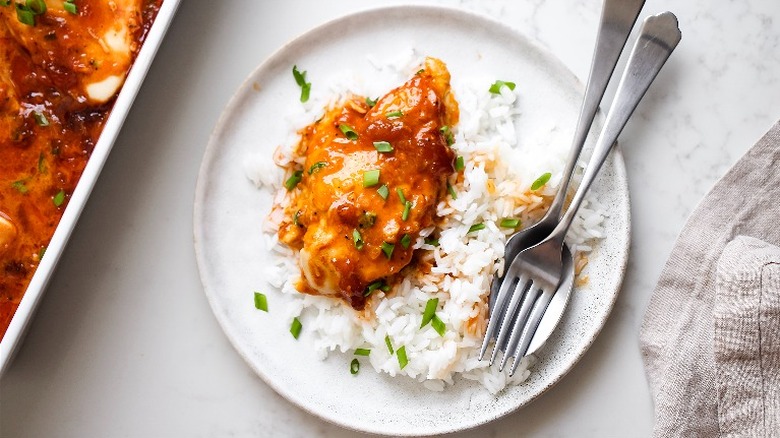 Feta Topalu/Mashed
Once your chicken is fully cooked, scatter some sliced green onions over the top and plate up your saucy Russian chicken, ideally with some fresh white rice. "Hot buttered egg noodles would also be a wonderful bed for this saucy dish," Topalu says. "Store any leftover chicken in an airtight container in the refrigerator for up to 3 days," she adds, noting that you can reheat this dish using either the microwave or stovetop.
Sweet And Tangy Russian Chicken Recipe
This recipe may not be authentically Russian, but it does combine a few pantry staples for an easy chicken breast meal you'll turn to again and again.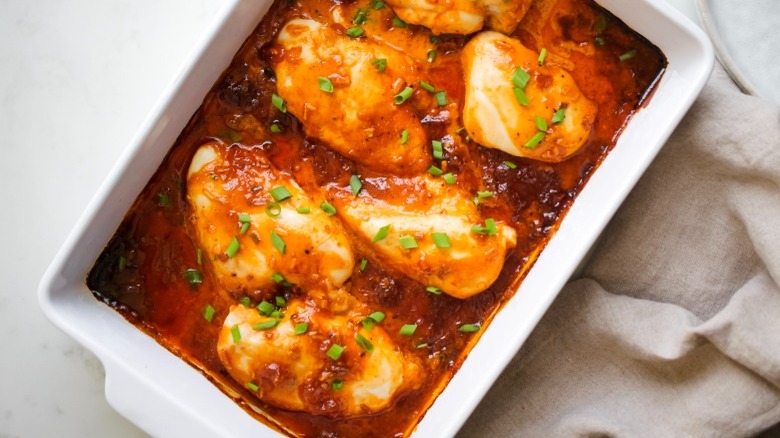 Ingredients
1 ½ cups Russian dressing
1 (1-ounce) envelope onion soup mix
1 teaspoon paprika
½ teaspoon freshly cracked black pepper
⅓ cup apricot preserves
2 pounds boneless, skinless chicken breast
4-5 green onions, sliced
Optional Ingredients
Cooked white rice or buttered egg noodles, for serving
Directions
Preheat the oven to 350 degrees F.
In a medium bowl, combine the Russian dressing, onion soup packet, paprika, black pepper, and apricot preserves. Stir until well combined.
Place the chicken breasts into a 9x13 baking dish. Pour the sauce over the chicken until evenly coated.
Place into the oven and bake for 45-55 minutes, uncovered, until the chicken is cooked through.
Garnish with green onions and serve over rice or egg noodles, if desired.
Nutrition
| | |
| --- | --- |
| Calories per Serving | 365 |
| Total Fat | 6.1 g |
| Saturated Fat | 1.3 g |
| Trans Fat | 0.0 g |
| Cholesterol | 165.6 mg |
| | |
| --- | --- |
| Total Carbohydrates | 23.5 g |
| Dietary Fiber | 1.2 g |
| Total Sugars | 12.3 g |
| Sodium | 684.8 mg |
| Protein | 52.2 g |