Outback Steakhouse Is Giving Away Free Bloomin' Onions — Here's What To Know
No trip to Outback Steakhouse is complete without feasting on one of the restaurant's most popular dishes, the Bloomin' Onion. Dipping those greasy petals covered in zesty seasoning into its signature sauce is an experience many fans of the chain wouldn't dream of passing up. If you're one such Outback lover who doesn't have a homemade Bloomin' Onion recipe, you can grab one for free on National Onion Day.
Customers who show up at Outback Steakhouse locations on June 27 and mention National Onion Day to their server will get the hook-up. However, each table is allowed only one of the freebie apps, and you'll need to purchase an entrée to be eligible for the discount. The Australian-themed chain reports that over 8 million Bloomin' Onions are ordered yearly, amounting to one of every four appetizers purchased. Therefore, it shouldn't be surprising that Outback is celebrating the allium's special day. Founded in 2022, the holiday was put in place to honor the National Onion Association, which was first organized in 1913. 
If you're already clearing out your schedule to score a free Bloomin' Onion on June 27, you may want to pump the brakes if you live in certain states or are traveling. According to its website, the offer cannot be claimed at locations in Mississippi, Tennessee, and airports.
Outback Steakhouse's Bloomin' Onion has been big since the '80s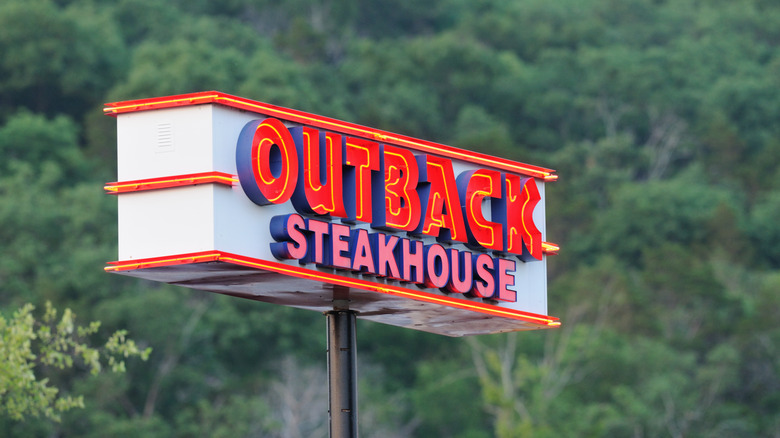 Sshepard/Getty Images
The founder of Outback Steakhouse, Tim Gannon, introduced the unique appetizer in 1988, and it has been an enduring fan favorite ever since. A lot goes into Gannon's deep-fried, famous appetizer platter, which is one part of what makes the Bloomin' Onion so delicious. 
When recalling how the culinary idea came to him, Gannon told The Palm Beach Post, "If you're going to bring something to the marketplace, you've got to own that product. You've got to know it better than anybody." The floral-like dish features 200 petals infused with 17 spices, are cut by a machine affectionately named "Gloria," and get accompanied by a sauce with even more ingredients — 37 more, to be exact.
For those who are living in the states where Outback Steakhouse isn't offering them for free, don't worry. If you have the right equipment at home, you can make a less greasy Bloomin' Onion with an air fryer. Otherwise, enjoy your free one while the offer is valid, and consider popping a breath mint after scarfing down all those onions, mate.