What Happened To Chef David Ruggerio?
In the late '90s, David Ruggerio shot to fame as the latest chef-turned-celebrity with his frequent appearances on TV and renown within the New York culinary scene. He had a PBS show, "Little Italy With David Ruggerio," did cooking demonstrations on the Today Show, and landed a series on Food Network titled "Ruggerio to Go." His large stature, gruff Brooklyn accent, and frequent references to his Italian heritage tempered the prestigious reputation he'd garnered as the head chef of some of New York's swankiest French restaurants. Meanwhile, his natural charisma made him a hit with audiences. 
Ruggerio's credentials went far beyond comfort in front of a camera. At the tender age of 27, he was already the head chef at La Caravelle, one of the most upscale and respected restaurants in Manhattan. He later ran the celebrated French establishments Le Chantilly and Maxim and cooked for four presidents.
But just as Ruggerio was transitioning from culinary star to television celebrity, things came to a grinding halt. By 1999, his shows were off the air and his restaurants had closed. Like other celebrity chefs from the '90s who disappeared, his absence left fans wondering what had happened. There are many reasons why reality TV chefs step away from the spotlight, including family demands, scandals, and low ratings, but in Ruggerio's case, the truth may sound more like the plot of a crime thriller than the well-worn paths of television stars. Here's what really happened to chef David Ruggerio.
He pled guilty to inflating customer credit card tips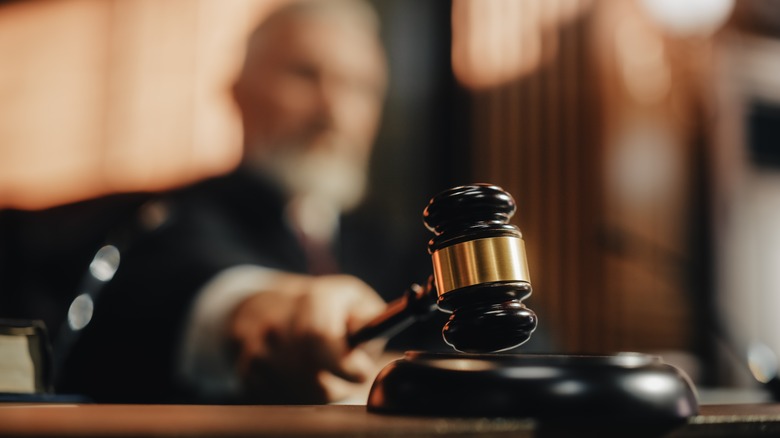 Gorodenkoff/Shutterstock
Ruggerio's fall from grace was precipitated by his arrest in 1998 on charges of defrauding a credit card company. At the time, he was the owner and head chef of the exclusive French restaurant, Le Chantilly, and was accused of inflating customer credit card tips by $190,000. In one instance, the Manhattan District Attorney alleged that Ruggerio had added a $30,000 gratuity to a $1,000 bill. He pleaded guilty to attempted theft in a bid to avoid a 15-year prison sentence. He was successfully forced to pay $100,000 in restitution and undergo five years of probation. Though he avoided jail time, Ruggerio's reputation after the scandal was in tatters.
Several years after the scandal, Ruggerio told The New York Times that his previous business partner had saddled the restaurant with enormous tax debts before leaving and that the credit card fraud had taken place without his knowledge. He explained that after he landed a deal to air "Little Italy With David Ruggerio" on PBS, his sudden fame took a toll. "The next thing I know I'm involved with five restaurants and I have hundreds of employees," he said. "And at the same time my partnership falls apart in a horrible breakup. Now I'm all by myself, I have five restaurants, I have a book coming out and a PBS series coming out and a 42-city tour – and we're going to start shooting a prime-time series, seven days a week [....] I was way over my head."
His Food Network show was canceled
"Ruggerio to Go" debuted on Food Network mere weeks before the chef's arrest for credit card fraud, but even though he was found guilty of inflating customer bills to the tune of $190,000, the network was reluctant to sever ties at first. Ruggerio had been their hand-picked follow-up to Emeril Lagasse, whose show "Emeril Live" had been a resounding hit in 1997. "Ruggerio to Go," which briefly aired in October 1998, was filmed in front of a live audience and featured a star-making intro for the chef with a "Seinfeld"-esque soundtrack over which Ruggerio introduces himself as a Brooklyn-born former boxer who "traded in his gloves for a set of oven mitts." He's then seen shaking hands with fellow Brooklyn-ites, clinking glasses with a group of friends around a table, and receiving a kiss on the cheek from his grandmother.
Food Network gave Ruggerio a primetime slot with daily episodes and invested in heavy marketing. When the budding star was arrested, 12 episodes of "Ruggerio to Go" had already been filmed. This financial commitment was enough to give network heads pause, while Ruggerio's obvious aptitude for the medium likely made it even more difficult to sever ties. The network had a lot riding on the show, but after a few months, even it had to accept the fact that the scandal wasn't going anywhere anytime soon. It pulled the plug soon after Ruggerio's November 1998 arrest.
He pivoted to restaurants and a club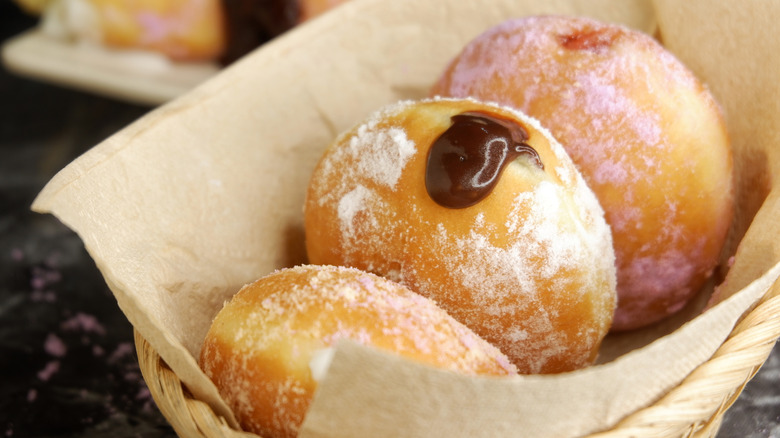 Ramantara/Shutterstock
Following the closure of his restaurant and the cancellation of his Food Network show, Ruggerio sought other outlets for his culinary and entrepreneurial skills. First, he forged ahead in the restaurant industry despite the hit he took to his reputation, opening several establishments on the Upper West Side, including a Mexican restaurant, Jalapeño, an Italian donut shop called Bomboloni, and a Jewish-style deli known as Lansky's Old World Deli. When the landlord at another location wouldn't let him use gas, he turned it into a sushi restaurant called Sushi A-Go-Go. At one point, he even co-owned a strip club.
Despite Ruggerio's fall from grace, these restaurants were largely successful and garnered good reviews. The New York Times noted that the roast suckling pig at Jalapeño was a standout and described Bomboloni as a bright shop with a well-rounded menu and generous array of fillings for the spherical Italian-style donuts. Lansky's was the most successful of the bunch, earning a passionate local following and becoming famous for its matzo ball soup and Jackpot sandwich, a seven-pound mouth-watering monstrosity containing pastrami, turkey, corned beef, and salami. Even the "Mad Men" actor Jon Hamm was reportedly a fan of Ruggerio's deli.
Ruggiero filed for bankruptcy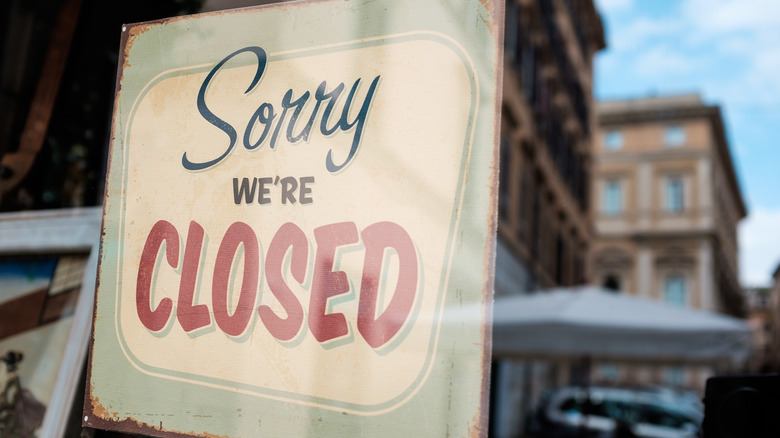 Cryptographer/Shutterstock
Even with decent business and good reviews, none of Ruggerio's culinary ventures lasted. In 2011, Sushi A-Go-Go was seized by the city marshal for failing to pay taxes. Ruggerio tried to rescue Bomboloni and Jalapeño from a similar fate by filing for Chapter 11 bankruptcy protection, which allowed the restaurants to stay in business following a reorganization of their financial structure and repayments to creditors. At the time, Ruggerio co-owned both establishments, which were collectively worth less than $500,000.
In 2013, a sign on Lansky's door notified customers that, after six years, it could no longer stay in business due to rising costs. That same year, Jalapeño moved into the Lansky's building, raising questions about how it could stay in business when the beloved deli had shuttered. A year later, it closed, too. Not long after, Bomboloni also shut its doors. Unlike the sign on the Lansky's storefront that notified customers of the closure and thanked them for their loyalty, Bomboloni simply put up a "for lease" notice. Later that year, Ruggerio was arrested for alleged check forgery in a real estate transaction. However, he avoided jail time by pleading guilty to possession of a forged bank instrument.
His son's death led him to confess his life-long affiliation with the Mafia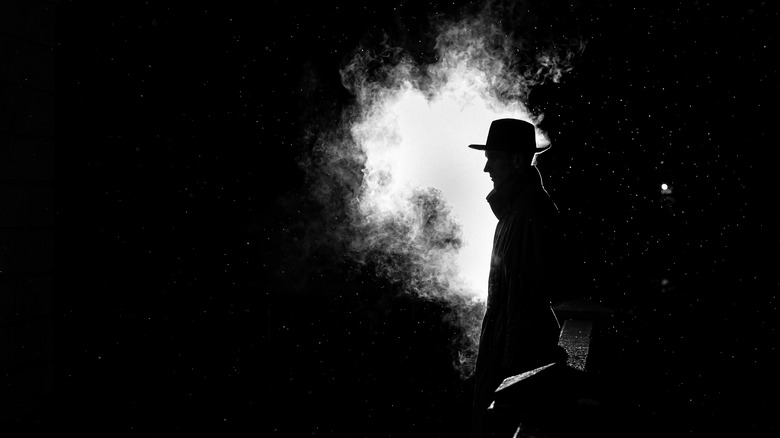 alexkoral/Shutterstock
Ruggerio's rollercoaster experiences in the hospitality industry pale in comparison to the work he was doing on the side. In 2022, he opened up to Vanity Fair about the years he spent as a Mafia soldier, from the time he was a preteen to shortly after his son died in 2014 of a drug overdose. He described becoming a protegee of the infamous Mafioso Egidio "Ernie Boy" Onorato at the age of 11 and committing crimes in exchange for big money and a lavish lifestyle.
Ruggerio claims that he engaged in loan-sharking, truck hijacking, heroin dealing, extortion, torture, and even attempted murder. His criminal activity reportedly continued throughout his restaurant career. He explained that his entry into the food world was at the behest of his Mob boss, who insisted that his soldiers secure legitimate employment to avoid suspicion. Ruggerio's passion for cooking had been fostered by his Italian grandmother, and so he pursued a culinary career even as he continued to work for the Family.
Fittingly, a close call with crime led him to a turning point. When he stabbed a mugger on the subway, he was charged with attempted murder, sent to Rikers Island, and then fled to culinary work in France as soon as he was bailed out. There, he was mentored by some of the best Michelin-starred chefs in the world and brought his newfound expertise back to New York.
If you or anyone you know needs help with addiction issues, help is available. Visit the Substance Abuse and Mental Health Services Administration website or contact SAMHSA's National Helpline at 1-800-662-HELP (4357).
He revealed his true identity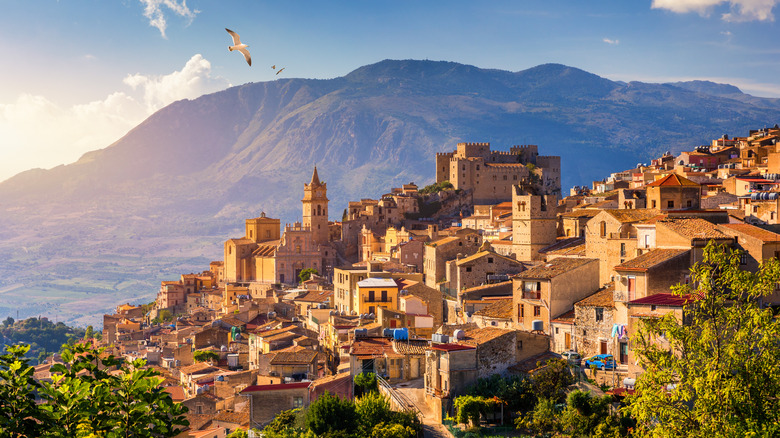 DaLiu/Shutterstock
Ruggerio's affiliation with the Mob was no accident. As he told Vanity Fair, he is the second cousin of Carlo Gambino, who ran the New York Mob for decades and was the patriarch of one of the most notorious crime families in the world. Ruggerio's birth name was Sabatino Antonino Gambino, but he changed it when his father was deported to a Sicilian prison and his mother remarried. "David" was an homage to her favorite movie, "David and Lisa," an Oscar-nominated drama about mental illness. "Ruggerio" was an American approximation of his grandmother's maiden name, Ruggiero.
Ruggerio told Vanity Fair that, as a teenager, he went to Italy to become a formally-initiated member of the Mafia. The process traditionally involves an oath of silence and, in Ruggerio's case, included a tattoo that read "man of trust" in Italian. Despite the gravity of this commitment and the years he spent making good on his pledge, Ruggerio turned his back on the Mob in 2014 when his son died. Daniel Marino, a Mafia boss who Ruggerio had worked for since the '80s and who bailed him out of Rikers after a stabbing incident on the subway, didn't show up to Ruggerio's son's funeral. For Ruggerio, this was the straw that broke the camel's back. Ruggerio waited seven years to break his silence about his time as a Mafioso, but from that moment, he was no longer an active member of the underworld to which he had dedicated so much of his life.
He confessed to participating in high-profile murders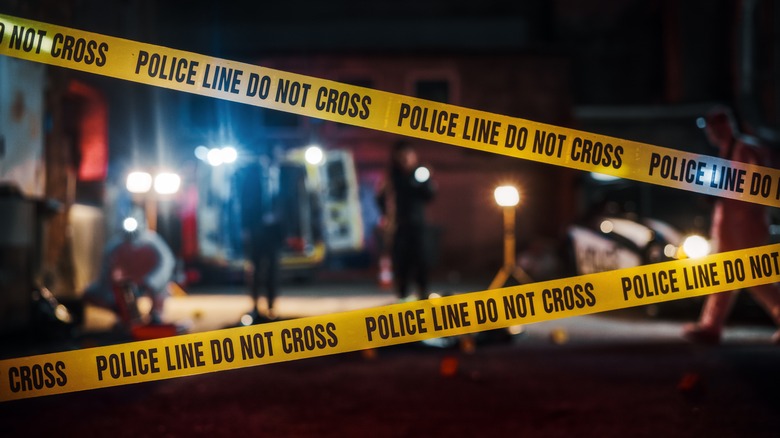 Gorodenkoff/Shutterstock
Among the vast array of crimes Ruggerio claims to have committed for the Gambino family were multiple murders. When he was 11, he says he watched his mentor, Onorato, beat an informant to death before shooting him and stuffing a bag of cocaine in his mouth. In his twenties, he says he was forced to participate in the brutal murder of a friend who had fallen in love with a Jewish woman. The most high-profile murder Ruggerio claimed to have taken part in was the 1978 torture and killing of mobster Pasquale Macchirole, which made headlines when the body was discovered in the trunk of a rental car three weeks later. Ruggerio was 16 at the time.
Murdering took a backseat when the young Ruggerio transitioned to cooking, but he still kept up his work for the Mob. He told Vanity Fair that the job gave him something that being a chef never could. "I had a terrible need to be wanted and respected," he explained. "And I never felt like I belonged in the legitimate food world. In the street was where I felt respected." Still, cooking raised his profile among high-ranking members of the Family. Even rival gangster John Gotti was susceptible to the glamor and status the chef held. In 1990, Gotti threw his 50th birthday party at Ruggerio's restaurant, Maxim's. Two months later, the mobster was arrested and sentenced to life in prison without parole.
He wrote a horror novel
Following the closure of his restaurants, Ruggerio turned to writing. In addition to publishing several cookbooks, he came out with a gothic horror novel in 2019 entitled "A Wistful Tale of Gods, Men, and Monsters." The story centers on the small town of Brunswick, New York, which is plagued by the disappearances of small children, a haunted house, a sinister graveyard, and a terrifying monster.
In an interview with Books that Make You, Ruggerio said that he turned to writing fiction when his son died. "I write and write," he said. "[I]t keeps me from falling apart." Classic horror was his long-time passion, and he explained that his intention with "A Wistful Tale" was to scare readers without leaving them with an unpleasant feeling. His second horror novel, "A Prison Without Locks," was published in 2020 and is set in another small town where people are disappearing. In this case, the story revolves around a sinister doctor who dabbles with the undead.
He's also authored a romance novel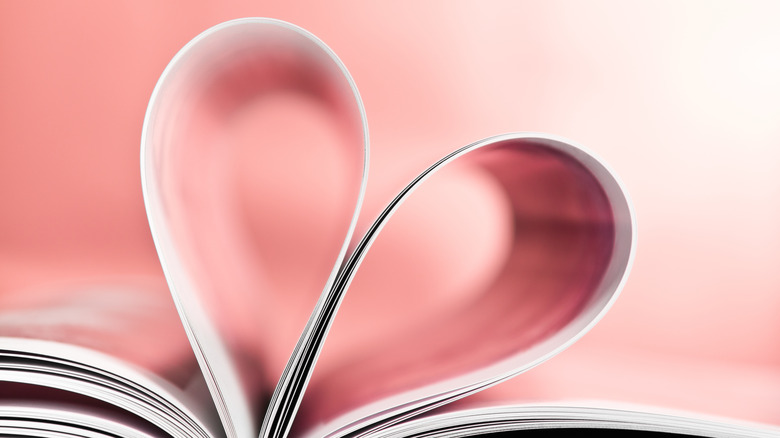 Domin_domin/Getty Images
You might have expected a person who worked in high-stakes restaurant kitchens and the Mafia to write horror fiction, but a romance novel? Maybe not. But Ruggerio managed to include both crime and romantic passion in his 2020 love story, "Say Goodbye and Goodnight." Set in Brooklyn in 1977, it follows an aspiring boxer who falls head-over-heels in love with a young woman during the disco era when the infamous serial killer Son of Sam was taunting New York City police and reporters.
Ruggerio explained in a 2020 interview with Book Pleasures that he based the novel on a disco he worked in as a teen and incorporated real people into the narrative. This included the famed boxing trainer Izzy Moishel, who had given Ruggerio his start in the ring when he was a similar age as the book's main character. Other elements, such as the city-wide blackout, were also drawn from real events. Following the publication of "Say Goodbye and Goodnight," Ruggerio announced that, after the release of "A Prison Without Locks" later that year, he would be publishing a Christmas book.
He started a YouTube channel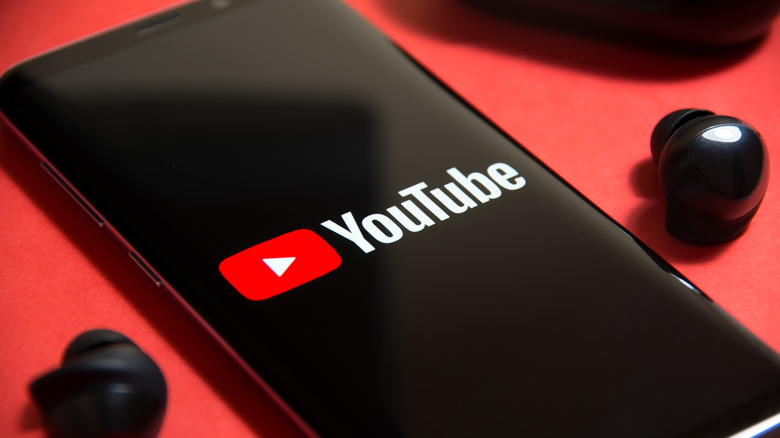 Chubo - my masterpiece/Shutterstock
Today, Ruggerio's website details his many writing projects, including novels, cookbooks, and a blog where he offers reviews of horror movies, recipes, press releases, and reminiscences of his time as a chef. He also has an Instagram page where he posts pictures of gardening, food, and pets. But he's branched out in recent years to include video content. His YouTube channel has over 6,000 subscribers and provides clips from his '90s PBS and Food Network shows as well as his appearances on the "Today Show" and the Cooking Channel.
He also posts instructional recipe videos for dishes such as linguini with garlic and olive oil, tacos for Cinco de Mayo, and French potato cake. In addition to the cooking-related content, the channel includes promotional videos for Ruggerio's upcoming novels. While the posts are sporadic, it appears that he may be planning to revamp the channel. The description for the channel and a video from June 2023 promise weekly posts that will include recipes, expert tutorials, food, fresh talent, and "loads of your other favorite characters dropping by to say hello."
He announced his upcoming memoir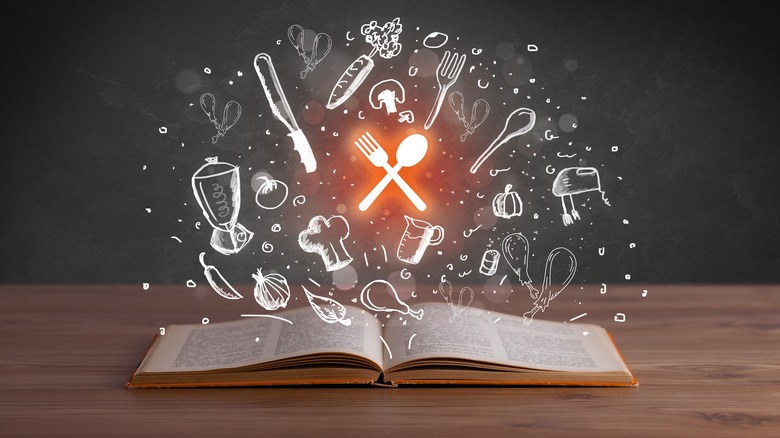 ra2 studio/Shutterstock
Ruggerio's life seems destined for the bestseller list, and according to the chef, such a book has been in the works for a while. He told one interviewer that following his son's death, he'd been compelled to write, and it was a memoir that flowed from him first. "I realized that I had a story to tell," he told Book Pleasures. "I sat at a computer and began to write my memoir." In 2018, he wrote in the first blog post on his website that his memoir was in the works but that he'd found great joy in writing horror fiction along the way.
The title of the memoir, "High Crimes and Haute Cuisine," promises a journey through Ruggerio's dual careers as a chef cooking for presidents, New York City elite, and a mobster from one of the most feared crime families in the world. In the author's note of the book that he shared with Vanity Fair, Ruggerio writes, "Everything within these pages is accurate [....] There was no need to embellish; the truths were horrific enough." According to the author, the rights to the book have already been purchased and a film adaptation is in the works.