You Should Be Experimenting With Your Hot Pot Sauce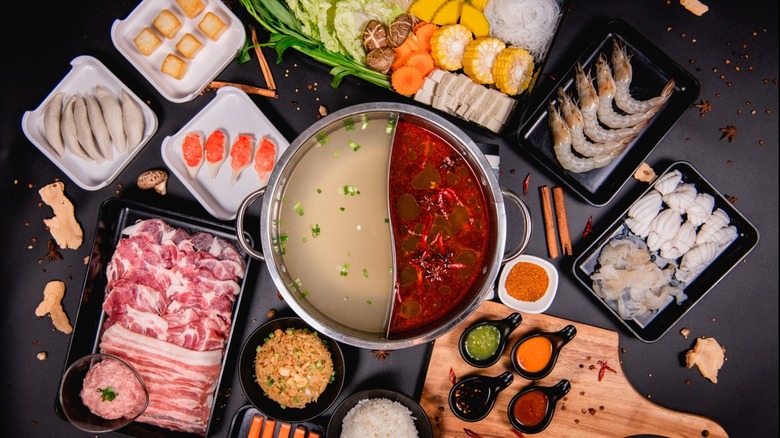 As Magatu would say, interactive eating is so hot right now. Perhaps that's why it seems like droves of diners around the globe have been flooding hot pot restaurants, hoping to try their hand at boiling raw foods in artfully flavored broths. Or maybe they heard about the cornucopia of condiments just waiting to be combined to form the ultimate hot pot dipping sauce.
Born in China over 1,000 years ago, hot pot is the communal eating experience that centers around a cauldron of rolling broth, into which chunks of raw meat, fish, vegetables, and noodles are plopped and cooked to perfection. The entire experience is customizable, from the flavor of your broth and the accouterments you throw into it, to the sauces you dunk the goods into.
With a wide selection of broths ranging from mild to burn-your-face-off spicy, traditionally the broths have acted as the main source of seasoning when cooking with hot pot. However, in recent years, many hot pot restaurants have begun offering buffet-style condiment bars, allowing diners to get creative and hopefully make the dipping sauce of their dreams.
Crafting the perfect sauce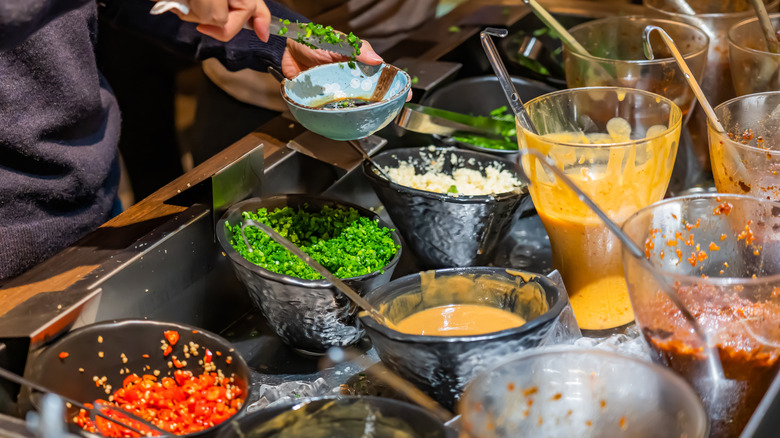 Askar Karimullin/Getty Images
When you first feast your eyes on one of the condiment stations at a hot pot restaurant, the abundance of options can be overwhelming. Set up similarly to a salad bar, condiment bars offer a mind-boggling array of aromatics, oils, sauces, vinegar, and seasonings ready for the taking (and mixing). With some restaurants offering upwards of 20 different ingredients, there's sure to be a combination to suit any taste preference. But where to start?
In a viral TikTok, one Mongolian-style hot pot restaurant claims to have found a "god tier" combination that includes sesame paste, a splash of soy sauce, two heaping spoonfuls of minced garlic, chopped green onion, fresh cilantro, a touch of chili oil, and a dollop of oyster sauce to round it out with a bit of sweetness.
While there are no rules when it comes to crafting the perfect hot pot dipping sauce, they often start with a thick base, provided by sesame paste or sacha sauce — a Chinese BBQ sauce flavored with fish and spices. Next, you'll want to add flavoring sauces, like soy sauce, hoisin, oyster sauce, sriracha, or fish sauce. Oils and different kinds of vinegar, such as sesame oil, chili oil, black vinegar, and rice vinegar, can be added as further flavoring agents. Fresh ingredients like minced garlic, cilantro, scallions, and green chilis, as well as chopped peanuts and toasted sesame seeds, can also be thrown in the mix to provide a fresher flavor and a bit of texture.