9 Grocery Stores Offering Shoppers The Best And Worst Free Samples
Have you ever wondered why stores offer free samples? Unless you're well-acquainted with marketing tactics, the answer might surprise you. According to a 2017 study published in the Journal of Retailing, customers who are given a sample of a product are more likely to purchase something new than those without a sample.
The study went on to indicate that product sampling was a more effective tool to increase sales than other marketing efforts such as advertising. The take-home message was that grocery stores would be wise to invest dollars into providing in-store samples, as it enhances the shopping experience and leads to more sales. 
Many grocery stores have taken notice of this consumer marketing study (and others like it) and offer free samples to customers as they shop. But which grocery stores actually offer good samples (you know, the ones you're actually excited to eat or use)? We analyzed over 25 grocery stores before narrowing down our list. From there, we considered sample quality, availability, and variety to make our final selections.
1. Best: Trader Joe's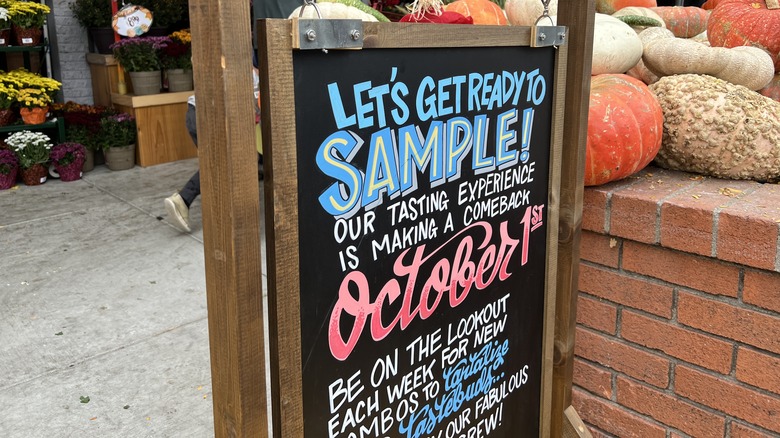 Gado/Getty Images
Trader Joe's is known for a lot of things: Its wide variety of frozen food options, well-priced produce, and of course, the free food samples. If you've ever ventured into a Trader Joe's, you may have seen an employee or two manning a table in the back of the store. This table is traditionally filled with either popular best sellers or new items for customers to enjoy while they shop, and it offers great variety across any given week.
"They have to feature items found in the flier and new products and include at least two days of a vegetarian or vegan option," a former Trader Joe's employee states. As such, samples vary widely. One day you might get a bite of salsa on a chip, and other days, you may be treated to a seasonal peppermint Joe Joe cookie. Pre-pandemic, Trader Joe's also offered small cups of complimentary coffee with creamer on the sample table.
Employees always go above and beyond at Trader Joe's, making for a pleasant sampling experience. They're happy to answer any questions you have — and they may even give you an extra sample if you're lucky.
2. Best: Costco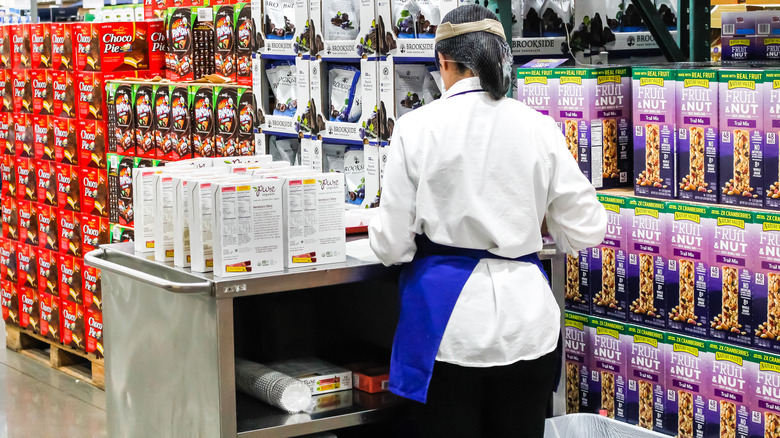 The Image Party/Shutterstock
Wholesale retail giant Costco is known for selling items from tires to televisions and everything in between in bulk. With memberships starting at $60 a year, Costco is different from many other stores on the list but makes up for it in both selection and price. It's also the world's largest retailer of prime beef, organic foods, and rotisserie chicken, and offers a wide range of samples for customers, from hot meals to snacks and drinks.
If you're looking to try multiple food items from one brand, Costco is often the place to do it. One hungry Redditor reported enjoying "a traveling show of pierogies that had different ingredients inside the pasta," during one shopping trip. They went on to say that "the setup was about three aisles long, and they offered about six different samples of their pierogies." Sounds delicious!
Others have reported a myriad of samples across different cuisines, like pot stickers, chocolate, and braised short ribs. Occasionally, the store will offer non-food samples, too, with recent examples including paper towels and travel-size ibuprofen. Be warned, though: Costco paused many samples in the wake of the COVID-19 pandemic, so the loot may vary.
3. Best: Whole Foods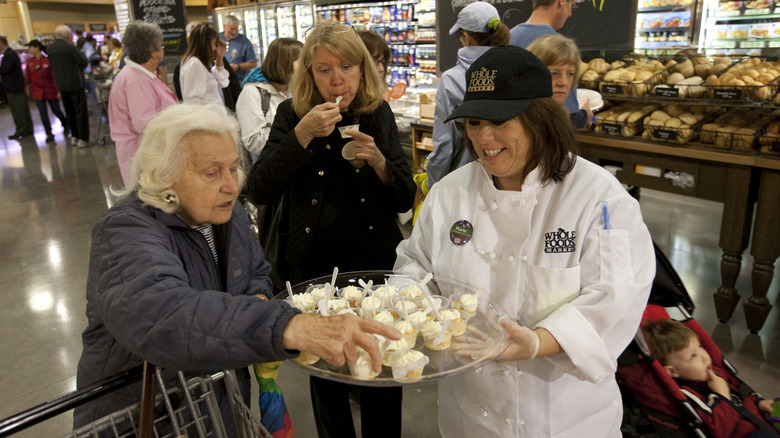 Brooks Kraft/Getty Images
Known for selling a variety of organic and plant-based options, Whole Foods boasts a fresh and localized experience in a conventional grocery store setting. What many customers don't know, however, is that you can sample nearly anything in the store before making a decision on what products you'd like to purchase.
Per Whole Foods' website, team members can open a bag of chips, slice a piece of fruit, or twist open bottled iced tea, ensuring that customers leave satisfied with the products they purchased. So the next time you're wondering if that new sparkling soda or pastry is up your alley, grab a team member and voice your concerns. They'll do what they can to make sure you enjoy your items (and that might just mean a free sample).
The store's commitment to serving customers shows in other ways, too. You'll find employees going the extra mile for customers by deboning their fish, peeling shrimp, and cracking crabs at no extra charge. Plus, the store offers different portion sizes for every individual's needs, whether it be a half a melon, fish filets, wedges of cheese, or a loaf of fresh bread.
4. Best: Sam's Club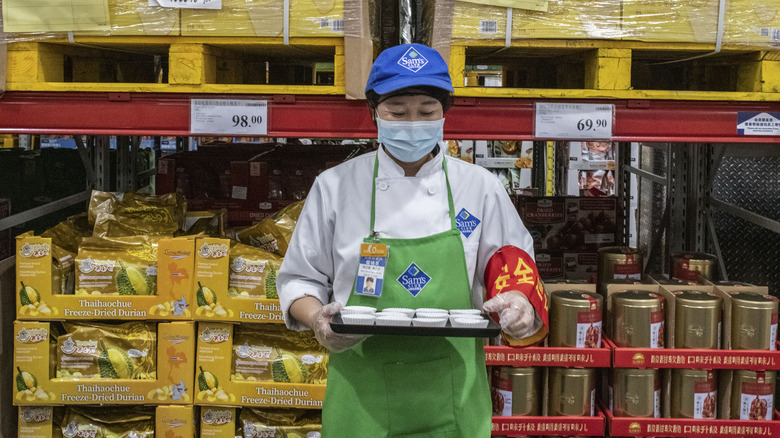 Bloomberg/Getty Images
Like Costco, Sam's Club offers a diverse, wholesale-based shopping experience for customers, and as a result, it gives out a variety of samples in stores. In June 2021, Sam's reintroduced its sampling and demo program, Taste and Tips, which allows members to sample food and review products when they visit the club.
In a statement released by Sam's Club, Chief Merchandising Officer Megan Crozier said that members' shopping behaviors have evolved and they want to do more than just shop. As a result, the store began planning new sampling experiences that add variety and excitement to the shopping outing.
In addition to traditional samples, Sam's Club is planning to roll out a new Member's Mark Food Truck, giving members the opportunity to sample food from Member's Mark, the company's private brand. Members will get the chance to taste foods like cheeseburgers, brisket, and ice cream bars at these food trucks.
5. Best: Publix
Popular Southeastern grocery store chain Publix is known for its bakery and fresh foods, and you'll find everything from watermelon to wedding cake being offered as samples at stores across the country. In addition to these tasty treats, Publix offers tasters from the deli and meat sections, like lunch meat, Boar's Head deli meats, rotisserie chickens, and plenty of other goodies.
Customers are greeted throughout the store and encouraged to try new products or sample old favorites. Like other retailers, Publix greatly reduced its free sample offerings during the COVID-19 pandemic, and many stores around the country are still readjusting. However, as of earlier this year, a number of locations have resumed offering a wide range of samples across all departments.
So the next time you're grabbing a pound of lunch meat at Publix, be sure to ask for a free slice of turkey or ham to snack on. While you're at it, ask the deli employees for a sample of cheese too.
6. Worst: Harris Teeter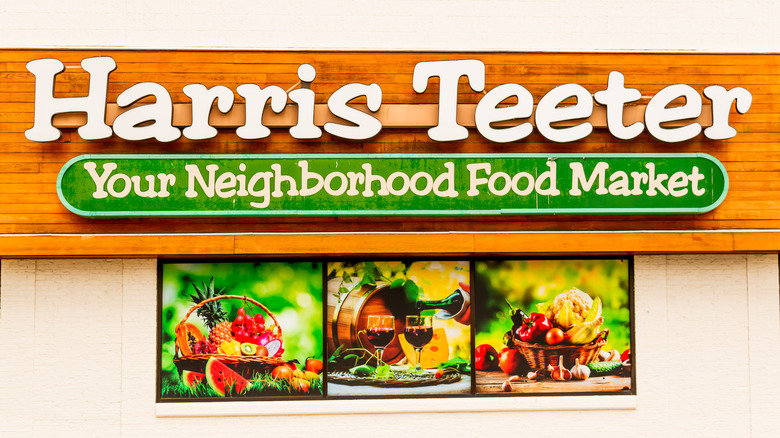 Bruce VanLoon/Shutterstock
Harris Teeter finds itself among the worst spots on this list because of a disparity between samples and the products offered in the store. Known for its cheese bar and wide array of excellent fresh foods and produce, many of the free sample offerings at the store are reduced to VIC Card specials (Harris Teeter's frequent shopper program), and the quality of the products can vary wildly.
Because of this, it's hard to recommend the Harris Teeter sample section. The cheese section is spectacular, and the folks working at the counter are pressed milk curd aficionados. Nevertheless, this does not change the simple matter that the samples provided do not reflect the high quality that can be found throughout the rest of the store.
For example, take the grocery store's famous sugar cookies. Free samples are offered to customers in a display upon entering the store, and the quality varies widely. Some days you'll enjoy a delicious, fresh cookie, and other days, you might be eating last week's leftovers. Many customers are upset by the varying quality, and one Twitter user wrote, "Has Harris Teeter just quit on the sugar cookie game? They used to be so legit. Now it tastes like cardboard and dog treats had a baby."
7. Worst: Walmart
Corporate juggernaut Walmart is no stranger to free food samples, but we don't recommend it due to a new pay-to-play style initiative designed to entice customers to sign up for curbside orders. Walmart has tested welcome boxes of product samples for customers who join Walmart +, a $12.95 a-month service that streamlines the shopping experience to save consumers both time and money. While this is a noble idea, it ultimately takes away from the joy of walking into the store and finding free cheese and cookies, to break up the mundane experience of picking up groceries for the week.
If you are waiting to enjoy a free Walmart sample in-store, you might be waiting a while. Although the store occasionally offers in-person sampling, it mostly sticks to offering it on the weekend at peak hours, per Rather Be Shopping. So unless you and 25 of your closest friends would like to fight over the last strawberry, it won't be a thrilling experience.
8. Worst: Kroger
Kroger's approach mirrors that of Walmart in that it offers boxes of samples to customers, with products ranging from pesto to sugar to premade meals. Unfortunately, the success of this method suffers due to the length of time it takes to receive the samples (two to four weeks, per the website).
Customers can sign into their Kroger account using their Shopper's Card, where they will be prompted to indicate their sample preferences through a short questionnaire. Their answers will even be saved for future sample opportunities. While this is a nice idea, and one that may appeal to those looking to try new items, the delay of gratification is far too long. The samples are delivered separately from the grocery orders, delaying the process even further. This approach also ensures a lack of fresh foods in sample orders, as evidenced by the sample example on Kroger's website that only displays shelf-stable options in smaller-than-usual packaging.
9. Worst: Target
Target finds itself falling behind some of its competition in the free sample category due to an influx of stores scrapping freebies altogether in the wake of the COVID-19 pandemic. According to one Redditor, "Target hired a third party company to run sampling events in most (but not all) stores for years, which got shut down during the pandemic. They started up again this past summer but some stores are apparently still opting out. Our store gave in this fall, but so far the reactions from guests and team members are lukewarm."
This is a stark contrast to Target before the pandemic, where it was not uncommon to see samples on a weekly or even daily basis, depending on the store. While Target's contemporaries (like Walmart) are often stingy with samples, Target is often touted as a bougier Walmart, and it seems like that should be reflected in the store's sample policy, too.