McDonald's Now-Viral Grimace Mascot Used To Look Scary Different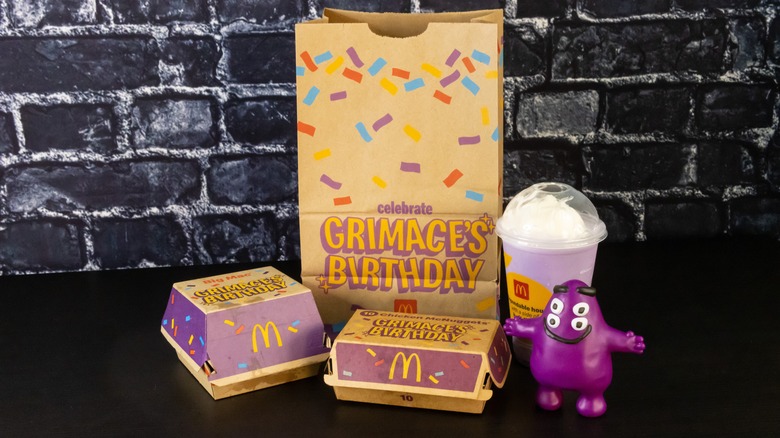 TYangMD/Shutterstock
Until recently, Grimace was a McDonald's mascot you probably forgot existed. But in June 2023, you couldn't open social media without being reminded of his 52nd birthday. In order to celebrate, McDonald's released a limited edition Grimace Shake. Just like Ronald McDonald's fluffy friend, the shake was purple, and its flavor was a mixture of vanilla and berry. Today, Grimace could arguably be considered cute, but that wasn't the case when he debuted. To tell the truth, he was actually pretty frightening.
In a piece for QSR, former McDonald's vice president of advertising, Roy T. Bergold Jr., said the company's first shot at designing Grimace didn't hit the target. "The original Grimace was scaly, mean-looking, had four arms, and had no charm whatsoever," he said. "He scared kids." His chilling, tooth-filled appearance wasn't the only unsettling thing about this creature. In his 1972 debut commercial, Grimace was seen swiping milkshakes and Coca-Cola from customers. His love for milkshakes was still expressed after his revamp, but it was in a less upsetting way. "We changed him to a soft, plush, two-armed blob of a sweetheart who only wanted McDonald's milkshakes and to hang out with Ronald," Bergold Jr. said. Redesigned or not, some folks on social media are still put off by Grimace's likeness.
Social media users are still frightened by the purple creature
When McDonald's posted photos on Instagram that showed Grimace celebrating his birthday, commenters made it clear they're still a bit scared of the purple creature. "Grimace where did you hide the bodies?" joked one concerned burger fan. Another Instagram user personalized their fear. "Grimace please let me go. It's cold and dark down here," they wrote. In another disturbing comment, a third fan wrote "Grimace kidnapped and murdered my entire family."
As it turns out, Grimace isn't the scary monster he appears to be. After many years of debate, Brian Bates, a McDonald's franchise owner, revealed what Grimace is actually meant to be. "He is an enormous taste bud, but a taste bud nonetheless," he told CBC News in 2021. This was the first time this was officially confirmed, but it was hinted at on Twitter in a 2014 reply. "Grimace lore says he is the embodiment of a milkshake or a taste bud. What do you think?" wrote the McDonald's corporation. Now that you have the facts, you can decide for yourself if Grimace is fearful or simply friendly.