Joey Chestnut Claims 16th Win In Chaotic 2023 Nathan's Hot Dog Eating Contest
Alexi J. Rosenfeld/Getty Images
It's the Fourth of July, and it's Coney Island, so you know what that means... Wait, what? A rain delay? Who knew? It seems these are a thing in competitive eating and baseball games. Before the clouds rolled in, though, Miki Sudo managed to take home her 9th Mustard Belt, dominating the women's division at the 2023 Nathan's Hot Dog Eating Contest. Her winning wiener total was a whopping 39.5, well ahead of second-place Mayoi Ebihara, who was only able to choke down 33.5.
However, once the thunder began to rumble, Joey Chestnut and company had to sit and wait for about two hours before the men's contest kicked off. Did the delay put anyone off their food? When things finally got underway, it didn't seem that anyone's appetite had abated as the hot dog gobbling was fast and frenzied. By the time the totals were in, Chestnut was again crowned the Pharaoh of Phrankfurters (phorgive us, we know that was kind of a stretch), having stuffed down 62 sausages.
Chestnut still didn't make it to 80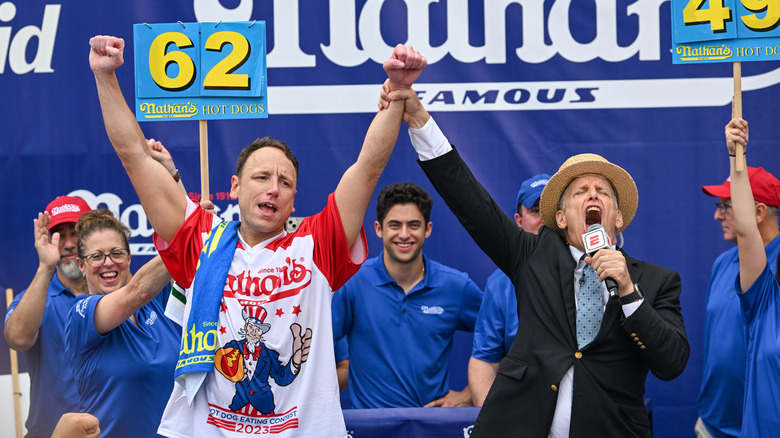 Alexi J. Rosenfeld/Getty Images
Joey Chestnut's victory, his eighth in a row and 16th overall, came as a surprise to absolutely no one. According to Vegas oddsmakers,  Chestnut was the -3000 favorite a few hours before the contest, which means that if you'd bet $3000 on him to win, you'd have come home with $3100 in your pocket (hardly worth the minimal risk). As long as Chestnut's been participating in the Nathan's Hot Dog Eating Contest, he's only lost once: a 2015 upset by Matt Stonie.
However, the real suspense came from Chestnut's never-ending (and so far unsuccessful) quest to achieve an elusive goal. Although he's scarfed down 80 hot dogs at a time while training in his basement, he's yet to equal this feat on the grandest stage of all. Still, never say never. Chestnut's been forging new frontiers in competitive eating since he first sat down at the table (metaphorically, that is, since competitive eaters usually stand to allow more room in the stomach). While the Nathan's contest belonged to Takeru Kobayashi in the early '00s, the Japanese eater tapped out just shy of 54 dogs in 2006. Chestnut exploded onto the scene a year later with a grand total of 66, and his current record, set in 2021, stands at 76. As this titan of tube steaks is not yet 40, he may still have a few decades to go until age-related appetite loss kicks in.