Saucy New Handbags From Rao's Homemade Are The Hit Of Italian Kitsch We Need
CORRECTION 7/7/23: A previous version of this article stated profits from the Rao's Homemade handbags would be donated to the Greater Chicago Food Depository. Sales from the Chicago Saucery June pop-up benefited the non-profit; any future profits will not be donated.
In April 2022, Rao's Homemade hosted its first-ever pop-up market in New York City. Guests had the chance to sample the various Rao's Homemade sauce flavors, taste wines, and purchase products at a discounted price. More interestingly, however, guests could also buy Rao's Homemade-inspired jewelry and bedazzled sauce jars.
This year, June 9 through June 11, Rao's Homemade hosted its second pop-up in Chicago. As was the case with the first event, guests again had the opportunity to sample products from the Rao's Homemade line and buy exclusive items — including five new sauces and soups from the brand, as well as a Rao's handbag.
Both handbag styles cost $1,000 and are made with real leather. The bags are designed to look just like a jar of Rao's Homemade sauce, be it classic marinara or the new Vodka Arrabbiata. The way the bag opens even mimics how you might peel off the label before recycling. Talk about saucy accessories, right?
Everything you need to know about Rao's Homemade handbags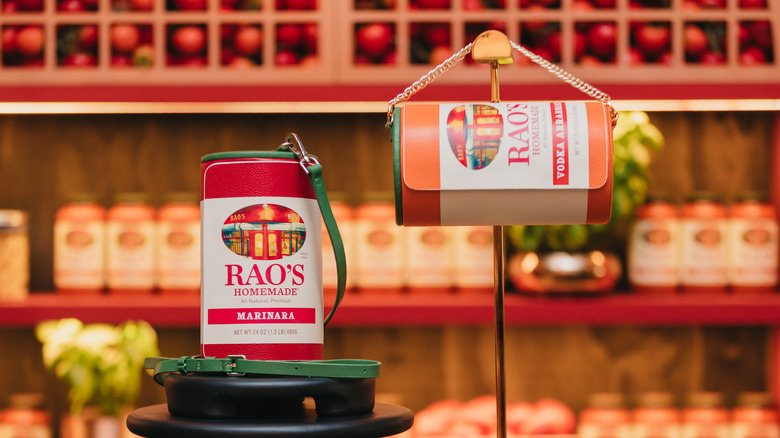 Rao's Homemade
If Rao's Homemade's decision to come out with a food-themed handbag feels familiar, you might be thinking of Panera's Fendi-inspired baguette bag, released in February. Designers like Kate Spade and Rommy Kuperus have also been diving into the realm of food-themed bags, creating everything from pizza slices to various baked goods.
However, while other foodie handbags are a bit more accessible — both in price and in literal availability — Rao's saucy handbags are harder to come by. In addition to costing $1,000, the bags are mostly being sold at the pop-up event. You can, in theory, get your hands on one through the virtual Saucery experience, but it's uncertain how many handbags are left for purchase, if any.
Still, for lovers of both fashion and Italian food, this exclusive accessory is likely to be an appealing score. We wouldn't be surprised to see some popping up on eBay, Vestiaire, or The Real Real in the near future.