Homemade Sorbet In An Edible(ish) Lemon Cup Is The Perfect Summer Dessert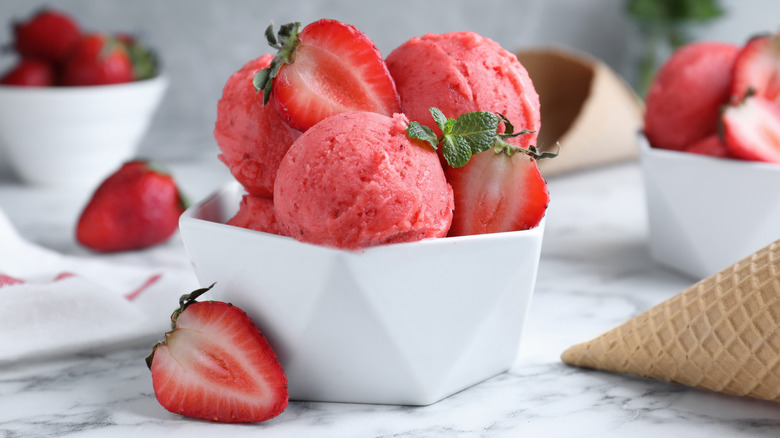 New Africa/Shutterstock
Can you think of a single summer memory without a nice, frozen dessert in it? It's practically a must for the hotter months of the year, especially if you live in the South, where the heat index often climbs to over 100 degrees Fahrenheit. You probably get your sweet treats from the frozen section at your local grocery store or the nearest fast-food restaurant, but have you ever made your own? And no, you don't need a fancy ice cream or sorbet maker.
Crowded Kitchen, for instance, shared a recipe on TikTok for strawberry lemonade sorbet using only a trio of ingredients, a blender, and a lemon juicer. With some frozen strawberries, fresh-squeezed lemon juice, and agave or honey, you can have homemade sorbet in just a handful of minutes. And the best part? You can use the hollowed lemon halves as cups for the sorbet.
Many commenters likened the recipe to Island Way Sorbet, the summery fruit sorbet Costco fans are in love with, which you can also buy at BJ's Wholesale Club and other retailers. Plus, there are plenty of other online recipes for DIY sorbets to fill your entire summer.
Sorbets are a healthy alternative to ice cream
The viewers who followed the Crowded Kitchen recipe for strawberry lemonade sorbet said it tasted great, and although the recipe calls for strawberries, you can use any type of frozen berries. You can also make a watermelon sorbet, pineapple sorbet, mango sorbet, and many others using different kinds of fruit.
Sorbet is known to be a healthy alternative to ice cream — per Cleveland Clinic — since it typically has fewer calories, is dairy-free, and is typically low in saturated fat. Plus, if you use a natural sweetener like agave or honey, you can reap additional health benefits, as University Hospitals explains.
And if you're wondering if you can eat the entire lemon "cup," the answer is yes. It's both safe and beneficial to eat lemon peels, as they contain vitamin C, fiber, potassium, magnesium, and other nutrients (via Healthline). It's not easy to find tasty frozen desserts that are healthy and not loaded with too much extra sugar, which is what makes this homemade sorbet the perfect summer dessert.