Copycat Bojangles Dirty Rice Recipe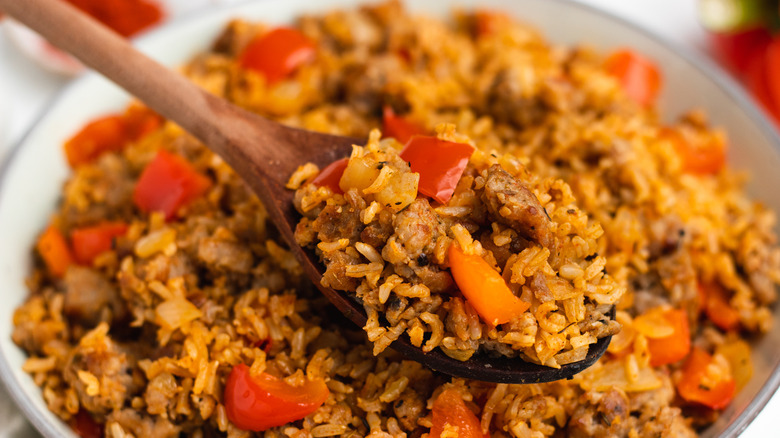 Catherine Brookes/Mashed
Bojangles may be a fast food chain that's best known for its chicken and biscuits, but its dirty rice is a sleeper side dish of white rice, sausage meat, and spices. While recipe developer Catherine Brookes' version is not an exact duplicate of the chain's dirty rice, she feels that it's "a close match for the Bojangles recipe flavor-wise." Here she's opting to use brown rice instead of white to make the dish, but admits that this choice "can totally be down to preference here" and further clarifies that "You can easily sub one for the other."
Brookes describes this rice recipe as "so simple to make, yet totally delicious" due to the meat and seasonings that give it flavor. As the dish contains both meat and starch, it could make for a light meal or hearty snack on its own, or you could prepare it as a side for a meal of fried chicken or barbecued ribs.
Collect the ingredients for the copycat Bojangles dirty rice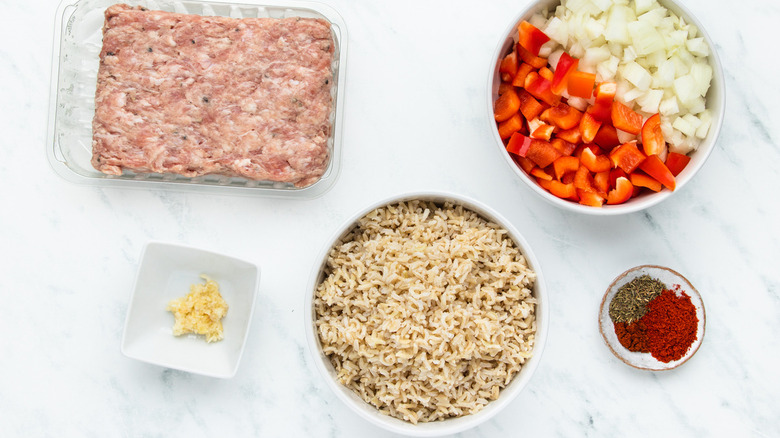 Catherine Brookes/Mashed
To make this recipe you'll need some cooked rice, either brown to duplicate Brookes' dirty rice or white for a dish that's a bit more like the Bojangles original. You'll also need ground sausage meat, an onion, a pepper, and some garlic as well as paprika, cayenne, thyme, salt, and pepper for seasoning.
Cook the sausage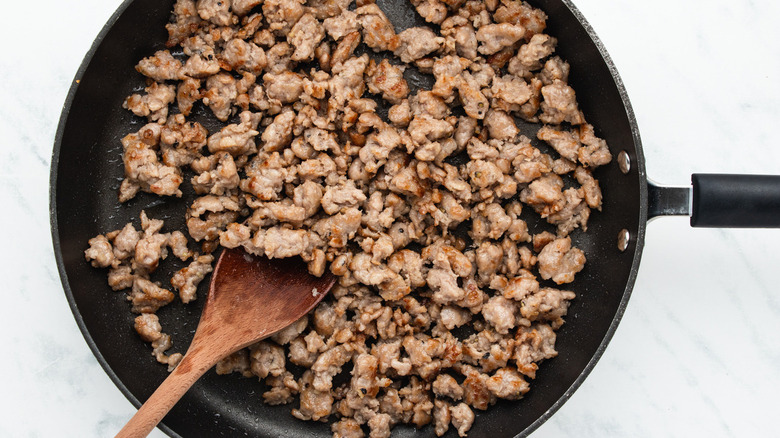 Catherine Brookes/Mashed
This dirty rice is more or less a one-pot meal, with "less" being the fact that you will actually need a different pot to cook the rice unless you purchase the pre-cooked kind. At this stage, however, you should already have cooked the rice, so when you're frying the sausage, choose a pot that's big enough to hold all of the ingredients.
Cook the sausage meat for about 8 to 10 minutes until there is no pink left inside. Stir it to break up the clumps as you cook it, too. Brookes likes to use a wooden spoon for this part.
Cook the vegetables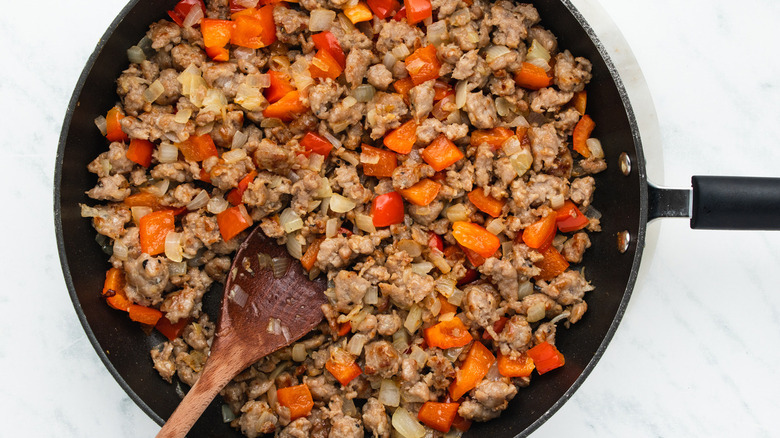 Catherine Brookes/Mashed
Once the sausage is done, keep it in the pot, but toss in the onions, peppers, and garlic. Cook these new additions, along with the sausage, for 8 to 10 minutes to soften them up.
Add the rice and seasonings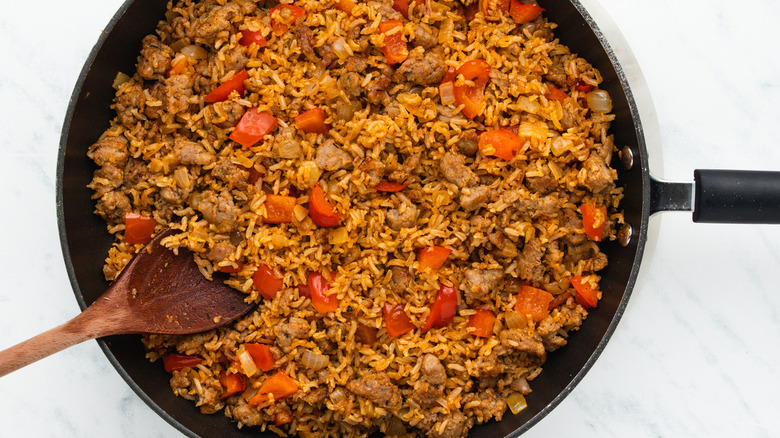 Catherine Brookes/Mashed
Stir the rice into the meat and vegetables along with the paprika, cayenne, and thyme plus as much salt and pepper as you feel the dish needs. As everything is cooked, it's safe to taste and adjust the seasonings at this stage, but keep on heating and stirring the dirty rice until it's all warmed up.
You'll probably need to eat up this dirty rice pretty quickly. While Brookes suggests "The leftovers would ... be great added to a soup or stew," she feels they'll only last in the refrigerator for a single day even if stored in an airtight container. You can, however, freeze anything that you're unable to consume within 24 hours.
Copycat Bojangles Dirty Rice Recipe
If you're a fan of Bojangles' dirty rice, you can skip the drive-thru and make this copycat version instead.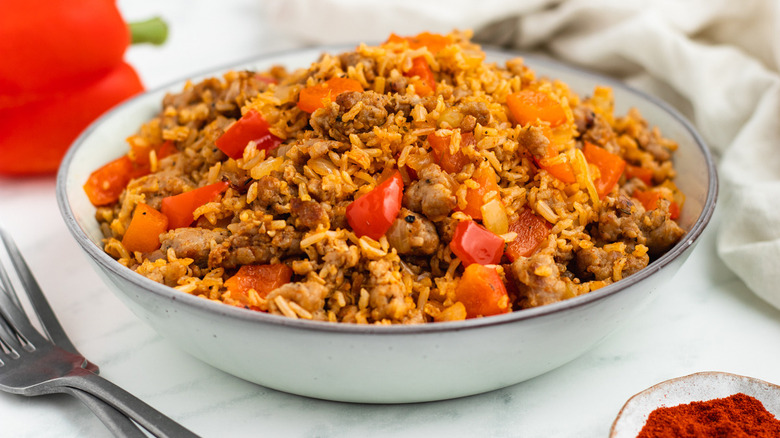 Ingredients
1 pound ground pork sausage
1 onion, diced
1 red bell pepper, diced
3 cloves garlic, minced
2 ½ cups cooked brown rice
1 teaspoon paprika
¼ teaspoon cayenne pepper
½ teaspoon thyme
salt, to taste
pepper, to taste
Directions
In a large pan over medium heat, brown the sausage meat for 8 to 10 minutes, breaking it apart as it cooks.
Stir the onion, pepper, and garlic into the sausage and cook the vegetables for 8 to 10 minutes to soften.
Add the rice and seasonings to the vegetables and sausage and cook the mixture for 5 minutes, stirring frequently.
Serve the rice as desired.
Nutrition
| | |
| --- | --- |
| Calories per Serving | 327 |
| Total Fat | 19.6 g |
| Saturated Fat | 5.9 g |
| Trans Fat | 0.1 g |
| Cholesterol | 52.9 mg |
| | |
| --- | --- |
| Total Carbohydrates | 24.1 g |
| Dietary Fiber | 2.6 g |
| Total Sugars | 2.5 g |
| Sodium | 561.8 mg |
| Protein | 14.2 g |