Spicy Lemon Brussels Sprouts Recipe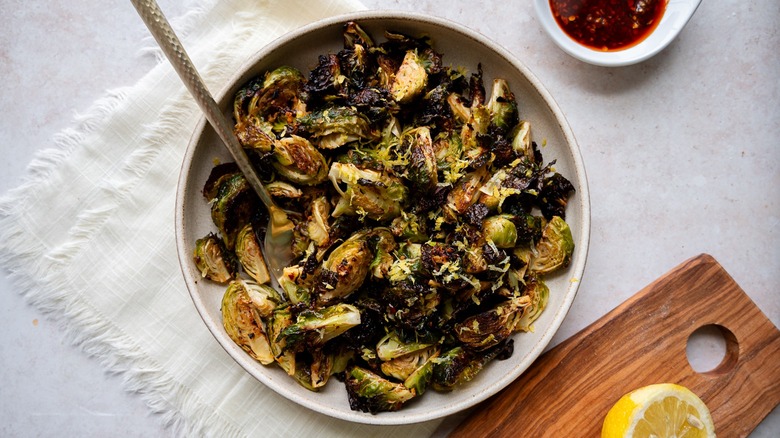 Christina Musgrave/Mashed
The United States Department of Agriculture's Dietary Guidelines for Americans advises adults to eat about 2 cups of vegetables each day. While our intentions are usually great, we're not sure we consistently hit this mark. Why is it that we can easily eat two cups of potato chips or candy, but can't do the same with veggies? Well, we don't know about you, but we often struggle to find a way to make veggies irresistibly delicious. Too often veggie side dishes are bland, boring, or downright bitter.
While we are no strangers to marinating our meats and other protein options, we don't often take the same care with our vegetables. That's where recipe developer Christina Musgrave comes in. She brings us this recipe for spicy lemon Brussels sprouts, which focuses on creating uber amounts of flavor from only a handful of ingredients. 
Gather your ingredients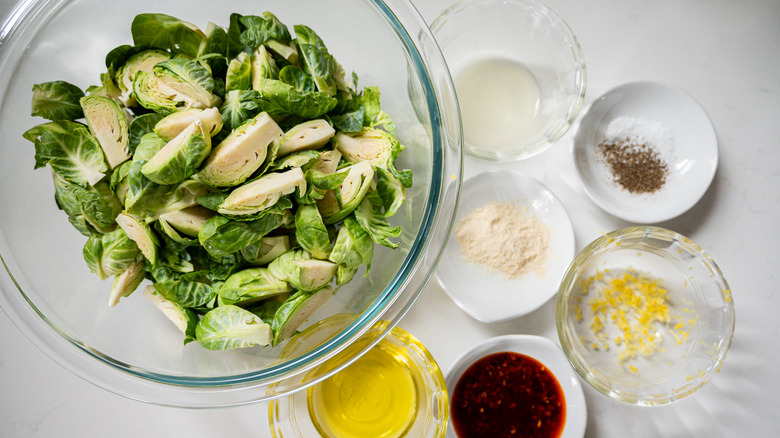 Christina Musgrave/Mashed
To make these spicy lemon Brussels sprouts, you can start by gathering your ingredients. For this recipe, you will need Brussels sprouts, olive oil, salt, pepper, garlic powder, chili oil, lemon juice, and lemon zest.
While this recipe is for a spicy lemon rendition, Musgrave says, "There are a million ways you can flavor Brussels sprouts. Sesame soy, bacon bbq, and garlic balsamic are a few options." With these flavorful ideas in mind, you can eat Brussels sprouts frequently without ever getting bored.
Generously season Brussels sprouts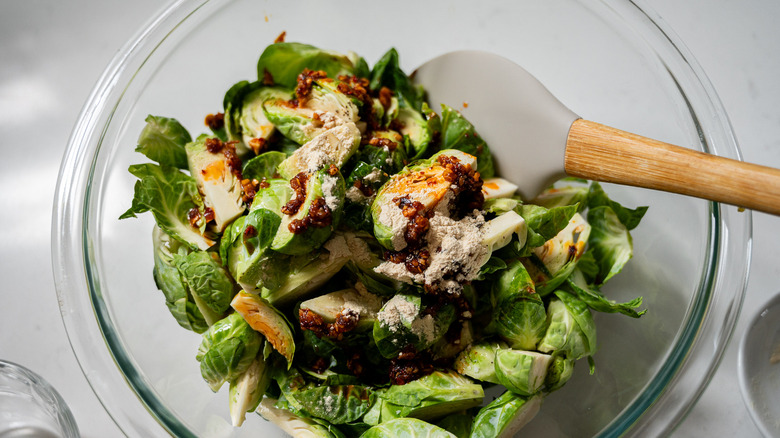 Christina Musgrave/Mashed
Before we get any further, stop to preheat the oven to 400 F. Then, add the Brussels sprouts, olive oil, salt, pepper, garlic powder, chili oil, and lemon juice to a large bowl. Stir the Brussels sprouts until they are completely coated with the seasoning mixture then pour them onto a lined baking sheet.
If you are sensitive to heat, Musgrave advises, "I'd just reduce the chili oil in the recipe or find a chili oil with a low spice level. Many brands will tell you how spicy it is on the packaging." On the other hand, for those that are constantly seeking out more heat, feel free to add more chili oil. Don't let us stop you!
Roast your Brussels sprouts in the oven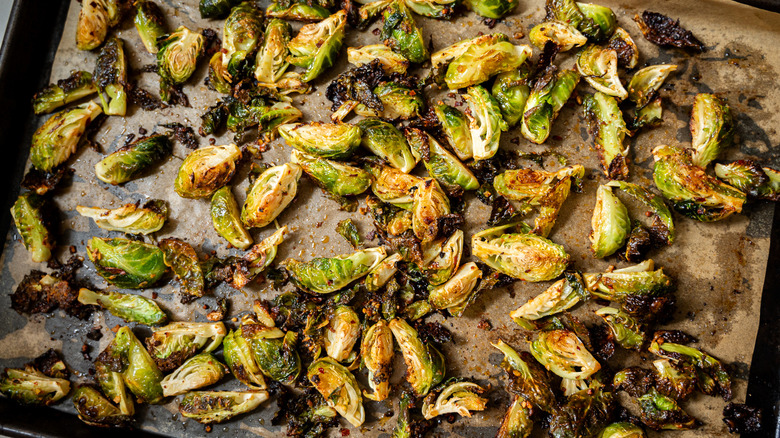 Christina Musgrave/Mashed
Now that your Brussels sprouts are seasoned and spread out on the prepared baking sheet, it's time to roast them. Place the baking sheet in the oven to roast for 25 minutes. Once the sprouts are golden brown with a little bit of charred crispy bits on the edges, you'll know it is time to take the veggies out of the oven. Musgrave recommends sprinkling your Brussels sprouts with lemon zest for an extra jolt of lemon flavor, which really brings some brightness to the earthy flavor of the Brussels sprouts. Serve up your sprouts on a dish and enjoy, or store them in airtight containers and enjoy later.
This recipe is perfect for meal prepping. Musgrave tells us, "These Brussels sprouts are a great side dish for meal prep. They are a great paired with grilled or roasted chicken." Roast these up alongside some protein and you'll have lunches prepped and ready to go. 
Spicy Lemon Brussels Sprouts Recipe
This spicy lemon Brussels sprouts recipe is super simple and super quick to make. Plus, despite just a few ingredients, it's full of flavor.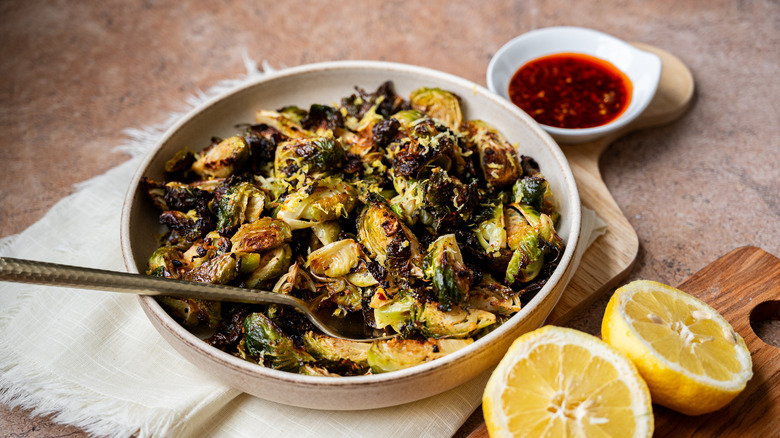 Ingredients
1 pound Brussels sprouts, quartered
2 tablespoons olive oil
Pinch of salt
Pinch of pepper
1 teaspoon garlic powder
1 tablespoon chili oil
2 teaspoons lemon juice
Lemon zest, for serving
Directions
Preheat oven to 400 F. Combine Brussels sprouts, olive oil, salt, pepper, garlic powder, chili oil, and lemon juice in a large bowl. Spread on a lined baking sheet.
Roast for 25 minutes or until golden brown.
Top with lemon zest and serve.