TikTok's Pizza Roll Pineapple Hack Is Totally Genius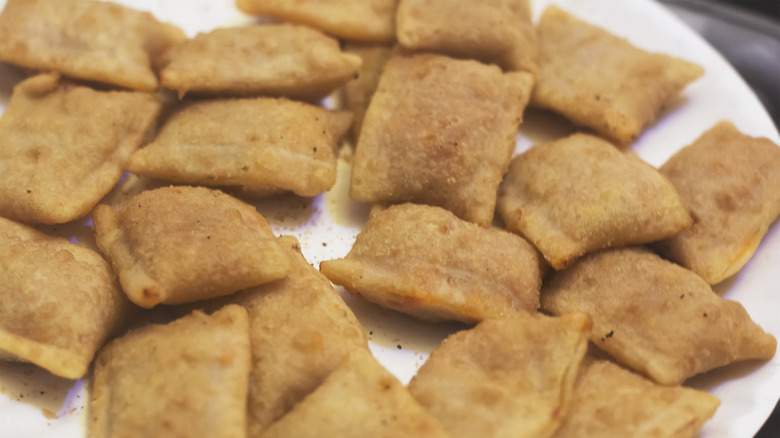 Are Visual (andrew R Emery)/Getty Images
Whether or not to put pineapple on pizza is a big debate. Ever since pineapple-topped Hawaiian pizza was invented in the 1960s by a Canadian man of Greek descent named Sam Panopoulos, both pizza fans who love the topping as well as those who loathe it have been outspoken about their opinions. Canadian Prime Minister Justin Trudeau, for instance, tweeted that he "stand[s] behind this delicious Southwestern Ontario creation." Another Twitter user however, said they ordered a pineapple pizza and instead received a pie with a note presumably from the pizza shop stating, "Couldn't bring myself to put pineapple on it. That's gross." But maybe Time has put an end to this disagreement with a survey asking if pineapple is a viable pizza topping — over 67% of respondents answering "Yes."
If you're part of this 67%, you'll likely be excited to learn about everyone's new favorite TikTok pizza roll pineapple hack that's got us saying, "Whoa. Why didn't we think of this sooner?" TikToker Brett Asher took to the social media platform to show his over 28,000 followers how to insert a piece of pineapple into a pizza roll. Not only is this hack super genius, it's also incredibly simple.
Let me see that (pineapple) pizza roll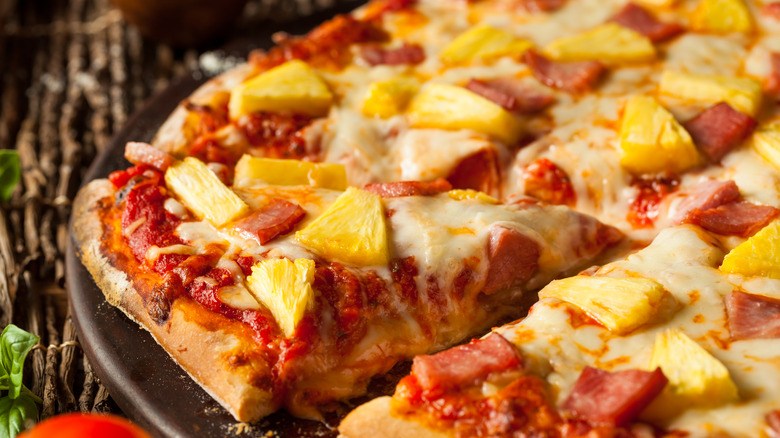 Bhofack2/Getty Images
Brett Asher starts out his TikTok video sitting on the couch with the text overlay "here's a cool hack to make your pizza rolls taste better." Asher goes on to recommend taking a small bite out of the corner of the pizza roll, then inserting a tiny cubed piece of pineapple before popping the rest into your mouth, resulting in a mini, bite-sized Hawaiian pizza. Asher ends the video with a thumbs up calling the concoction "delicious."
Over in the comments section, TikTokers were ready for the is-pineapple-an-acceptable-pizza-topping debate. The very first commenter on the video wrote, "patiently waits for the pineapple doesn't go on pizza people."
These "pineapple doesn't go on pizza people" do certainly exist. "No get outta here," commented one TikToker, while another comically chimed in, "I've phoned the authorities." But of course, fans of Hawaiian pizza were excited to learn about this new hack. Another user had a more mixed approach to the food combination, writing, "How dare you do something so controversial yet so delicious?"