Chicken Bacon Ranch Casserole Recipe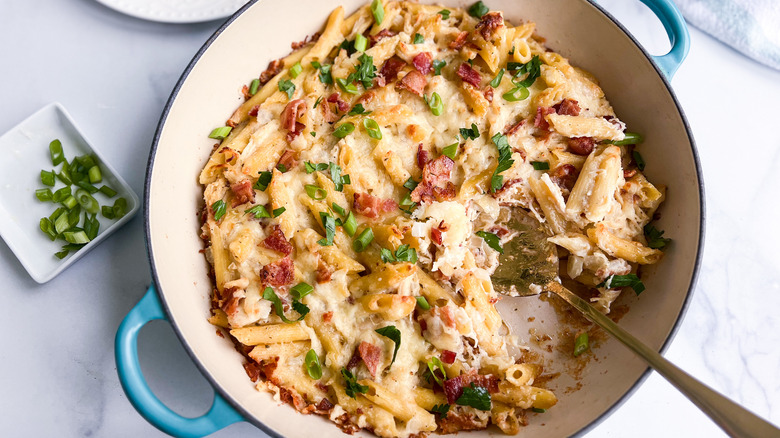 Erin Johnson/Mashed
One-pot casserole meals can be a huge time-saver when it comes to preparing dinner and cleaning up once you've finished your meal. Of course, convenience isn't the only factor we're looking for when considering what to make for dinner — it has to be delicious too! Mashed recipe developer Erin Johnson is all about this balance, and she endeavors to make easy recipes that contain wholesome ingredients and taste great. 
This chicken bacon ranch casserole is a solid example of her food philosophy, and we are definitely on board. Johnson shares, "If your family likes chicken Alfredo, this is a fun twist that everyone will devour!" The creamy cheesy dish is loaded with protein from the chicken, starch from the pasta, and goodness from cheese and bacon. The whole thing is flavored with ranch seasoning, making this a truly easy dish to whip up. Even better, she notes, "You can prep this in advance and have it ready to go into the oven when you get home from work for an easy weeknight meal."
Gather the ingredients for this chicken bacon ranch casserole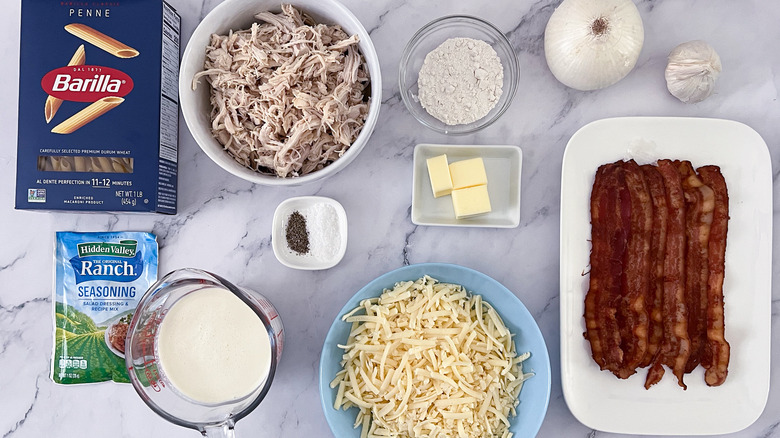 Erin Johnson/Mashed
For this recipe, you'll need dry pasta, an onion (chopped), garlic cloves (minced), butter, flour, whole milk, shredded cheddar cheese, salt, pepper, chicken breast (cooked and shredded), bacon strips (cooked and crumbled), and a package of ranch seasoning.
Although Johnson calls for cheddar here, she notes, "You can use any cheese you have on hand," and recommends, "Pepper jack is a great substitute if you want to add some heat." As for the chicken, Johnson points out that "This is the perfect recipe to use up leftover chicken or a rotisserie chicken with."
Cook the pasta then sauté the onions and garlic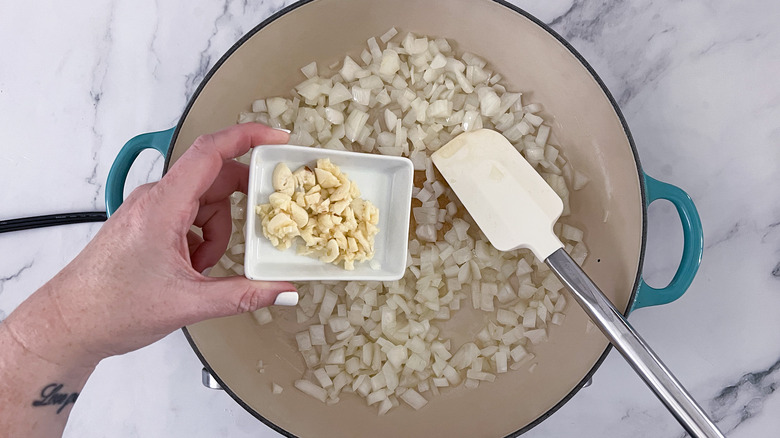 Erin Johnson/Mashed
Start by preheating the oven to 375 F so that it's ready to go when you are. Then, cook the pasta in boiling water according to the package directions, drain off the water, and set it aside.
Place an oven-proof skillet on the stovetop and sauté the chopped onions until they become tender. Toss in the minced garlic and cook for a minute or 2 until it becomes pleasantly fragrant. Transfer the onion and garlic to a plate and set them aside. 
While cooking everything in the oven-proof skillet reduces clean-up and makes this a one-pot wonder, Johnson notes that "you can pour this into a casserole dish before baking if you prefer," and simply use a standard pan to sauté the ingredients. 
Make the roux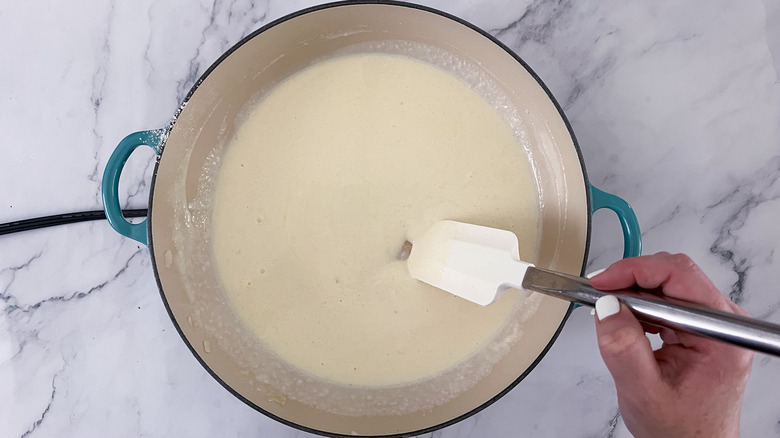 Erin Johnson/Mashed
Melt the butter in the same skillet, then sift the flour to add it in as well. Stir the mixture continuously as you cook for 2 to 3 minutes. Then, slowly add the milk to the skillet while you keep stirring until the contents are thick and smooth. At this point, dump in 1 ½ cups of shredded cheese and mix it in to melt.
Add the ingredients back to the pot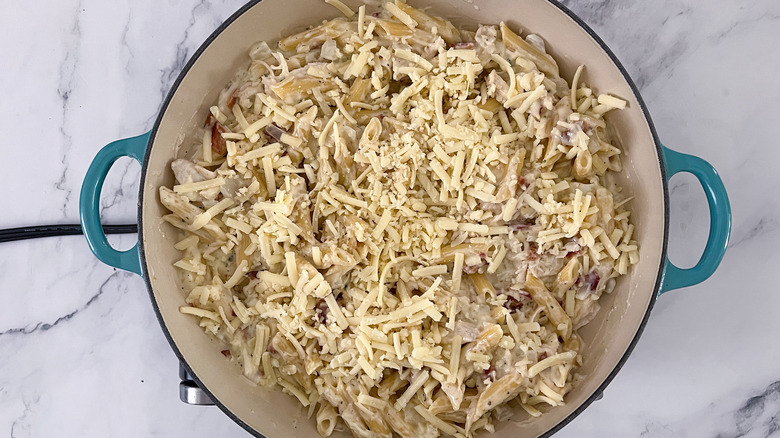 Erin Johnson/Mashed
Assemble your casserole in the same dish if it's oven-proof or in an appropriate receptacle if not. Add the cooked onions and garlic in first, then stir in the cooked pasta and shredded chicken to coat in the creamy sauce. Add the crumbled bacon and ranch seasoning and stir everything thoroughly in order to distribute the flavoring evenly. Sprinkle the rest of the shredded cheese on the top to complete.
Bake until golden and serve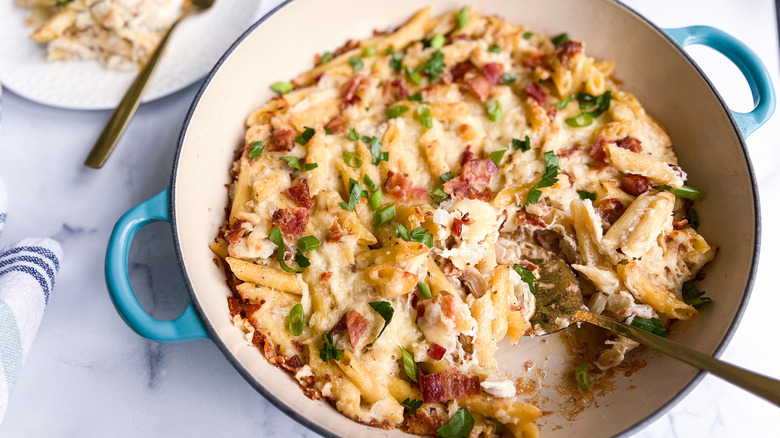 Erin Johnson/Mashed
Bake the chicken bacon ranch casserole in the preheated oven for 20 minutes or until the cheese topping is nicely melted and golden brown. Serve it up as a hearty one-pot meal or with a simple side salad to get your veggies in. 
Johnson notes that leftovers can be stored in the refrigerator for up to three days. When you are ready for more, she advises, "You may need to add some additional milk before reheating in the microwave to preserve the creaminess."
Chicken Bacon Ranch Casserole Recipe
This chicken bacon ranch casserole is a masterclass in savory goodness.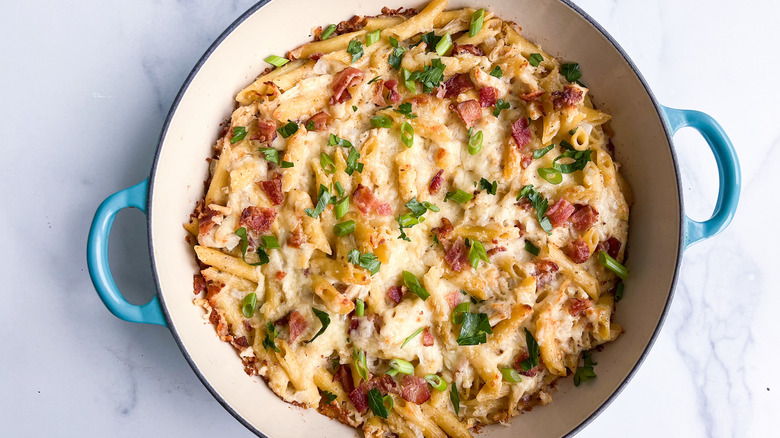 Ingredients
8 ounces dry pasta
1 onion, chopped
3 cloves garlic, minced
3 tablespoons butter
3 tablespoons flour
1 ½ whole milk
2 cups cheddar cheese, shredded and divided
¼ teaspoon salt
¼ teaspoon pepper
1 ½ cups chicken breast, cooked and shredded
6 strips bacon, cooked and crumbled
1 (1-ounce) package ranch seasoning
Directions
Preheat the oven to 375 F and cook the pasta per the package directions.
In an oven-proof skillet, sauté the chopped onion until tender.
Add the garlic and cook until fragrant, then remove the garlic and onion from the pan and set aside.
Melt the butter in the skillet, then add the flour through a sifter, stirring constantly as you cook the mixture for 2 to 3 minutes.
Slowly pour the milk into the butter and flour, stirring constantly. Continue to stir until it thickens and is smooth.
Add 1 ½ cups of shredded cheese and stir until melted. Season with salt and pepper to taste.
Add the onions and garlic back into the skillet.
Add the cooked pasta and chicken and stir until well coated.
Add the bacon and ranch packet and stir until they are mixed in.
Sprinkle the top with the remaining cheese.
Bake at 375 F for 20 minutes or until the cheese is melted and browned.
Nutrition
| | |
| --- | --- |
| Calories per Serving | 590 |
| Total Fat | 33.6 g |
| Saturated Fat | 16.2 g |
| Trans Fat | 0.0 g |
| Cholesterol | 119.2 mg |
| | |
| --- | --- |
| Total Carbohydrates | 38.3 g |
| Dietary Fiber | 2.3 g |
| Total Sugars | 2.3 g |
| Sodium | 536.1 mg |
| Protein | 32.9 g |