Canned Crescent Rolls Don't Have To Be An Appetizer Afterthought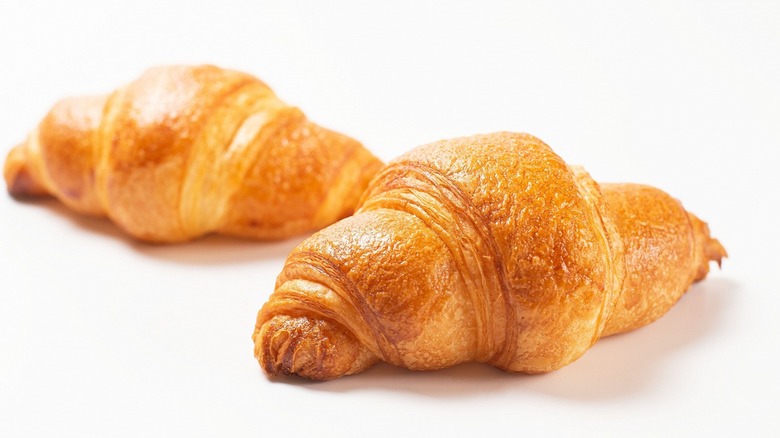 FOTO Eak/Shutterstock
Whether at a house party or a restaurant, bread is a commonly served appetizer. Sometimes, this only pertains to dinner rolls, whereas other times, you're presented with a basket full of assorted bread. Occasionally, crescent rolls are thrown into the mix, but these pieces of bread have much more to offer than their original form.
Sure, crescent rolls are a great addition to your appetizer menu, but you probably haven't considered all the possible ways to prepare them. Pillsbury, one company responsible for canned crescent rolls, recommends using its breaded goods to make pepperoni pizza snacks. These simple-to-make refreshments include pepperoni, mozzarella, and pizza sauce, rolled into the crescent roll bread and placed in the oven. Another possibility is green bean casserole bites. According to Pillsbury, these snacks require cream of mushroom soup, Worcestershire sauce, green beans, cheddar cheese, French-fried onions, and of course, canned crescent rolls.
If you'd rather follow the advice of home chefs, they shared their crescent roll ideas on a Reddit thread after one user asked for suggestions. When it comes to appetizers, suggestions included pigs in a blanket, sausage and cheese, and Philly cheesesteak recipes. But excitedly, these breaded favorites don't have to be used strictly for appetizer purposes.
Crescent rolls are also great for main courses and desserts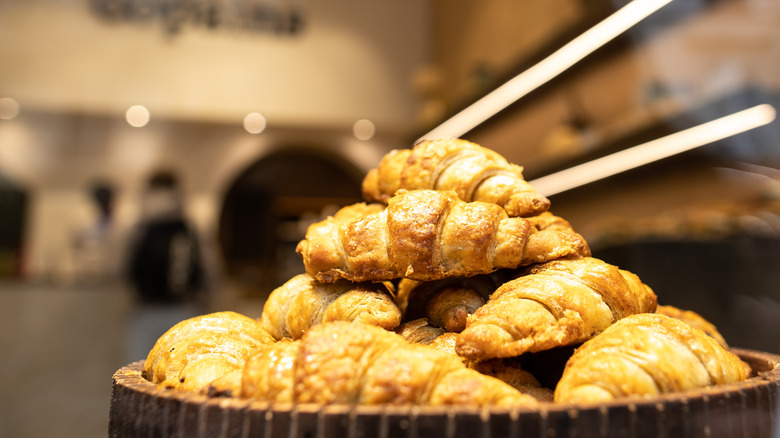 Ryan Pierse/Getty Images
If you've only considered crescent rolls to be distracting finger foods, it's time to forget everything you know about them. Various meals — including lunch, dinner, and even dessert — can benefit from the addition of crescent rolls. They can be used to amp up your sandwiches, swapping dinner rolls for crescent rolls to make a ring of ham and Swiss or a ring of chicken and bacon. Basically, those preparing the food work with the crescent shape of the rolls to line the sandwiches accordingly. This can create a lunch tray suitable for the office, baby showers, or the family. In the evening, dinner can be made in a similar way, using cheese, beef, pickle slices, tomatoes, lettuce, and condiments to invent a cheeseburger ring.
Several desserts incorporate crescent rolls as well. According to Pioneer Woman, apple dumplings are a delicious treat made with crescent rolls, sour apples, Mountain Dew, butter, cinnamon, vanilla, and sugar. You could also make a strawberry cheesecake ring, which is made of crescent rolls, cream cheese, powdered sugar, milk, strawberry pie filling, almond extract, and white sugar.